Mourning And Manhunt After French Magazine Massacre
@AFP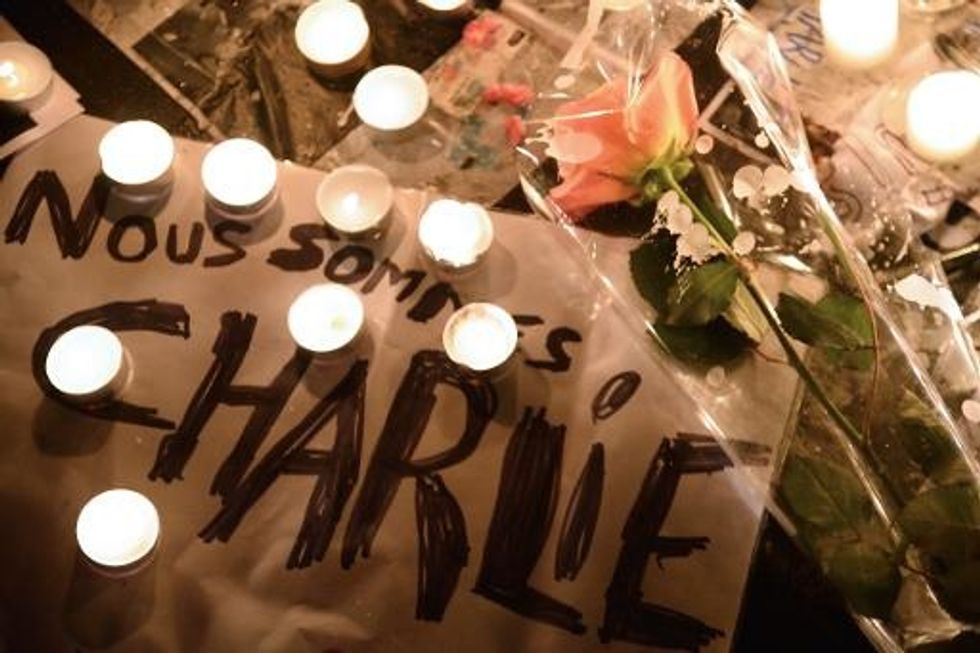 Paris (AFP) – French security forces desperately hunted two brothers Thursday suspected of gunning down 12 people in an Islamist attack on a satirical weekly, as a stunned and outraged France fell silent to mourn the victims.
With thousands of police scouring France after the bloodiest attack in the country for half a century, the two men — still armed — were apparently spotted at a petrol station in the northern Aisne region.
Bells pealed out across France at the stroke of midday, public transport stopped and people gathered outside the headquarters of the Charlie Hebdo magazine in the pouring rain, holding aloft banners reading "Je Suis Charlie" (I am Charlie).
Television pictures showed children at a Muslim school in the northern city of Lille holding up sheets of paper with "not in my name".
Wednesday's massacre triggered poignant and spontaneous demonstrations of solidarity around the world and more than 100,000 poured onto the streets of France.
Shocked people from Moscow to Washington rallied under the banner "I am Charlie" in support of press freedom and the controversial magazine that has repeatedly lampooned the Prophet Mohammed.
As fear spread in France, several other incidents rocked the jittery nation, although it was not clear whether they were linked to Wednesday's attack.
A gunman shot dead a policewoman and wounded a city employee with an automatic rifle just to the south of Paris and there was an explosion at a kebab shop in eastern France, with no casualties immediately reported.
Two Muslim places of worship were also fired at in the wake of Wednesday's attacks, prosecutors said.
Declaring Thursday a national day of mourning — only the fifth in the last 50 years — President Francois Hollande called the bloodbath "an act of exceptional barbarity".
But more than 24 hours after the brazen assault, the masked, black-clad gunmen — who shouted "Allahu akbar" ("God is greatest") while killing some of France's most outspoken journalists as well as two policemen — were still on the loose.
Police issued arrest warrants for Cherif Kouachi, 32, a known jihadist convicted in 2008 for involvement in a network sending fighters to Iraq, and his 34-year-old brother Said. Both were born in Paris.
The two men were likely to be "armed and dangerous", authorities warned.
Interior Minister Bernard Cazeneuve said seven people had been detained in the hunt for the brothers, and a judicial source added that the men and women held were close to the suspects.
Prime Minister Manuel Valls, meanwhile, told French radio the two suspects were known to intelligence services and were "no doubt" being followed before Wednesday's attack.
The manhunt stretched into the night with search-and-seizure operations in Strasbourg and towns near Paris, while in northeastern Reims, police commandos raided a building later scoured by white-clad forensic police.
Hamyd Mourad, an 18-year-old suspected of being an accomplice in the attack, handed himself in, with police sources saying he had seen his name "circulating on social media".
Hollande ordered flags to fly at half-mast for three days in France and convened an emergency cabinet meeting.
"Nothing can divide us, nothing should separate us. Freedom will always be stronger than barbarity," said the president, calling for "national unity".
As a sign of this unity, Hollande invited arch-rival and opposition leader Nicolas Sarkozy to the Elysee Palace, his first visit since losing power in 2012.
Even before the attack, France, home to Europe's biggest Muslim population, was on high alert like many countries that have seen citizens leave to fight alongside the radical Islamic State group in Iraq and Syria.
"Several terrorist attacks had been foiled in recent weeks," Hollande said.
France's main Islamic groups urged Muslims across the country to observe the minute of silence and for imams to condemn terrorism.
At around 11:30 am on Wednesday, the killers stormed the central Paris offices of Charlie Hebdo during an editorial meeting and picked off some of France's best-known cartoonists in cold, military-style executions.
Outside the building, chilling amateur video footage showed the attackers calmly approaching a wounded policeman as he lay on the pavement and then shooting him at close range.
Many witnesses said the scene was "like a movie".
Parisians battled to come to terms with the violence.
Herve Roch, father of two children aged nine and four, said: "You have to explain what happened (to the children). We told them that evil people came to do bad things and the police would catch them."
More than 100,000 people across France poured out into the streets, many holding aloft pens to voice support for freedom of expression.
Charlie Hebdo has long provoked controversy, mocking many religions with provocative drawings, a practice that has outraged some Muslims whose religion forbids depictions of the Prophet Mohammed.
U.S. President Barack Obama led the global condemnation of what he called a "cowardly, evil" assault. Pope Francis described it as a "horrible attack" saying such violence, "whatever the motivation, is abominable, it is never justified".
Meanwhile, cartoonists reacted as they know best, composing biting satirical drawings against what editorialists said was an attack on the foundations of democracy.
Among the cartoons that went viral online was one by Australia's David Pope: a picture of a gunman with a smoking rifle standing over a body, bearing the caption "He drew first".
France's media erupted in fury at the massacre of their colleagues.
Business daily Les Echos urged people to face up to "barbarism", publishing the last cartoon written by one of those killed in the attack.
"They declared war on France, on our democracy, on our values," the paper said in an editorial.
Charlie Hebdo gained notoriety in February 2006 when it reprinted cartoons of the Prophet that had originally appeared in Danish daily Jyllands-Posten. Its office were also fire-bombed in November 2011 when it published a cartoon of Mohammed under the title "Sharia Hebdo".
The attackers on Wednesday shouted "we have avenged the Prophet, we have killed Charlie Hebdo", according to prosecutors.
Editor-in-chief Stephane Charbonnier, known as Charb, and who had lived under police guard after receiving death threats, was among those killed, along with the police officer assigned to protect him.
Other victims included Jean Cabut, known across France as Cabu, Georges Wolinski and Bernard Verlhac, better known as Tignous.
Charlie Hebdo will come out next week despite the decimation of its staff, one of the magazine's columnists said.
(Photo: Candles and a flower are placed on a sign that reads "We are Charlie" in French on January 8, 2015, at the Place de Republique in Paris (AFP Photo/Bertrand Guay)