Movie Review: 'Compton' Nails The Rise Of Groundbreaking Rap Group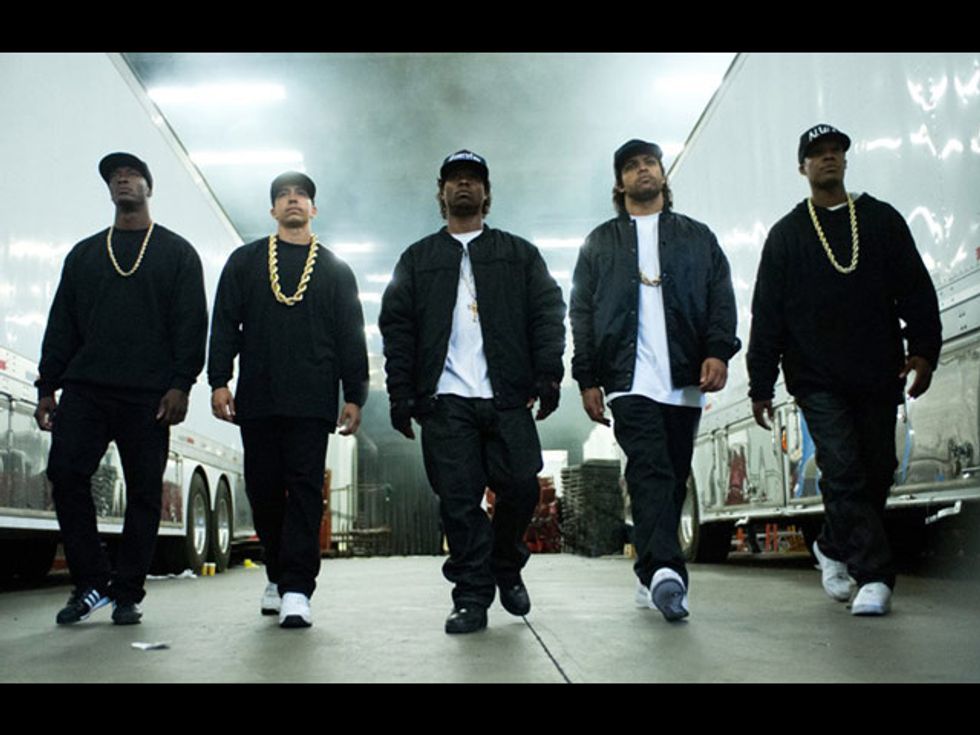 By Cary Darling, Fort Worth Star-Telegram (TNS)
It has been a good year for pop music on film, from the Brian Wilson biopic, Love and Mercy, to the celebration of retro hip-hop, Dope. The trend continues with the electric, if slightly hagiographic, Straight Outta Compton, a chronicle of the rise of the controversial and groundbreaking California rap group N.W.A.
Los Angeles was a jittery, nerve-jangling place in the late '80s and early '90s, and not just because of seismic events like the deadly Whittier Narrows and Northridge earthquakes.
The fissures between rich and poor, black and white, the police and the policed erupted into deep fault lines, shaking the foundation of the city's image as a sun-kissed paradise. The violence that exploded in the wake of the 1992 not-guilty verdict of the policemen charged with using excessive force on Rodney King would take more than 60 lives.
Local rock music, from Guns N' Roses' snarling "Welcome to the Jungle" to Sublime's riot-themed "April 29, 1992" and a wealth of punk-rock, reflected the changing times. But nowhere was this more true than with hip-hop, which may have been born in the shadow of New York's skyscrapers but grew into something more raw under the harsh glare of the Hollywood sun. That was in large part due to N.W.A., whose "reality rap" included such anthemic tracks as "Boyz n the Hood" and, especially, "(Expletive) tha Police."
Director F. Gary Gray ("The Italian Job") does a commendable effort distilling the group's musical life into a story that can appeal to those who know little about N.W.A. or the environment from which the members sprang. It's a story of friends — poet Ice Cube (an excellent O'Shea Jackson Jr., Ice Cube's son), beat master Dr. Dre (Corey Hawkins), former drug dealer and money man Eazy-E (an absolutely riveting and often funny Jason Mitchell), DJ Yella (Neil Brown Jr.), and MC Ren (Aldis Hodge) — who grow together through music and then apart through success.
It's the age-old story of artistic exploitation as manager Jerry Heller (Paul Giamatti) gets the guys to aim higher than playing at the local Skateland. Through him, they become stars and a media sensation with the album Straight Outta Compton, but Heller's not above ripping them off. He's replaced in their lives by the threatening Suge Knight (R. Marcos Taylor), who wants some of the N.W.A. financial action for himself.
And it's the story of Rodney King-era L.A., where cops sometimes ran roughshod over residents in minority neighborhoods. In one of the film's most intense scenes, the group members are forced to the ground and taunted by a group of white and black police outside a recording studio. It's only due to intervention from Heller, who's white, that they're let go. The incident offers context to the group's lyrics that some claimed glorified violence and, though it took place more than 20 years ago, its reverberations echo loudly with what's happening today.
It may seem odd to compare the hard-edged Compton to the more blissful Love and Mercy, but the two films share more than performances by Giamatti as a music-industry vampire. The two focus much of their time on the act of creation and, in both cases, it's enthralling.
In fact, the sprawling 157-minute Compton is at its best in its first half, when the guys are struggling for their art. It's slightly less successful in portraying the negative fallout from their success, only peripherally wrestling with the issues of the rampant sexism (except for the group's mothers, most of the women in the film are sexual accessories) or charges of anti-Semitic and anti-Asian lyrical bias that dogged Ice Cube in those days.
It telescopes Ice Cube's transition from profane rapper to Are We There Yet?/Friday/21 Jump Street film-comedy king into just a few seconds and only hints at the mogul that Dre — who last year sold his Beats headphones line to Apple for $3 billion, making him one of the world's richest recording artists — would become.
But as a depiction of a time and place, Straight Outta Compton — from its low-rider Chevys on hydraulics blaring hip-hop radio station KDAY to police batter ram vehicles crashing into suspected crack houses — nails it.
It's almost as if you can feel the earth, and the culture, shaking beneath your feet.
———
'STRAIGHT OUTTA COMPTON'
4 out of 5 stars
Director: F. Gary Gray
Cast: O' Shea Jackson Jr., Jason Mitchell, Corey Hawkins
Rated: R (strong language throughout, strong sexuality/nudity, violence, and drug use)
Running time: 157 min.
Photo: Neil Brown Jr., Aldis Hodge, Corey Hawkins, Jason Mitchell and O'Shea Jackson Jr. in "Straight Outta Compton." (Photo courtesy Universal Pictures/TNS)