Movie Review: Malala's Light Shines Through Flawed Documentary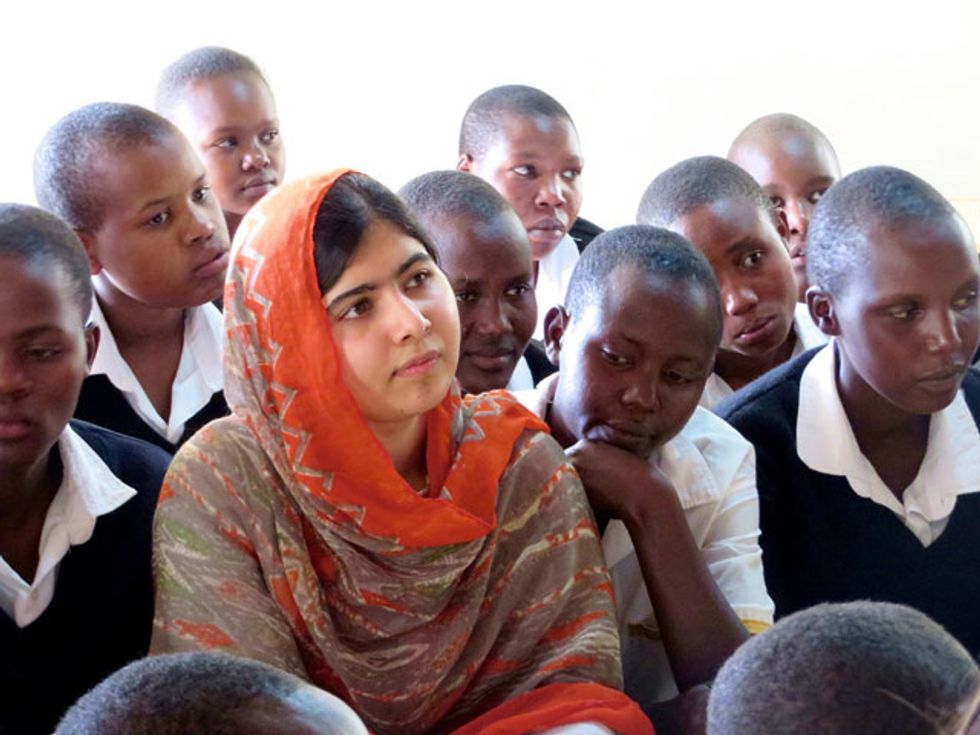 By Katie Walsh, Tribune News Service (TNS)
Chances are, you're already familiar with Malala Yousafszai, the young activist and Nobel laureate who survived being shot in the head by the Taliban in Pakistan. But with Davis Guggenheim's new documentary, He Named Me Malala, based on her memoir, I Am Malala, you'll get to know the remarkable girl in a much more intimate and illuminating light. While the film itself is plagued with structural storytelling issues that are at best emotionally numbing, at worst confounding, Malala's inspirational spirit is undeniable, and the documentary allows that to shine through.
Guggenheim's film weaves three different timelines together to tell the story not only of Malala but of her family, and most significantly, her father Ziauddin, who has informed her worldview. There's the present day, which features warm scenes of Malala interacting with her family, going to school in England, and attending to her new responsibilities as a global education activist. The second timeline focuses on the attack itself, and the conditions and actions that led up to it, but tells it in reverse.
The third timeline is animated in a soft pastel sketch style, and explains how Malala got her name. The Afghani fable of a young woman who raised her voice to inspire her people is Malala's namesake. Given to her by her father, a passionate educator who taught Malala to be independent and outspoken, Guggenheim wonders if the name predicted her fate, or if Malala chose her own path.
Eventually we learn that Malala, as a young teen, made the choice to become a loud critic of the Taliban's practices in her hometown of the Swat Valley in Pakistan, as they were bombing schools daily and preaching that women had no need for education. Coming late in the film, young Malala's fervent, strident public speaking is awe-inspiring, particularly since we are well aware of the dangers that would befall her.
In this sense the intertwined reverse storytelling works. We come to have affection for her and understand her as a regular teenage girl, while having the groundwork for the situation laid out for us, so that when we see her speaking out for girls' education, we understand the importance and consequences. However, there are some very jarring switches between the storylines, going from Taliban bombings to lighthearted moments of Malala talking about school, teasing her brothers, or giggling about her favorite cricketers.
This head-snapping timeline shifting makes it so that your emotions are constantly yanked around, and cuts off important moments that could use more time to breathe. However, Malala is such a charming and inspiring presence, and the film takes the time to make sure we see her not just as invincible, but as vulnerable, goofy, and sweet.
When we see her in this light, we know that she's not someone extraordinary, she's just an ordinary girl who believed so much in standing up for the right thing that she couldn't help but do it. This realization is empowering, demonstrating that any person can stand up and do what's right when they have the courage of their convictions. But, too few actually do what she did, and that's what makes her so special.
———
'HE NAMED ME MALALA'
3 stars out of 4
Rated PG-13 for thematic elements involving disturbing images and threats.
Running time: 1 hour, 27 minutes
Cast: Malala Yousafszai, Ziauddin Yousafszai
Directed by Davis Guggenheim
———
Photo: Malala Yousafzai at the Kisaruni Girls School on May 26, 2014 in Massai Mara, Kenya. (Fox Searchlight Pictures)