Moving Parts Complicate Democratic Challenge To McCain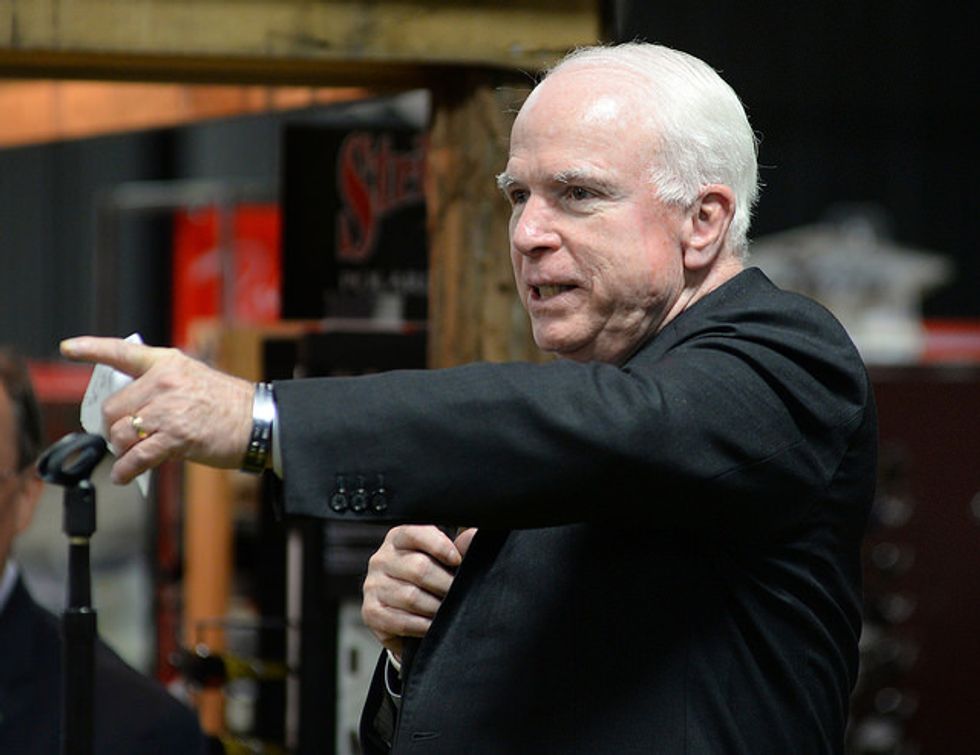 By Alexis Levinson, CQ-Roll Call (TNS)
Arizona Sen. John McCain's re-election campaign announcement Tuesday was just one of a handful of moving parts that will determine whether Democrats can make this race competitive.
Democrats trying to game out the Senate race are facing a dizzying number of variables: a pending Supreme Court decision that could result in the redrawing of congressional district lines, the potential for a nasty Republican primary, whether Hillary Rodham Clinton will make a play for Arizona in the presidential race, and whether Democratic outside groups would devote resources to a state where the party hasn't won a Senate seat since 1988.
There are a few candidates Democrats believe would be strong contenders, but convincing them to run in this Republican-leaning state may be difficult unless the dominoes fall a certain way.
"The problem Democrats have in our state right now is it's just so hard to win a statewide election," Democratic consultant Barry Dill said.
Beyond the state's inherent challenges for Democrats, McCain, 78, reportedly has a $3.5 million war chest as of March 31, and he's made clear in recent interviews that he's taking his re-election seriously, even if a primary looks for now like the bigger threat.
"The people that lose — and we've seen some of them particularly in 2010 and 2012 — were people who took their re-election for granted," the senator said Wednesday morning on KSAZ-TV, a Fox affiliate in Phoenix. "They figured that because they'd been there that they deserved to be re-elected. We don't deserve anything unless we earn it. Every time, it's a new examination by the voters, it's a new decision-making process."
Reps. Kyrsten Sinema and Ann Kirkpatrick are the two Arizona Democrats mentioned the most as possible challengers. Both have proven crossover appeal after winning swing districts in a tough year. Sinema, Democrats say, is ambitious and a strong fundraiser, while Kirkpatrick's profile elevated after being re-elected in 2014 by a bigger margin than in 2012.
Neither one has openly expressed any interest in running for Senate. Sinema brushed off such questions in a recent conversation with CQ Roll Call, and her office did not respond to a request for comment. A source close to the Kirkpatrick campaign said they were watching the redistricting case closely to see what happened.
But in July, one or both may receive added incentive to run when the Supreme Court rules on a lawsuit challenging the constitutionality of Arizona's independent redistricting commission. If the court rules the commission lacked the authority to draw the lines, the Republican-controlled legislature would be charged with reshaping the districts, which could prove detrimental to the political survival of Sinema or Kirkpatrick.
Arizona operatives believe Republicans would likely shore up the swing district held by Republican Rep. Martha McSally and try to shift more Republicans into Kirkpatrick's 1st District and Sinema's 9th District.
"If all of a sudden she's found in a very likely competitive House situation — or where it's not even competitive to her disadvantage — then the Senate may be something she would look at," Dill said of both Democratic congresswomen.
Democrats could also recruit outside of the congressional delegation. One name mentioned was Nan Walden, a pecan farm executive who was recruited to challenge McCain in 2010 and has been floated in the past as a potential candidate in the 2nd District.
Also on the list is former Surgeon General Richard Carmona, who lost the 2012 open-seat Senate race to Republican Jeff Flake.
But the pending redistricting decision makes it unlikely any of these people will enter the race before late summer or fall, about a year before the Aug. 30 primaries.
"We're all sort of waiting to see what the playing field actually looks like," said one Arizona Democrat.
A delayed entrance to the race only makes keeping up with McCain on fundraising a greater challenge, even if the incumbent faces a competitive primary. In addition to his already plentiful campaign funds, as chairman of the Senate Armed Services Committee, he will have a lot of friends when it comes time to fundraise.
Sinema had $303,000 in cash on hand at the start of the year. She raised $3.7 million in the 2014 cycle. Kirkpatrick finished the year with $88,000 after a grueling re-election in which she raised $3.4 million.
"For us to make the jump and to win a big statewide race, it's gonna take serious investment from the DSCC. … It's a lot about the investment of outside groups and the national committees," said the Arizona Democrat.
While Democrats continue to insist demographic changes are putting states like Arizona and Georgia in play, electoral history continues to haunt them there. The last time a Democrat won an Arizona Senate seat was 1988, when Sen. Dennis DeConcini won a third term. Carmona, who ran in a good Democratic year, lost the open seat by 4 points.
Of course, Democrats still hope they might not have to deal with McCain at all. The senator is unpopular with the more conservative quarters of his party, and he will likely get a primary challenge. State Sen. Kelli Ward has indicated interest in a bid, though she would have an uphill climb to unseat McCain, and Republican Rep. Matt Salmon is also likely to consider it.
(c)2015 CQ-Roll Call, Inc., All Rights Reserved, Distributed by Tribune Content Agency, LLC
Photo: Zach Frailey via Flickr