So Much For The Deep Bench: Republicans Look To The Past For 2016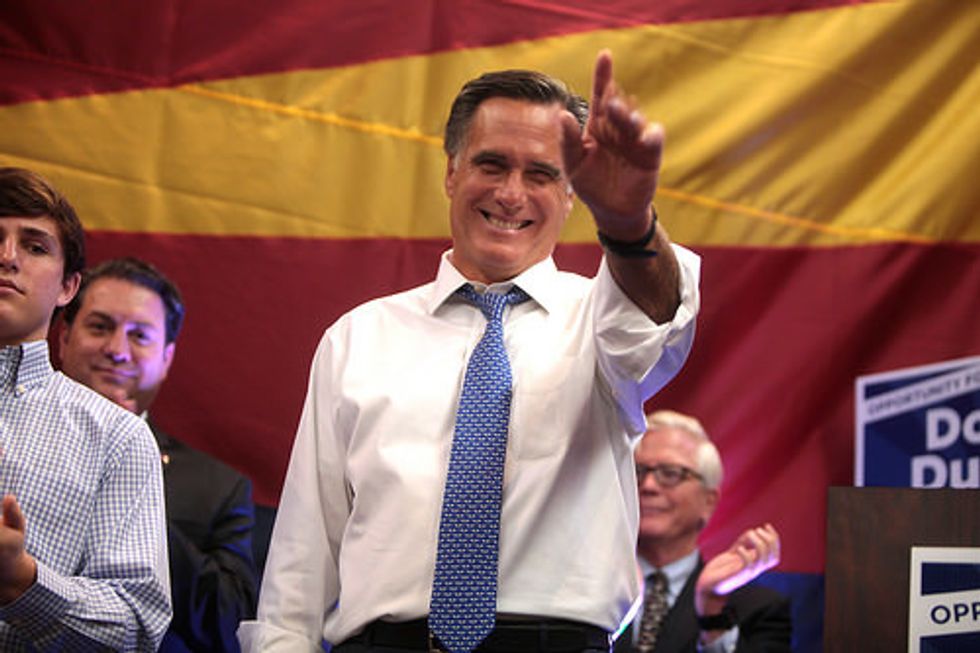 On Friday, 2012 Republican presidential nominee Mitt Romney walked back months of promises and told a group of his past donors that he is "seriously considering" another White House bid. According to the Washington Post, he then spent the weekend "calling former aides, donors and other supporters" to rebuild his political operation, and even told one senior Republican that he "almost certainly will" launch another presidential campaign.
There's still plenty of reason to believe that Romney will not run — and that he'd struggle to win if he did. But if Romney does join the race, he won't be the only retread candidate seeking the GOP nomination in 2016.
Romney's runner-up in 2012, former Pennsylvania senator Rick Santorum, has made no secret of his intention to pursue the Republican nomination again. When Santorum was informed that Romney may run again in 2016, he reportedly responded, "bring it on," and declared that he sees himself as "the winner" in what looks as though it will be a crowded field. Former Texas governor Rick Perry has also begun laying the groundwork for a campaign, huddling with donors and policy experts in the hopes of avoiding a repeat of his 2012 disaster.
If Santorum does run, he'll likely be joined by fellow Iowa caucus winner Mike Huckabee. The former Arkansas governor recently ended his Fox News show to explore a White House bid. Huckabee won 278 delegates in the 2008 presidential race, barely edging Romney's 271 but losing easily to Senator John McCain (R-AZ), who has dismissed 2016 speculation by quoting the late Morris Udall: "The people have spoken — the bastards."
As Romney, Huckabee, Perry, and Santorum weigh their options, former Florida governor Jeb Bush has moved decisively towards a run and established himself as the early frontrunner. Of course, Bush isn't exactly a fresh face, either; he has not held elected office in six years, and he would almost certainly not be mentioned as a top-tier candidate were he not the brother of the 43rd president and the son of the 41st.
There's plenty of precedent for Republicans considering well-known national figures and former candidates for their nomination; it's been the party's modus operandi for decades. But this year was supposed to be different. As various pundits repeated ad nauseam during the 2012 campaign, the Republican Party was supposed be the party with a "deep bench" of "rising stars" to lead America into the future. But upon further review, anointing Bob McDonnell, Chris Christie, or Marco Rubio as the party's standard-bearer doesn't seem like such a great idea.
Some candidates who won media favor in 2012 (such as Wisconsin governor Scott Walker and Kentucky senator Rand Paul) still seem capable of mounting serious campaigns. But they have generated so little support as to leave candidates like Romney and Huckabee confident that they could run again and win. And so the GOP once again seems poised to turn to its failed candidates of the past.
Perhaps it's no wonder that many Republicans seem determined to take down Democratic frontrunner Hillary Clinton with a campaign straight out of 1994.
Photo: Gage Skidmore via Flickr