Mueller Bids Farewell To Sessions In SNL Cold Open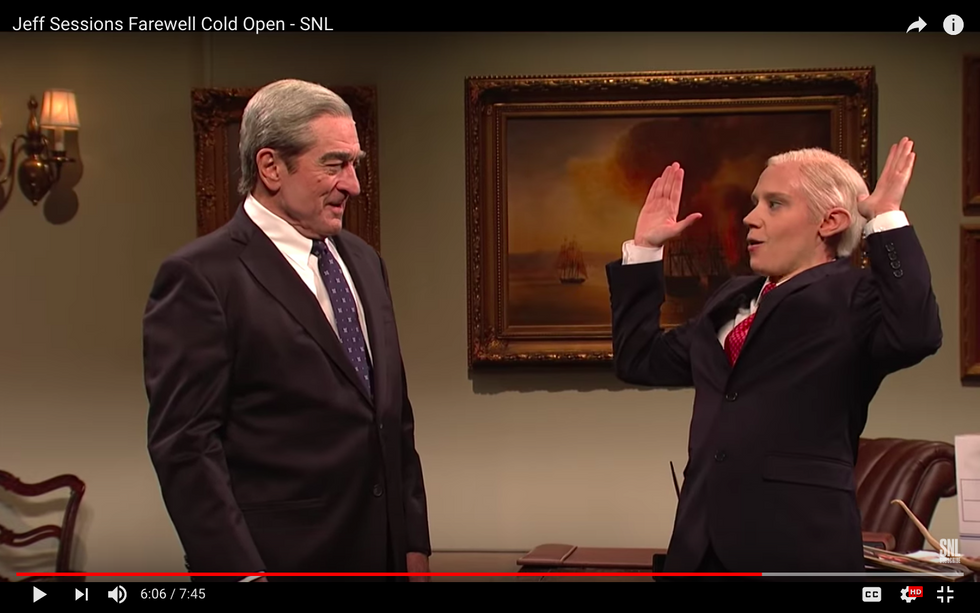 In the opening scene of Saturday Night Live's cold open, Sarah Huckabee Sanders (Aidy Bryant) finds Attorney General Jeff Sessions (Kate McKinnon) hiding in his desk at the Justice Department.
"This is Matthew Whitaker's office now, Jeff," she reminds him.
"Yeah, I know," he replies. "I don't understand how Mr. Trump could replace me with Matt Whitaker. He's just a shady businessman with no experience who's blindly loyal to Donald Trump. OK, hearing it out loud, that makes sense."
Poor Sessions then ruminates on his "good times" in service to Trump, greeting a parade of buffoonish figures parading through his office as he packs up — iMike Pence (Beck Bennett), Donald Jr. (Mikey Day) and Eric Trump (Alex Moffat) — before yodeling Adele's heartbreak anthem, Someone Like You.
But he is interrupted by the arrival of a final interlocutor when Robert Mueller (Robert DeNiro) steps in with a few words of appreciation, and a special gift.
Click and laugh.