Mueller Filing Discloses Extensive Cooperation By Flynn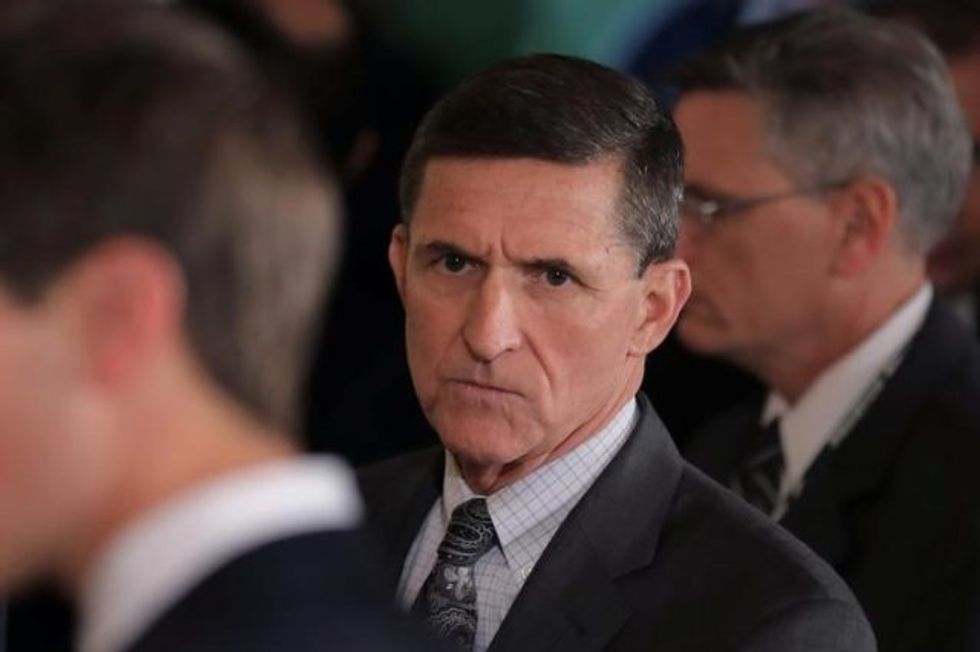 Reprinted with permission from AlterNet.
In a new and expected sentencing memo Tuesday night, Special Counsel Robert Mueller revealed that he was pleased with former national security adviser Michael Flynn's cooperation in the Russia investigation.
The filing recommends that Flynn's sentence, which he will receive for pleading guilty to lying to the FBI, can be substantially shortened because of his extensive cooperation with the probe.
"Given the defendant's substantial assistance and other considerations set forth below, a sentence at the low end of the guideline range—including a sentence that does not impose a term of incarceration—is appropriate and warranted," the memo said.
The memo extends to seven pages, but many of the details were redacted from public view.
Since he started cooperating with the investigation, Flynn has sat for a total of 19 interviews, Mueller revealed.
And it wasn't just about Russia. In one heavily redacted section, Mueller suggests Flynn provided substantial information about "several ongoing investigations." It's not clear what this language refers to.
All this indicates that, contrary to what Trump's defenders have said, Flynn's knowledge of criminal activity related to the Trump campaign almost certainly extends beyond the lies he told to the FBI, which related to his conversations with Russian Ambassador Sergey Kislyak during the presidential transition. The filing notes that Flynn's "early cooperation was particularly valuable because he was one of the few people with long-term and firsthand insight regarding events and issues under investigation by [the Special Counsel's Office]."
It also says he his cooperation helped convince others to cooperate, which is intriguing because it's not necessarily clear which other known cooperators' actions would be relevant to Flynn's testimony.
In other words: There's still a lot that Mueller knows that we don't.
One of the important implications of this report, noted former DOJ official Matthew Miller, is that it pushes more of the special counsel's findings outside the executive branch, where Trump has most control.
"One byproduct of this filing, intentional or not, is the information is now in the custody of a judge, not just housed in the executive branch. Even if Mueller is fired, it doesn't disappear — can all be unsealed and made public," Miller noted.
Cody Fenwick is a reporter and editor. Follow him on Twitter @codytfenwick.