Murdoch Relishes 'Outsider' Role Despite Power, Book Claims
@AFP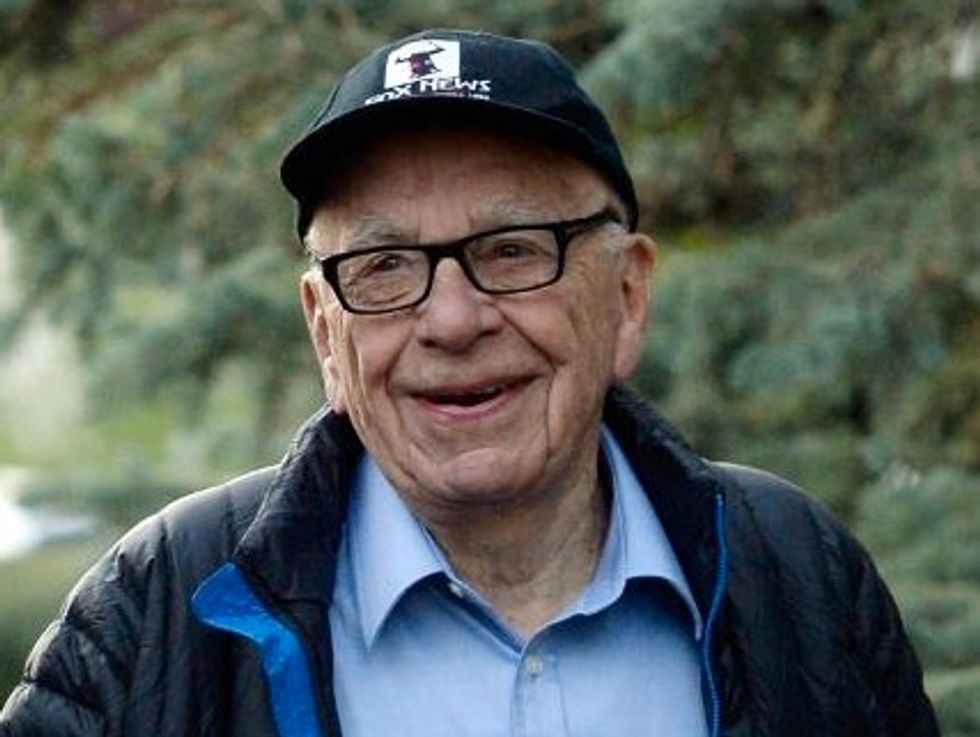 Washington (AFP) – Rupert Murdoch still sees himself as an anti-establishment outsider, even after building the most powerful media empire on the planet, a new book on the tycoon says.
"Murdoch's World: The Last of the Old Media Empires" by David Folkenflik says the Australian-born U.S. magnate remains distrustful of governments following his long history of battling regulators in several countries.
Murdoch's executives "have always defined themselves by (the company's) enemies — unions, liberal elites, the New York Times, the BBC, the Guardian and the Australian Broadcasting Corp; self-satisfied politicians, red-tape happy government regulators, the leftist university professoriate," the author writes.
"It is the defining contradiction of Rupert Murdoch's corporation that it has accumulated more influence than any other media company in the world and yet remains convinced of its status as an outsider."
Murdoch, who is under pressure from a phone-hacking scandal in Britain and recently split the huge News Corp. conglomerate into separate companies focusing on entertainment and publishing, has long had "contempt" for much of what government does, the book argues.
"Murdoch comes by that contempt for government intervention by way of personal experience," Folkenflik writes in the book released this week.
"He is a man whose very history tells him that regulations are designed to trip him up. He is an executive who has built up his own empire after seeing his family's holdings shrink from taxes levied on his father's estate, He is an entrepreneur who repeatedly had to win permission to buy television and newspaper properties in all three English-speaking countries in which he became a dominant presence."
The book maintains that Murdoch and his executives "convinced themselves the establishment loathed the corporation."
"This declaration would be repeated despite the fact that Murdoch pere and fils and their top lieutenants were courted by prime ministers, and their top executives were often culled from the establishment's ranks," it says.
Folkenflik, a media reporter for National Public Radio in the United States, said Murdoch personally sees global warming as a problem but that he allows his news organizations to cast doubt on the issue.

"Murdoch's belief in the need to contain climate change was pitted against his hatred for central government regulation," the book says.
"So he set a corporate example but refused to endorse a mandate… he sees the environmental movement littered with alarmists, a cadre of managerial elitists who snatch away power and property and wealth from his working- and middle-class tabloid readers."
The author said Fox News "sprang from Murdoch's decision to create a television empire around sports" as he had done in Australia and Britain.
Murdoch, according to the author, was committed to getting NFL broadcasts as a foundation for his television network and initially wanted a news program as a "bookend" which would compete against the CBS show "60 Minutes."
"The idea of creating a new show yielded to the idea of creating an entire cable network — a niche news channel," the journalist wrote.
Folkenflik said Murdoch, 82, has not publicly named a successor but that his son James was best-placed.
Lachlan, the eldest son, appeared to be "the anointed one" in 2000, but when he resigned years later "amid Machiavellian machinations," the father "saw the son's retreat as a sign of weakness."
The media tycoon used Britain's Sky TV "as a proving ground for the succession games," and James's time there as chief executive saw him massively boost subscribers and revenues.
The appointment of James as deputy chief operating officer and chief executive of international operations in 2011 "formalized his status as heir apparent," the book said, though many believe his earlier handling of the phone hacking scandal in Britain had damaged his credibility.
The author said Murdoch repeated a lesson he learned when he was five years old and his mother threw him in a swimming pool to teach him to swim.
"She would not allow anyone to rescue him, even though he was screaming for help, he recalled as an adult," the book said.
AFP Photo/Kevork Djansezian