Musicians To Republicans: I Don't Sing For You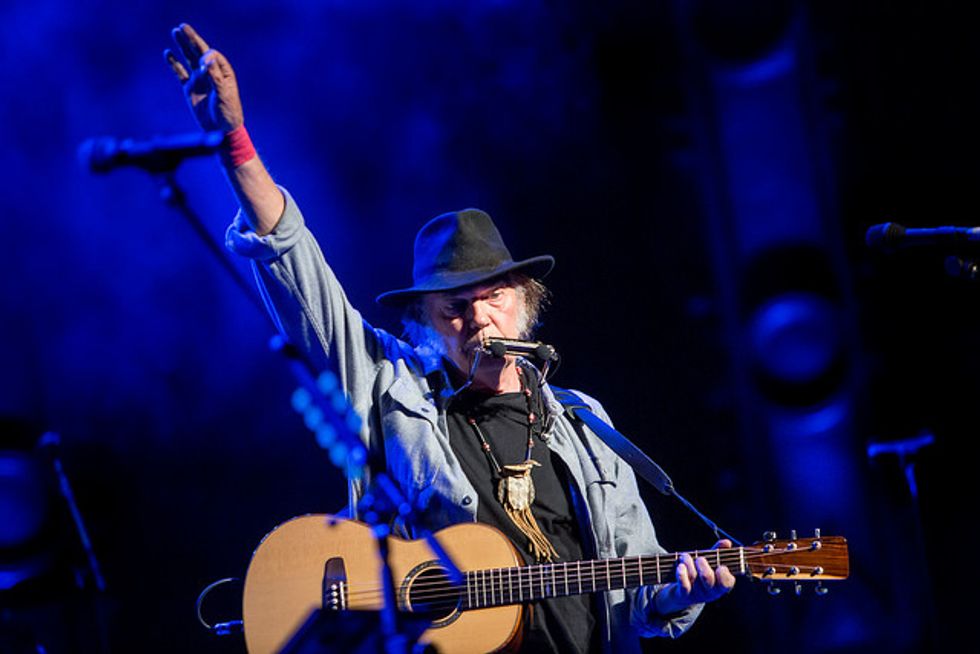 Donald Trump announced his presidency, and his intention to make the country great again, to the soaring sound of Neil Young's 1989 hit, "Rockin' in the Free World." Which makes sense for a presidential rally, since it is a song about freedom. (It was even from an album titled… Freedom.)
But Neil Young was furious.
Young, who had publicly announced his support for Bernie Sanders, released a statement through his manager that said Trump was not authorized to play the song.
Trump's spokespeople disagreed. According to Rolling Stone, Trump's campaign "paid for and obtained the legal right to use" the recording at the event through ASCAP, a performing rights organization that represents over 525,000 songwriters and composers, and added that "Mr. Trump is a huge fan of Neil Young and his music and will continue to be regardless of Neil's political views."
However, that doesn't mean that Trump is in the clear – nor are any politicians whose love for a particular musician goes unreturned by an artist who doesn't care for their political views. (Spare a thought for poor Chris Christie, whose unrequited love for and constant rejection by New Jersey's own Bruce Springsteen borders on legendary.)
ASCAP says that an artist has the legal right to stop a candidate from using a song even if the campaign has secured the appropriate licenses.
"False endorsement" is a real thing and campaigns can be sued for it, as well as the "right to publicity," which provides image protection for artists.
Other Republicans who have recently been told to get their hands off the music are Wisconsin governor Scott Walker, who appropriated The Dropkick Murphys' "I'm Shipping Up to Boston" for an appearance in Iowa in January, leading to this memorable tweet:
@ScottWalker @GovWalker please stop using our music in any way…we literally hate you !!! Love, Dropkick Murphys

— Dropkick Murphys (@DropkickMurphys) January 25, 2015
In 2008, Sarah Palin tried to burnish her image as a "barracuda" — a nickname dating from high school — by appropriating Heart's 1977 hit of the same name, but Ann and Nancy Wilson, the band's core members, were appalled that their "scathing rant against the soulless, corporate nature of the music business" was used against their wishes. And to top it off, the Republican campaign didn't even ask if they could use it.
That same year, John McCain was told by several artists, including Jackson Browne, the Foo Fighters, Van Halen, and John Mellencamp, to cut it out. Mellencamp's letter to the McCain campaign even pointed out that his songs specifically ran contrary to McCain's philosophies: "Why are you playing songs that have a very populist pro-labor message written by a guy who would find no argument if you characterized him as left of center?"
Democrats have had their share of kerfluffles, but they generally receive much less ire. Sam Moore asked Barack Obama's campaign to stop using his song "Hold On" and Cyndi Lauper didn't want her "True Colors" to be used in an attack ad against Mitt Romney.
But at least one candidate is winning this round – Hillary Clinton, who released a playlist earlier this week and hasn't yet received any blowback from the artists on it. In fact, Katy Perry offered to pen a tune directly for Clinton – but there was no need.
.@katyperry Well that's not a Hard Choice. You already did! Keep letting us hear you Roar.

— Hillary Clinton (@HillaryClinton) June 22, 2014
Photo: Neil Young, proud Canadian, Bernie Sanders fan and big-time rocker, would rather Donald Trump not use his music for his campaign. Kris Krug via Flickr