Muslims Concerned After Lawsuit Against NYPD Is Tossed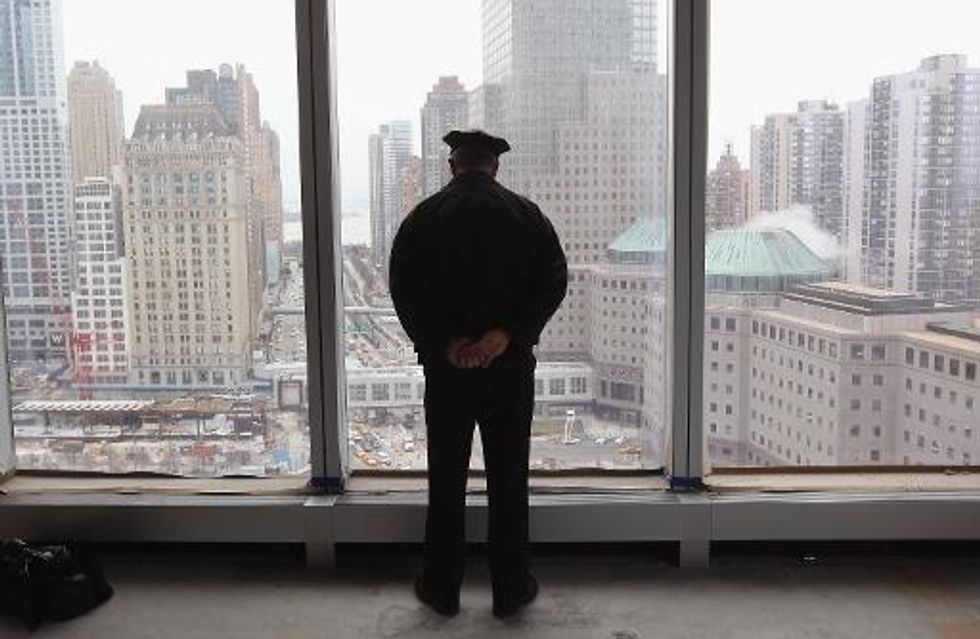 By Hannan Adely, The Record
HACKENSACK, N.J. — Civil rights advocates said they were troubled by the dismissal of a federal lawsuit that challenged broad surveillance of Muslims by the New York Police Department and feared it would give law enforcement a "green light" to spy on people based on their religion.
Muslim Advocates, a civil rights organization, filed the lawsuit in June 2012 on behalf of 11 Muslim individuals, businesses and organizations in New Jersey, alleging that the surveillance program violated their constitutional rights by targeting them on the basis of religion. U.S. District Judge William Martini dismissed the lawsuit Thursday, saying the plaintiffs did not show discrimination or injury.
Glenn Katon, legal director of Muslim Advocates, said the organization planned to appeal the decision.
"We really think the case was wrongly decided," he said. "If its reasoning were upheld, it would be a dangerous precedent" against equality under the law and religious freedom.
Plaintiff Gary Abdul Karim Abdullah, owner of All Body Shop Inside and Outside in Newark, said he lost customers and income after his business was identified as one under surveillance.
"It had an adverse effect," he said. "A lot of people called and told me they were afraid to come near the place. Along with the economic situation, it's been very difficult."
He said he was disappointed that the judge dismissed the case. "I think they should have heard from the people (in court) what they think about it," he said.
Martini said the plaintiffs did not prove they were targeted because of their religion and that the "more likely explanation for the surveillance was a desire to locate budding terrorist conspiracies."
"The motive of the program was not solely to discriminate against Muslims, but rather to find Muslim terrorists hiding among ordinary, law-abiding Muslims," he wrote.
Even if the plaintiffs had proved injury, Martini said, it would have been caused by "unauthorized disclosure of documents" by The Associated Press, which broke the news about the surveillance program in a series of stories starting in August 2011. The AP series later was awarded the Pulitzer Prize.
Following the 9/11 terrorist attacks, the NYPD launched a surveillance program that targeted Muslims at businesses, universities and mosques, including ones in Paterson and Newark, as well as student groups at 16 Northeast colleges, including Rutgers University.
The NYPD allegedly listened in on sermons and conversations at mosques and reported back what they heard. Officers also recorded license plate numbers, mounted cameras on light poles, mapped and photographed mosques, and listed ethnic makeup of businesses in police reports, and they monitored student websites and emails.
News of surveillance caused outrage among Muslims and public officials in New Jersey, who claimed the NYPD did not inform them of their operations in the state. Muslims believed they were discriminated against and said fear of surveillance had put a chill on Muslim life, as people feared speaking out about politics, joining Muslim groups and even praying at mosques.
Former New York Mayor Michael Bloomberg and the Police Department maintained that the surveillance program was legal and that police collected information that was publicly available to know where terrorists might go to "lie low." They noted that 9/11 hijackers had spent time in New Jersey, including men who rented an apartment in Paterson. The police used informants only to follow leads, they said.
The Police Department's media office did not respond to a request for comment Thursday afternoon.
Muslim Advocates was the first to challenge the NYPD's actions in a civil rights lawsuit. The group claimed that the surveillance cut down freedom of religious expression and assembly, diminished employment prospects and led to loss of business in places identified as targets of surveillance.
The lead plaintiff in the suit was Syed Farhaj Hassan, a Middlesex County resident who is an Iraq war veteran and an active member of the U.S. Army Reserve. Hassan, an observant Muslim of Pakistani descent and a military intelligence specialist, said he was concerned that being associated with a mosque under surveillance would blemish his record and jeopardize his job and security clearance.
A principal who worked at two Muslim girls' schools in Newark that had been under surveillance said she believed her career prospects had been hurt because of her association with those schools. The Muslim Students Association claimed students did not feel secure joining the group or participating in events or discussions because police had monitored the group.
The Muslim Foundation and Council of Imams in New Jersey also were plaintiffs as were two businesses who said they lost customers because their businesses had been identified as ones under police surveillance.
Baher Azmy, legal director for the Center for Constitutional Rights, which is co-counsel on the case, called the decision "troubling and dangerous." She said it "gives legal sanction to the targeted discrimination of Muslims anywhere and everywhere in this country, without limitation, for no other reason than their religion."
Katon said there are plans to appeal the decision in the 3rd U.S. Circuit Court of Appeals in Philadelphia. Other cases are also pending.
A group of New York City residents sued the Police Department in June over the Muslim surveillance program in a civil rights case that is pending in Brooklyn. Civil rights attorneys also filed court papers a year ago alleging that the surveillance program violated the Handshu rules that were imposed on New York City police after a landmark federal case over surveillance of political activists in the late 1960s.
In New Jersey, former Attorney General Jeffrey S. Chiesa concluded after a three-month fact-finding review that the NYPD broke no state laws when it did surveillance in New Jersey, while New York's attorney general declined to investigate.
Lawmakers and more than 100 organizations have called for the U.S. Department of Justice to investigate; the first request came in September 2011. The department has only said, since then, that it is reviewing the requests for an investigation.
AFP Photo/John Moore