N.C. Republican Dinged For Defending Right To Fire Gays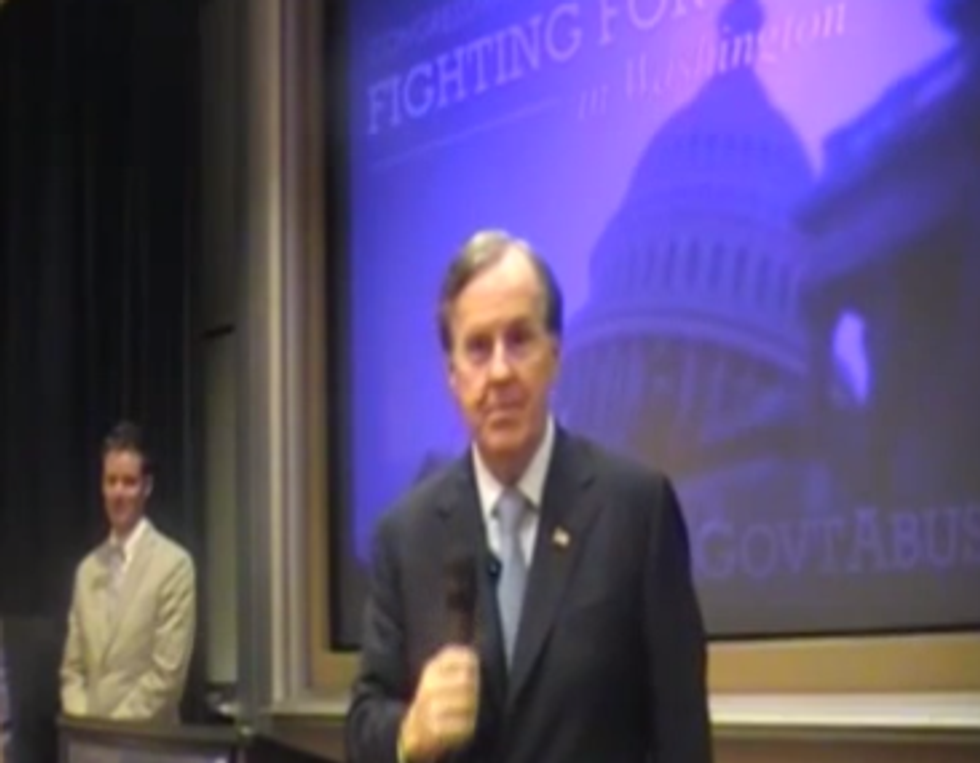 By Franco Ordonez, McClatchy Washington Bureau
WASHINGTON — As House Democrats made a Hail Mary attempt to force a vote on laws to protect gays in the workplace, Rep. Robert Pittenger (R-NC) continues to stand by comments he made earlier this month that businesses should be free to fire employees based on their sexual orientation.
Pittenger has been criticized for the remarks, but he said in a statement Wednesday that Americans are already well-protected. Current laws against discrimination should be enforced to the fullest, he emphasized. But he said Americans need more jobs and a stronger economy, not more regulations that stifle growth.
"It's incredibly hard to operate or start a business already, and I don't think America is begging for more obstacles to an economic recovery," he said in the statement. "Where does it stop? Is the next regulation going to prohibit a layoff even during an economic downturn? Will the next law mandate full employment?"
Pittenger stirred up the gay rights debate when he told liberal political blog ThinkProgress this month that governments shouldn't "impose on the freedoms we enjoy." Asked his opinion about the Employment Non-Discrimination Act pending in Congress, Pittenger compared adding more laws to protect gays in the workplace to smoking bans — which he said are fine for public places, but he questioned the government role when it comes to private spaces.
The debate has pitted many Democrats and Republicans against each other. House Speaker John Boehner (R-OH) has shown no interest in taking up legislation passed by the Democratic-led Senate last year that would prohibit workplace discrimination based on sexual orientation or gender identity.
On Wednesday, House Minority Leader Nancy Pelosi (D-CA) sought to force the hand of Pittenger, Boehner, and other Republican opponents. She joined other Democratic leaders in announcing a procedural push to force a vote on the bill.
"Unfortunately in South Carolina and 28 other states it is still legal to discriminate against people based on their sexual orientation," Assistant Democratic Leader James Clyburn of South Carolina said Wednesday during a news conference. "And that is, plain and simple, wrong."
Asked at the news conference about Pittenger's remarks to ThinkProgress, Rep. Jared Polis (D-CO) said he did not have the context to comment on them.
Gay rights activists called Pittenger's comments "absurd" and argued that discrimination in the workplace because of someone's sexual orientation goes against American values.
"Representative Pittenger's ill-informed opinion is also not consistent with the fair-minded opinion of most Americans," said David Stacy, government affairs director for the Human Rights Campaign, a gay rights organization. "The vast majority of Americans back commonsense workplace protections for LGBT Americans."
Staffers for Pittenger said they've received no negative calls about his comments and that no constituents brought the issue up at any of Rep. Pittenger's 13 town hall events over the last two months.
Pittenger, a Charlotte real estate investor, said he has an "open, non-discriminatory policy" and has hired members of the gay community. More than 96 percent of the top 50 Fortune 500 companies include sexual orientation in their non-discrimination policies, according to the Williams Institute. And, according to Pittenger, that's the more appropriate place for these decisions to be made, in the free market. More government intervention is not the answer, he said.
"Where does the government's role in dictating our daily lives end?" Pittenger asked in his statement. "That's the debate we should be having."
Samantha Ehlinger of the Washington Bureau contributed to this report.
Photo: Robert Pittenger (R-NC) via YouTube
Interested in U.S. politics? Sign up for our daily email newsletter!