N.Y. Doctor With Ebola Is Stable; Health Care Protocols Under Scrutiny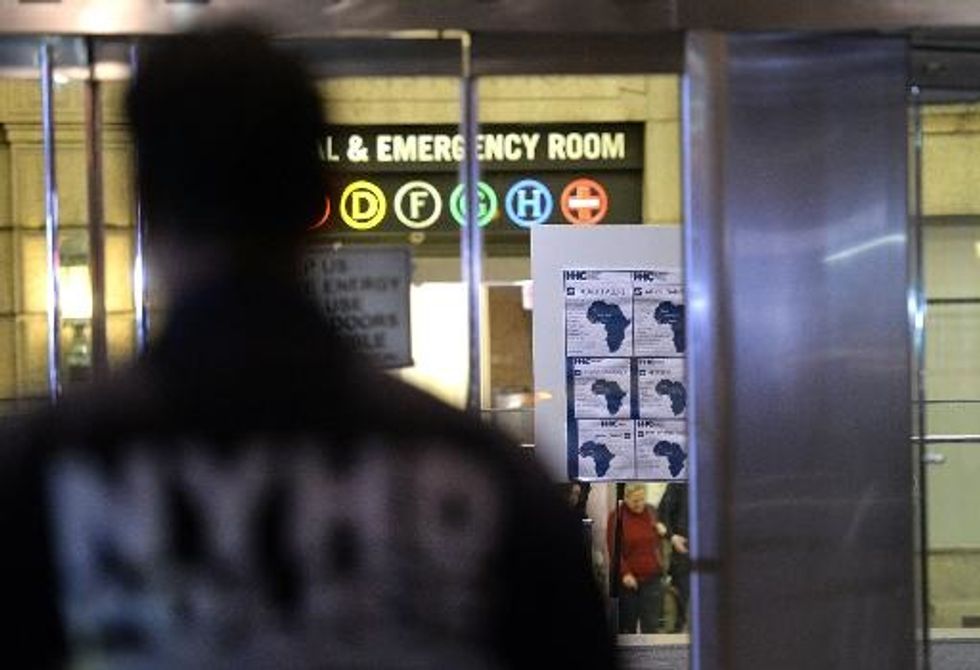 By Tina Susman, Los Angeles Times (MCT)
A doctor who tested positive for Ebola was in stable condition at a New York hospital on Friday, as federal officials face heightening scrutiny over protocols for health care workers who have treated Ebola victims.
The ill doctor, Craig Spencer, 33, became feverish in his Manhattan apartment on Thursday and was diagnosed hours later at Bellevue Hospital. He returned to the United States on Oct. 17 after working with Ebola victims in Guinea, a West African country badly hit by Ebola.
He left Guinea on Oct. 14 and traveled back to the United States via Europe. In accordance with Centers for Disease Control and Prevention protocols, he had been checking his temperature twice daily and had remained mostly inside his apartment, the city's health commissioner, Dr. Mary Bassett, told reporters late Thursday.
But Ebola's incubation period is 21 days, meaning that Spencer could not have been definitively declared free of the virus until early next month.
Although Spencer did not report symptoms — and thus was not considered contagious — until Thursday, his outings to a bowling alley, popular park, restaurant and travel on city subways have raised questions about whether he should have remained inside his apartment.
"That's a good question," Gov. Andrew Cuomo said on Good Day New York, on New York's Fox affiliate. "It is one of the questions the federal government is thinking through," said Cuomo, who has spoken with the Centers for Disease Control and Prevention chief, Tom Frieden, and with the country's newly appointed Ebola czar, Ron Klain.
"This is something that's being actively discussed," the city's health commissioner, Dr. Mary Bassett, said on the program later.
But Cuomo and Bassett defended Spencer, who had been volunteering his services in Guinea for the medical aid group Doctors Without Borders. In New York, he is an emergency medical physician with New York's Columbia University/New York Presbyterian Hospital.
"This was a doctor. He was taking his temperature twice a day. He knew he was only contagious if he was symptomatic," Cuomo said. "He had limited interactions. He only saw four people in about a week."
"These transmissions are rare," Bassett said of health care workers becoming infected. She said she continued to support letting health care workers "self-monitor," in which they check their temperatures daily and report themselves as ill if their temperatures rise.
All four of Spencer's known contacts have been notified by health officials and are being monitored for possible symptoms, but none has shown signs of illness.
Cuomo also said that early reports that Spencer's temperature was 103 when he called health officials to report his fever were incorrect; he said it was 100.3.
There were no immediate signs of worry in New York, a closely packed city of more than 8 million people where mass transit is the favored mode of getting to school and work. Spencer rode the city's A, 1, and L lines in the days before he became sick.
A quick check of subway stations in Brooklyn early Friday showed the crowds as big as ever, with parents hauling children by the hand to school and commuters scanning the tabloid headlines. "NY Doc Has Ebola," the Daily News screamed, with smaller headlines noting that Spencer "rode trains, took car service … Bowled."
The Brooklyn bowling alley Spencer visited on Wednesday, the Gutter, closed Thursday night after word of his illness spread, even though the business said that health officials had advised it that staff and customers "were at no risk."
"We voluntarily decided to close … as a precautionary measure while we gathered more information," the Gutter said in a statement. "We are working with the NYC Health Department to have the bar cleaned and sanitized under their supervision and expect to be open sometime today after that is completed."
There were no signs posted alerting riders about Ebola's arrival in New York, where Cuomo said officials have been preparing for a long time for such a scenario.
"We've drilled, we've drilled, we've drilled," he said.
Republicans were expected to take fresh aim at missteps that accompanied this country's first Ebola diagnosis in Dallas last month during a hearing in Washington on Friday. The patient in that case, Thomas Eric Duncan, had arrived in Dallas from Liberia and was initially misdiagnosed and sent home after visiting an emergency room after developing symptoms.
Three days later he returned to the same hospital. He died Oct. 8, and two nurses who treated him contracted the virus.
The CDC chief conceded later that the federal agency should have taken a more aggressive approach to the Dallas situation and that if it had sent health experts to the Texas hospital as soon as Duncan were diagnosed, it might have prevented the nurses' infections.
Calls have increased from lawmakers, mostly Republicans, for Washington to impose a ban on travel from African nations afflicted by Ebola. Lawmakers also have questioned why health care workers are not under mandatory isolation after working with Ebola victims.
The House Oversight and Government Reform Committee holding Friday's hearing is chaired by Darrell Issa, a San Diego Republican who has been an especially harsh critic of the Obama administration.
Among those testifying will be representatives of National Nurses United, a group that has accused hospitals nationwide of failing to prepare its workers for Ebola cases. After the Dallas nurses fell ill, the group accused administrators of the Texas facility, Texas Health Presbyterian Hospital, of not providing nurses with proper protective gear, and not providing training to staff in how to prevent the spread of the virus during treatment.
Those issues have taken on added significance with Ebola now in the most densely populated city in the United States, NNU's executive director, RoseAnn DeMoro, said in a statement.
"Everyone should appreciate the fact that our nurses are willing to care for the most deadly disease that we've encountered, and all they're asking for is training, preparation and the right equipment," she said.
AFP Photo/Timothy A. Clary