Nadler To White House: 'No President Is Above The Law'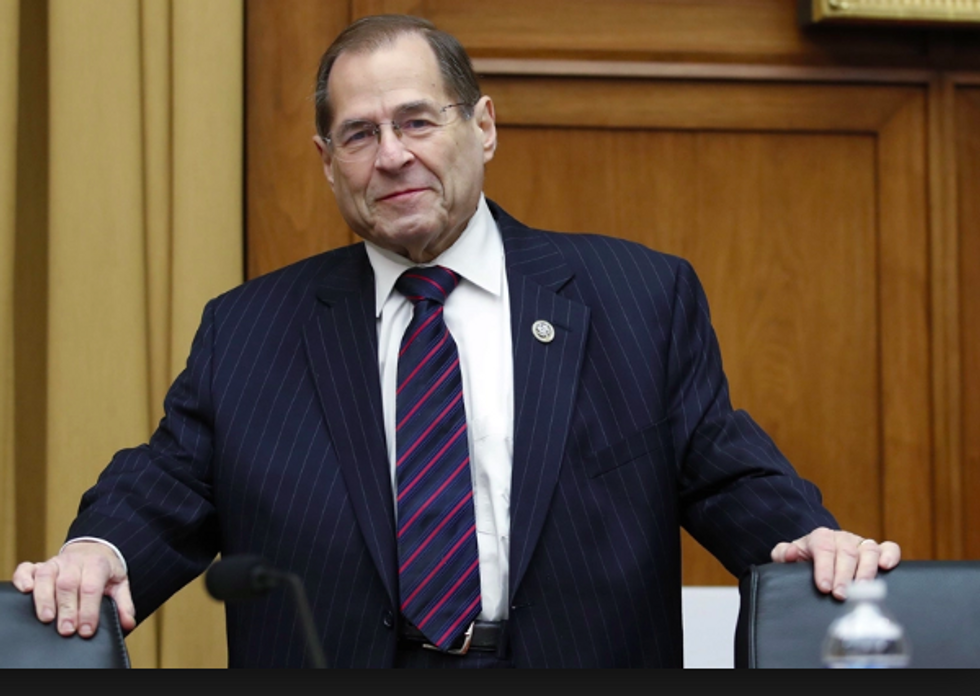 House Judiciary Chairman Jerry Nadler slammed the Trump administration on Wednesday, saying the White House's blanket refusal to comply with legitimate congressional requests from 81 Trump officials or allies is akin to "claiming that the president is a king."
"No president, no person in the United States is above the law," Nadler told CNN reporter Manu Raju. "This is preposterous."
In a letter to Nadler on Wednesday, White House counsel Pat Cipollone declared that the White House will ignore Nadler's subpoena because it was issued "not to further a legitimate legislative purpose, but rather to conduct a pseudo law enforcement investigation on matters that were already the subject of the Special Counsel's long-running investigation."
Nadler smacked that idea down in a statement Wednesday replying to Cipollone's letter.
"Today, the White House made the extraordinary demand that the Committee discontinue its inquiry into obstruction of justice, public corruption, and abuses of power, including as set forth in the Mueller Report," Nadler wrote. "We will do no such thing. The White House position appears to be that the Justice Department cannot hold the President accountable, since it purportedly cannot indict him. Now it adds the extreme claim that Congress cannot act either, because that would duplicate the Special Counsel's work. This flies in the face of the American idea that no one is above the law, and I reject it."
It's nonsense for Cipollone to argue that Congress can't use its legitimate subpoena powers to investigate something just because special counsel Robert Mueller already investigated it. In fact, Mueller even laid out in his report that the responsibility of charging a president with a crime falls to Congress and its impeachment power, meaning that of course Nadler's committee can request documents and interviews related to that investigation.
What's more, Nadler's committee issued requests for documents and interviews on subjects unrelated to special counsel Robert Mueller's investigation, including abuses of power and corruption within the Trump administration.
As for Cipollone's claims that Congress lacks a "legitimate legislative purpose" for its subpoena, Trump's lawyers are currently using the same argument to make the absurd claim that it wasn't even legitimate for Congress to investigate Watergate.
Congress has broad powers to investigate just about anything it wants — especially corruption and lawbreaking in the executive branch.
Even Republican lawyers say the Trump administration's blanket refusals to testify, provide documents, and ignore congressional subpoenas is against the law.
"Sadly, today, it increasingly appears that the president is acting in a manner designed to denigrate and disregard checks on his use of executive authority," Paul Rosenzweig, who served as a senior counsel on the team that investigated former President Bill Clinton back in the 1990s, said at a House Judiciary Committee hearing on Wednesday. "To date, his actions appear unable to distinguish between the public interests that undergird the privilege and his own personal and political interests."
Of course, the White House's refusal to cooperate with legitimate congressional oversight isn't the final word on the matter.
Nadler warned that he and his committee are considering imposing "very large" fines on those who refuse his committee's subpoenas — something Congress can do as part of its contempt powers.
And if that doesn't work, lawsuits to compel cooperation could ensue.
Whatever the outcome, the fact remains that the Trump administration is acting as if Trump is above the law — and that is a slap in the face to all Americans.
Published with permission of The American Independent.