'Name An Accomplishment': A Question Republicans Shouldn't Ask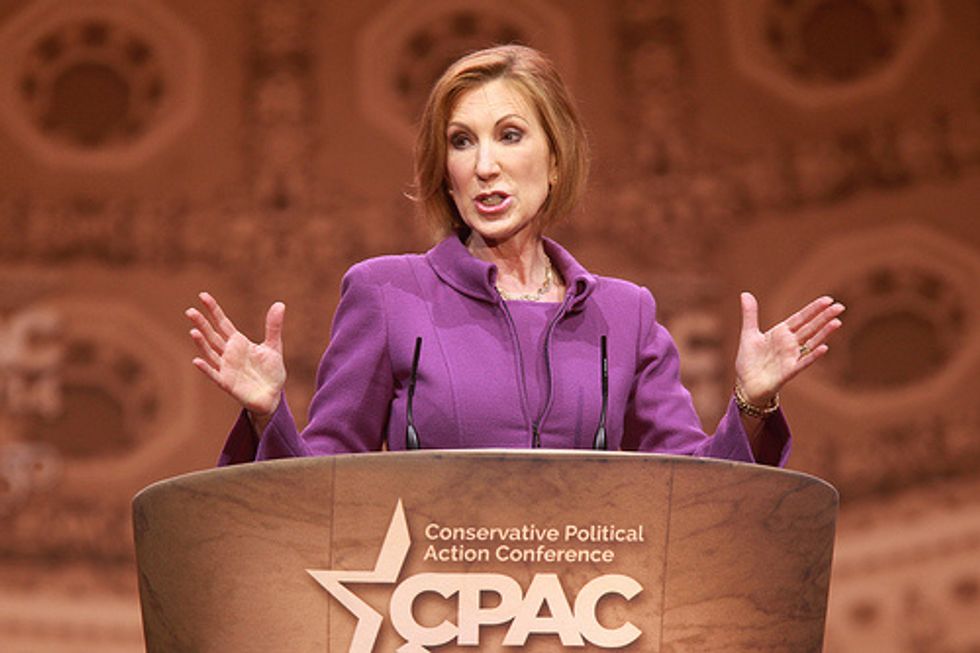 With her boffo appearance at CPAC, it became obvious why Carly Fiorina masquerades as a presidential candidate: She loves the attention! According to National Review, her CPAC remarks scored a hit, if only because she trashed Hillary Clinton's record as Secretary of State. Fiorina certainly proved her cred as a Fox News Republican. She eagerly parroted familiar talking points about Clinton – "Name an accomplishment!" – and accused Clinton of saying, "What difference does it make?" in response to the attack on the Benghazi consulate. Such craven willingness to lie for a cheap cheer at CPAC is all they – or we – need to know about Fiorina.
"Name an Accomplishment" is a game that everyone can play, however, and I daresay that Hillary Clinton and her avid defense team have plenty of answers. As for Fiorina, she came close to wrecking Hewlett-Packard, a major U.S. technology firm whose owners and shareholders hope never to see her face again. Many of her former colleagues there consider her utterly without qualifications for any role in government, no matter how small. (They make her sound like a pretty awful person, too.) Beyond her dubious résumé, Fiorina's most memorable achievement was the moronic "Demon Sheep ad," nominated by NPR's Ken Rudin as "the worst political ad ever" – aired with her approval, of course.
Few former secretaries of state can actually point to a single, world-historical achievement distinguishing their tenure. Clinton went far, and not just literally, toward restoring American prestige and alliances after the nadir of the Bush administration.
As for Bush's secretaries of state, both share responsibility for bringing this country to a very low point: Colin Powell with his infamous UN speech on Iraq's "weapons of mass destruction," a decision that he has since disowned; and Condoleezza Rice, with her "mushroom cloud" fakery and a long series of lies on the same topic. Hundreds of thousands dead, still more grievously wounded and left homeless, trillions of dollars squandered, and a violent Islamist movement rising from the ruins: Now there's a whole series of accomplishments! Neither Powell nor Rice is likely to be remembered for much else.
Photo: Carly Fiorina addresses CPAC 2014 (Gage Skidmore/Flickr)