National Guard To Help Restore Calm In Ferguson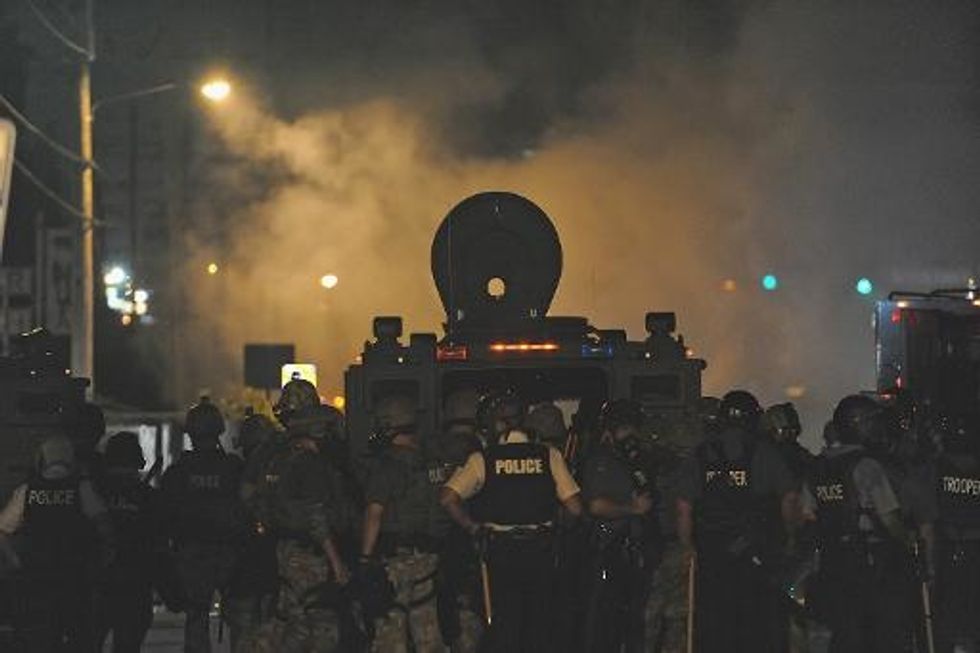 St. Louis Post-Dispatch
FERGUSON, Mo. — Just moments after Missouri Highway Patrol Capt. Ronald S. Johnson announced early Monday that new security steps were planned in Ferguson that would not include National Guard troops, Gov. Jay Nixon announced that he was activating those forces.
"Given these deliberate, coordinated, and intensifying violent attacks on lives and property in Ferguson, I am directing the highly capable men and women of the Missouri National Guard to assist Colonel Ron Replogle and the Unified Command in restoring peace and order to this community." the governor's executive order said.
At his press conference after another night of violent clashes with protesters, Johnson said new security steps were planned but declined to detail them. In response to one of the few questions that were allowed, he said those plans were still in flux but did not include bringing in National Guard troops.
Johnson said the additional measures being put in place had been formulated in talks between himself, Nixon, St. Louis County Police Chief Jon Belmar, St. Louis Police Chief Sam Dotson, and Replogle, who is in charge of the Highway Patrol.
Johnson, who was put in control of security on the North County city's streets last week, blamed a small group of agitators for the night's violence that included shootings, molotov cocktails, and lootings. He said he believed those who instigated the violence came to what had been a peaceful protest determined to "provoke a response."
Other law enforcement authorities said three people had been injured in shootings during the night. None of the shootings involved officers, authorities said. Police said seven or eight people were arrested on charges of failing to disperse.
Johnson detailed a night of violence that began about 8:25 with a shooting among the protesters. Next, he said, shots were fired at and molotov cocktails thrown at officers and businesses were looted.
At one point, he said, a McDonald's was overrun by protesters and the workers inside had to take shelter.
"Based on these conditions, I had no alternative but to elevate our response," Johnson said, referring to officers' push to clear the streets hours before the midnight curfew with measures that included the use of tear gas.
Replogle, interviewed about 2:30 a.m. on CNN, said of the decision to call in the National Guard: "We need some help."
He said larger and larger groups of protesters have been showing up on the streets of Ferguson since the fatal shooting last weekend of Michael Brown, 18, by a Ferguson police officer.
Replogle said the protesters who are resorting to violence "aren't residents of this city, we know that."
By 6 o'clock Monday morning, traffic was moving in front of the looted Dellwood Market and the McDonalds restaurant, whose broken windows were not yet cleaned up or boarded up. Employees of the restaurant began showing up before dawn and said they hoped to have the restaurant open for business by 7 a.m.'
Some protesters were on the scene, including Mauricelm-Lei Millere, 41, of Washington, D.C. He said he is with the New Black Panther Party.
Millere said any trouble was started by "provocateurs who are trying to destroy this."
Malik Rhasan, 42, of Atlanta, said he came to Ferguson under the belief that the St. Louis suburb was a town on fire. "I was proud of the youth last night, and very disappointed by the police," Rhasan said.
Mayor Reggie Jones of Dellwood said the market on Chambers Road wasn't the only city business hit; he's checking a pizza store and auto parts store.
"Our city isn't included in this, but we've been dragged into it because we are so close," he said.
AFP Photo/Michael B. Thomas
Interested in national news? Sign up for our daily email newsletter!