National Gun Fever Shows No Sign Of Breaking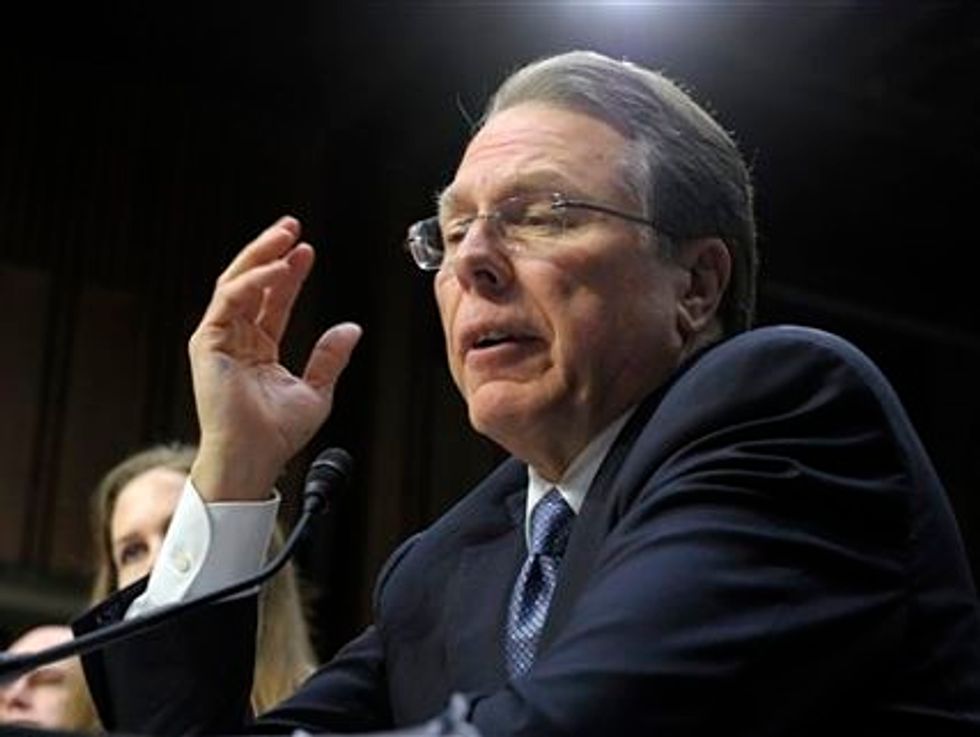 Apparently, there will be no ban on assault weapons.
Never mind that Adam Lanza used a Bushmaster AR-15 assault-type rifle to rip apart the bodies of children at Sandy Hook Elementary School in Newtown, CT. Forget the fact that James E. Holmes, the alleged Aurora, CO, movie theater shooter, fired, among other weapons, an AR-15.
Nor does it seem to make any difference that Jared Loughner — the man who shot Gabby Giffords and killed six others, including a 9-year-old girl — used a high-capacity magazine that the Clinton-era assault-weapons ban rendered illegal. A high-capacity magazine also enabled the massacre committed by Seung-Hui Cho, who killed 32 people at Virginia Tech.
The political climate has changed since the 1994 ban: Democrats have cowered before the gun lobby; the National Rifle Association has grown even more extreme; the U.S. Supreme Court has moved much further to the right. And, in the 20 years since Congress banned assault-type weapons and high-capacity magazines, Americans have heard a steady drumbeat of pro-firearms rhetoric that fetishizes the Second Amendment. In other words, the climate around firearms has gotten crazier.
Even before the current debate over more restrictive gun laws began, most political observers knew it would be difficult to get Congress to stand up to the firearms lobby. So it's no great surprise that Majority Leader Harry Reid, who runs from the shadow of the National Rifle Association, slammed the door on Sen. Dianne Feinstein's effort to re-up the assault-weapons ban.
Still, I find myself once again wondering just how bad things have to get before the fever breaks — before the country comes to its senses on firearms. We're in the throes of a kind of madness, a mass delusion that assigns to firearms the significance of religious totems.
Many critics of an assault-weapons ban note that it would not provide any magical cure-all for the mass shootings that have plagued us over the years since Columbine. That's certainly true. But banning at least some assault-type weapons and the high-capacity magazines that feed them would be a step in the right direction. Why can't we take that step?
What would be wrong with reinstituting a ban? For 10 years — from 1994-2004 — an imperfect ban prohibited the sale of certain types of assault weapons and high-capacity magazines. It covered only new weapons; old ones were grandfathered in, so those already in existence were available to criminals, the mentally unstable and the impulse-control-challenged. The original ban didn't prohibit easy modifications or cosmetic changes that allowed gun owners and manufactures to practically duplicate outlawed weapons. So the old law was hardly perfect.
But many law enforcement officials nevertheless supported it, declaring that it helped. It didn't end gun violence or stop mass murders or prevent suicides (which account for two-thirds of gun deaths in this country). But it prevented some killings. Isn't that worthwhile?
And the Clinton-era ban accomplished that without infringing on the rights of gun owners. They could still hunt game, protect their homes and enjoy firearms on gun ranges. The civilized world did not come to an end during those 10 years; the Second Amendment was not besmirched.
Yet, the vociferous — nay, deranged — leadership of the NRA has persuaded Congress that an assault-weapons ban is akin to totalitarianism. More important, it has persuaded Democrats that it has the power to end their political careers if they don't carry water for the gun lobby. After Al Gore's defeat in 2000, he and other Democrats blamed the loss partly on support for tougher gun laws. And the NRA was only too happy to take credit.
That was nonsense, of course. Gore won the popular vote and would have won the Electoral College, as well, if the ballots had been properly counted in Florida. Besides, he has only himself to blame for being a lousy candidate. But none of that seems to matter now because conventional wisdom has rewritten history.
If dead innocents — their bodies ripped apart by bullets from an assault weapon — couldn't persuade Congress to ban at least some of those firearms and the high-capacity magazines that feed them, the cause is lost. So is our common sense.
(Cynthia Tucker, winner of the 2007 Pulitzer Prize for commentary, is a visiting professor at the University of Georgia. She can be reached at cynthia@cynthiatucker.com.)
AP Photo/Susan Walsh