While National Gun Lobby Gloats, States Seek Sanity On Firearms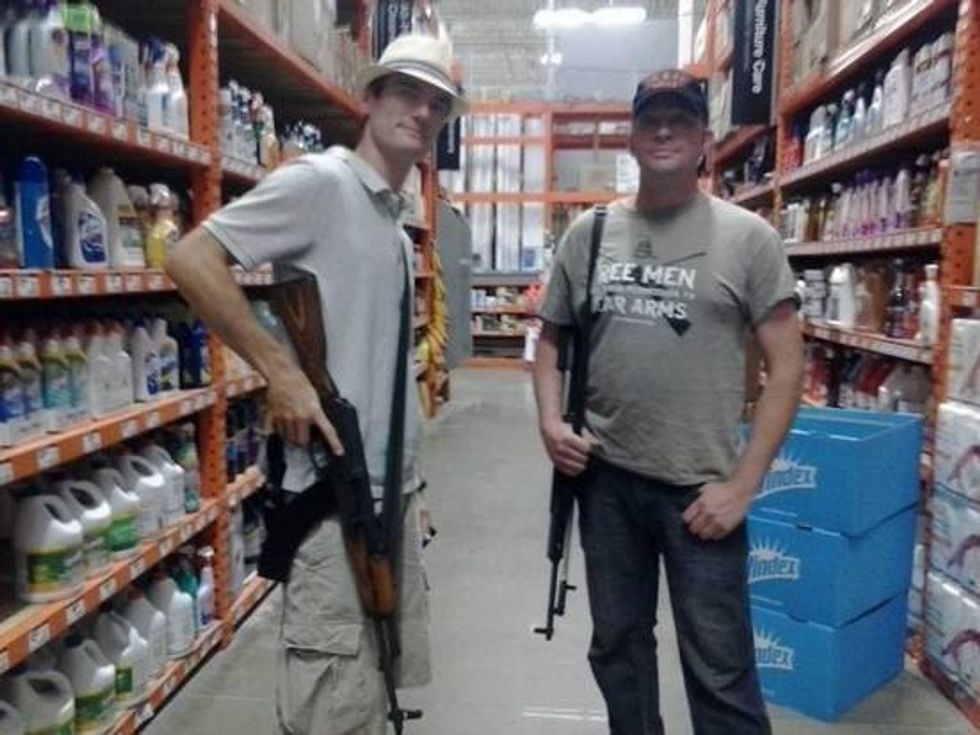 "Bulls Eye," gloats the banner headline across the homepage of the NRA Political Victory Fund, the gun lobby's powerful political action committee. "NRA won 91% of races, crushing Bloomberg's gun grab."
That's certainly one way to read the 2014 elections, into which the NRA dumped more than $33 million. And with Republicans about to take full control of Congress, the NRA no doubt has reason to gloat, secure in the knowledge that serious gun control at the federal level is a dead letter.
"The Congress was dysfunctional before the November election," says Ladd Everitt of the Coalition to Stop Gun Violence, "and I expect it to be no less dysfunctional in January. I don't know anyone who is hopeful of getting anything done in this environment." Yet Everitt and other leaders of the gun control movement are more optimistic about the prospects for serious gun reforms than at any time in recent memory. And they may, in fact, be on to something.
Everitt points in particular to the successful referendum passed by Washington State voters on Election Day, requiring universal background checks on all private sales of firearms, which won with nearly 60 percent of the vote. He believes the Washington victory can be replicated in numerous jurisdictions. So does Erika Soto Lamb, spokeswoman for Everytown for Gun Safety, which spearheaded the Washington initiative. To her, Washington "represents a new frontier in the fight for background checks," because the overwhelming majority of Americans support these laws. "Even if elected officials in D.C. don't take action to prevent gun violence, Americans will take matters into their own hands."
Everytown is financed by former New York City mayor and NRA boogeyman Michael Bloomberg, who spent more than $4 million on research, direct mail, polling, media, and paid canvassers in Washington State. And he has spent millions more on state and local elections in the past four years, demonstrating that the NRA is no longer the only game in town when it comes to putting big money on the table to win elections where guns are at issue.
In early December, Everytown secured another victory when the Nevada Secretary of State approved a ballot initiative for 2016 that will allow the state's voters to decide whether or not to require background checks for all gun sales in that state.
Nevada is one of 17 states currently lacking strong background checks that allow citizen initiatives. Everytown is looking at financing voter initiatives in Arizona and Maine. Brady Center to Prevent Gun Violence spokesman Brian Malte says his group expects to push background check legislation in the Oregon legislature in 2015. Five states have enacted background checks for all gun sales since the massacre of 20 children and six adult staff members at the Sandy Hook Elementary School in Newtown, Connecticut, two years ago this month.
Like others in the movement, Malte sees growing momentum for "sensible" state limits on gun access since Newtown. He notes that six states, including California, have enacted laws limiting access to guns by domestic abusers. In September, California governor Jerry Brown signed a law allowing family members and law enforcement officers to seek restraining orders against gun owners who pose threats to themselves or others. The law allows a judge to temporarily bar a person from purchasing or possessing a firearm or ammunition and allows law enforcement to remove guns from the person's property.
California has been one of the chief innovators of gun laws that drive the NRA crazy. Following Newtown, it legislated background checks for ammunition purchases, expanded its list of banned weapons, banned magazines capable of holding more than 10 rounds of ammunition and expanded the time allowed for completion of background checks in an effort to cut back on the numbers of "prohibited persons" able to buy guns.
A patchwork of state laws, of course, is certainly not an ideal solution from the perspective of gun reformers. States with tough background check laws can make it more difficult for criminals to buy guns through private sales or gun shows, but those same criminals may still be able to get their guns in neighboring states that can't be bothered with background checks. The same holds true of concealed carry laws; states with forceful licensing provisions remain, to some degree, at the mercy of states that issue permits to just about anyone who can breathe. Iowa, North Dakota, and Virginia, for example, all make it possible for blind people, among others, to legally carry concealed weapons.
At the federal level, there have been a few notable victories for gun controllers. The Senate finally confirmed President Obama's Surgeon General Vivek Murthy – whose claim that gun violence is a public health issue infuriated the NRA. And Congress approved $73 million to help states report names of individuals who should be denied firearms to the federal database. (Reporting of mental health records has, in fact, increased dramatically in recent years.) For the foreseeable future, however, the gun control movement has no alternative but to concentrate most of its efforts in the states. And many in the movement think the state-by-state approach will eventually bring pressure to bear for enactment of more rigorous federal laws.
"It took six years and seven votes" in the Congress to pass the original Brady background check bill in 1993, the Brady group's Malte says, arguing that gun violence prevention groups have embarked on a long game that they believe is beginning to score points.
Gun safety proponents also cite the victories of Colorado governor John Hickenlooper and Dannel Malloy in Connecticut — both Democrats who backed comprehensive gun safety laws and faced stiff opposition from the NRA – as evidence that politicians are increasingly willing to stand up to the gun lobby. They point as well to Democratic Virginia governor Terry McAuliffe's recent promotion of measures to take guns away from stalkers and domestic abusers, broaden background checks and to reinstate Virginia's one-handgun-a-month policy in order to make the state a less attractive marketplace for gun traffickers.
Although all of these measures face opposition in Republican-controlled legislatures, they suggest that some Democrats have finally concluded that there may be political advantage to confronting the gun issue — rather than running away from it.
Over the past two years, according to the Law Center to Prevent Gun Violence, which tracks victories by both sides on the gun issue, 37 states have passed a total of 99 laws that strengthen gun regulations — including 10 states with major overhauls of their gun laws and seven with new laws aimed at domestic abusers. Yet even with those improvements, the Law Center still gives a majority of states an "F" in its annual grading of state gun laws.
Where the gun control movement has probably been most successful is in preserving state and local gun laws against legal challenges by the NRA. The Law Center claims a 96 percent success rate by states and localities that have faced Second Amendment challenges in court. The Center cites victories in Colorado, where a court upheld a residency requirement for concealed carry permits as well as limits on large capacity magazines; a New Jersey court ruling, which declared Constitutional a law requiring applicants for concealed carry permits to demonstrate "justifiable cause;" and a San Francisco court's decision to uphold a law requiring safe storage of handguns and banning hollow-point ammunition. In Connecticut, a federal district court upheld a ban on assault weapons and large capacity magazines, enacted in response to Newtown, despite a challenge from the gun lobby.
Unsurprisingly, much of the legislative action since Newtown has not gone the way the anti-gun violence movement would prefer. Backed by the NRA, states have enacted scores of new pro-gun laws, making it easier to carry weapons openly, to carry concealed weapons, and to carry guns in more public spaces, including on college campuses, in casinos, airports, restaurants, bars, and churches.
Several states have passed new "stand your ground" laws, allowing citizens who feel threatened – or later claim to have felt threatened – to shoot assailants, real or imagined, and to potentially eliminate any opposing witness. Others have enacted far-fetched and Constitutionally dubious measures that seek to nullify federal firearms statutes, replacing them with more gun-friendly state or local laws. A Montana judge recently ruled one such law unconstitutional – and the Brady Center is currently challenging another in Kansas.