Nationwide Protests Take Place As Ferguson Grapples With Second Night Of Demonstrations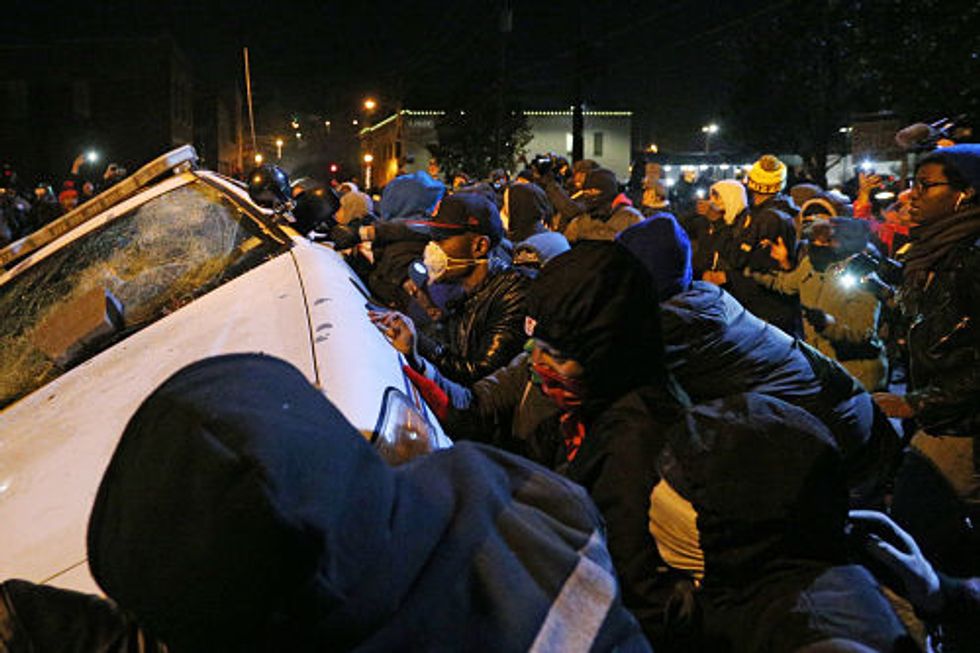 By James Queally and Michael Muskal, Los Angeles Times (TNS)
FERGUSON, Mo. — Protests unfolded in major cities across the nation Tuesday night as more than 2,000 National Guard troops and hundreds of police officers converged in the St. Louis area to guard against the vandalism, arson and looting that erupted in suburban Ferguson a day earlier.
Elsewhere, the demonstrations responding to a grand jury's refusal to indict white police officer Darren Wilson in the shooting death of an unarmed black man, Michael Brown, were largely peaceful. But as night wore on in Ferguson, the mood turned ugly.
A crowd of about 200 had gathered outside the Ferguson Police Department headquarters, where some chanted, "No justice, no peace." At times they moved into the street and blocked traffic, only to be pushed back by police and National Guardsmen holding riot shields.
Shortly before 10 p.m., protesters marched to nearby city hall, where two men banged on the front door, screaming, "We want answers!"
People started throwing bricks through the windows. They surrounded an empty police car parked in front, rocking it back and forth, smashing all its windows and setting it afire. Gunfire sounded; several Red Cross officials nearby said the ammunition in the car was igniting.
An angry man stormed out of a neighboring apartment house and began to shout at the crowd. "This isn't a goddamn gas station or a pizza shop," he said. "This is my house!"
Police fired tear gas, and protesters started choking, screaming, crying and trying to find their friends.
St. Louis County police arrived in armored vehicles and ordered people to the sidewalk, threatening to arrest anyone in the street. A teenage girl knelt in front of an armored vehicle, and officers picked her up. The situation remained tense.
In New York, Los Angeles, Washington and Boston, however, scores of people marched through the streets in coordinated and largely peaceful demonstrations.
New York protesters carved a path through Midtown and into Times Square, jamming traffic.
In Washington, about 400 people made their way to the White House, where they stood outside the fence chanting, "Whose house? Our house."
Dallas protesters briefly closed I-35; it reopened about 10 p.m.
About 1,500 Boston protesters tried to block a major highway, but were stopped by line of police. Marchers stopped in front of the South Bay House of Correction and began chanting, "Black lives matter," as inmates pounded on their windows, according to local media reports. Three people were arrested for disorderly conduct.
In Ferguson, many residents appeared shocked by the destruction wrought late Monday. Pleas for peace from local officials, President Obama and Brown's family had failed to prevent hours of violence that led to least 14 injuries and 61 arrests — 32 on felony charges related to looting and 29 on misdemeanor charges of unlawful assembly.
Fire damaged or destroyed 21 buildings, and 10 police cars were destroyed. A body was recovered in front of the police station in Ferguson, but police said they didn't know whether it was connected to the unrest.
"Criminals intent on lawlessness and destruction terrorized this community — burning buildings, firing gunshots, vandalizing storefronts and looting family businesses — many for the second time," Missouri Gov. Jay Nixon said Tuesday. "I am deeply saddened for the people of Ferguson who woke up this morning to see parts of their community in ruins.
"What they've gone through is unacceptable," the governor said. "No one should have to live like this. No one deserves this. We must do better and we will."
The decision to deploy 2,000 more guards came after Ferguson officials complained that the governor did not move quickly or forcefully enough Monday.
"The National Guard was not deployed in enough time to protect all of our citizens," said Ferguson Mayor James Knowles. "We are asking the governor to deploy the Guard to protect our people."
The Ferguson officer who killed Brown on Aug. 9 remains on paid administrative leave. The county grand jury decided not to indict Wilson on any of the possible five charges ranging from murder to involuntary manslaughter.
St. Louis County prosecutor Robert McCulloch's decision to wait until nightfall to announce the grand jury's decision has been criticized by law enforcement experts and Ferguson activists, who said the move put police at a major tactical disadvantage and offered agitators the cover of darkness.
"Of all the events and all that happened, the single event I am most hard-pressed to explain is why in the world it was announced at the time it was," said Wayne Fisher, a professor with the Police Institute at Rutgers University in Newark, N.J., and a former assistant New Jersey attorney general. "Announcing it in daylight would have given a tactical advantage to law enforcement officers."
Lawyers for the Brown family also criticized the timing of the announcement, and the grand jury process.
"This process is broken," lawyer Benjamin Crump told reporters. "The process should be indicted."
Brown's parents, Lesley McSpadden and Michael Brown Sr., had been expected to speak at the news conference but did not because they were overcome by emotion, Crump said. In the moments after Monday night's announcement, the family condemned the grand jury's decision not to charge Wilson.
Brown's stepfather, Louis Head, came under fire after a video showed him appearing to urge violence Monday night.
"Burn this (expletive) down," Head is heard shouting at protesters outside the Ferguson police headquarters as he consoled McSpadden. "Burn this [expletive] down."
On Tuesday, family attorneys said Head had been overcome by his emotions.
"We took a blow last night, and some people think it was a fixed fight," Crump said. "This process was supposed to create clarity, but didn't it raise more questions?"
Activists especially objected to the handling of Wilson's testimony, which lasted about four hours.
"A first-year law student would have done a better job of cross-examining" the police officer, said Crump, noting that he had looked through the grand jury record. "When was (Wilson's) credibility ever challenged?"
"The grand jury is a reflection of the prosecutor," said Gray. "If prosecutors presented evidence to indict, they indict."
The lawyers' complaints were part of a day when all involved tried to catch a breath while waiting for nightfall.
Mary Anne Johnson, 62, of Florissant, Mo, who had just gotten off her overnight shift as a mail handler at the post office, asked why the police had not prevented the looting and the arson. She wanted to know how many of the 61 arrested in Ferguson were from the city — just nine — and questioned whether the grand jury decision gave them the "opportunity to do mischief and bad stuff."
"I don't think it's going to be the end," Johnson said. "This generation doesn't care about killing police."
A woman, who identified herself only as Sherrill, interjected: "It's not that this generation doesn't care about killing police, it's that these police don't care about killing people."
Sherrill, a sixtysomething resident of a Ferguson apartment complex near West Florissant Avenue, the scene of much of Monday's violence, added, addressing those who caused the damage, "I understand your emotion, but don't tear up where you live at…. At the end of the day, we're all a victim. This is sad."
___
(Queally reported from Ferguson, Muskal from Los Angeles. Staff writer Kurtis Lee contributed to this report.)
Photo: Protestors turn over a police vehicle in front of Ferguson City Hall on Tuesday, Nov. 25, 2014, in the wake of the grand jury decision not to indict officer Darren Wilson in the shooting death of Ferguson, Mo., teen Michael Brown. (Anthony Souffle/Chicago Tribune/TNS)