NBA Chief Set To Address Sterling Racism Probe
@AFP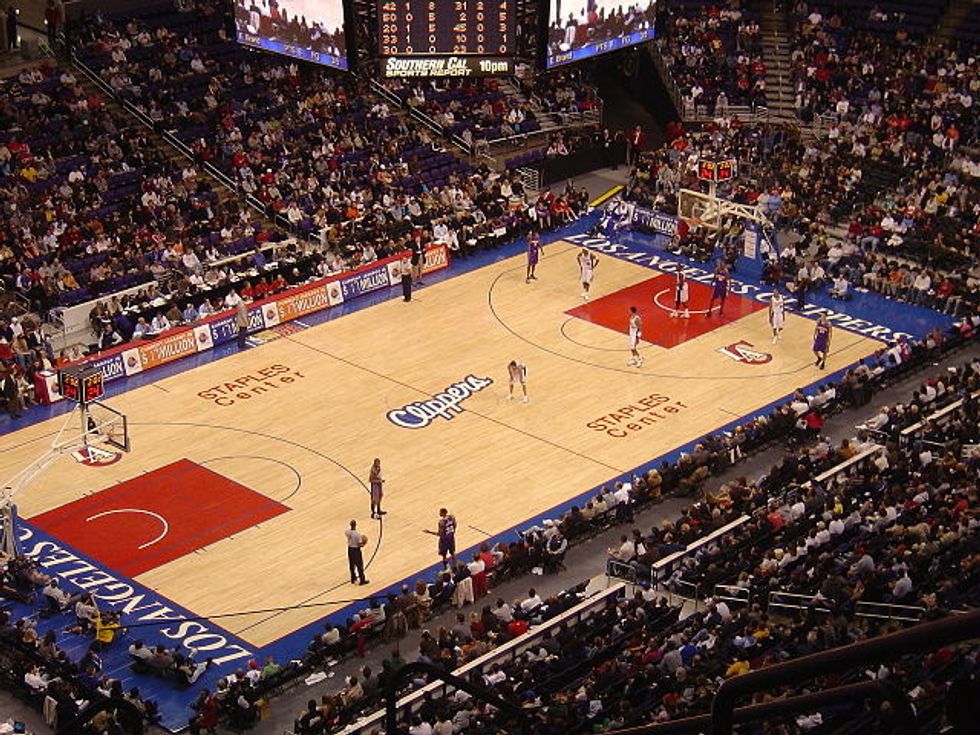 New York (AFP) – NBA commissioner Adam Silver was to face the media Tuesday over the probe into racist remarks allegedly made by Los Angeles Clippers owner Donald Sterling — a key moment for the league.
Silver was expected to announce sanctions against the 80-year-old billionaire, whose alleged comments have outraged players and coaches and sent skittish team sponsors running.
The controversy is coming to a head as the Clippers prepare for Game 5 of their first-round playoff series against the Golden State Warriors, which will take place later Tuesday in Los Angeles.
Silver, who has been on the job for less than three months, has said Sterling "should be afforded due process just as any player in this league or executive in this league," but pressure is mounting in the basketball world for a severe punishment.
Sterling purportedly told his much-younger girlfriend, in recordings made public at the weekend by celebrity news website TMZ, that he didn't want her associating with black people or attending Clippers games with black friends.
"It bothers me a lot that you want to broadcast that you're associating with black people. Do you have to?" the man in the recording says, later adding, "You can sleep with (black people). You can bring them in, you can do whatever you want."
"The little I ask you is not to promote it… and not to bring them to my games."
Sterling has yet to comment publicly about the recordings.
Clippers players staged a silent on-court protest on Sunday, shedding their pre-game warm-up gear and wearing shirts inside-out to mask the team name and logo. They also wore black socks and wristbands during the game.
The game's brightest stars of past and present have lined up against Sterling, a real estate mogul who bought the Clippers for $12 million in 1981. The team is now valued by Forbes magazine at $575 million.
"No. He should not continue owning the clippers. #nochance #noway nohow," Los Angeles Lakers superstar Kobe Bryant tweeted.
Sponsors fled the Clippers on Monday, with Chumash Casino, auto dealer CarMax and others pulling out of their deals.
"These views directly conflict with CarMax's culture of respect for all individuals," it said.
Airline Virgin America, insurance giant State Farm, Kia Motors, Red Bull, Sprint and AQUAhydrate, a water brand owned by rap star Sean "Diddy" Combs, all said they would suspend their sponsorship.
So what can the National Basketball Association actually do to punish Sterling, if he is found to have made the comments in question?
While the league constitution remains confidential, some options are known.
Silver can force Sterling to confirm whether or not it was his voice on the recordings, although that could be a lengthy process because voice analysis methods would be complicated and time-consuming.
Silver can issue a lifetime ban and fine for misconduct, or suspend Sterling indefinitely and impose a $1 million fine for making a statement against the best interests of the game.
While the easiest case to make, that would fall far short of expelling Sterling from the league altogether, as some critics are demanding.
It would though at least remove Sterling from a decision-making role with the team in the short term and buy time for tougher alternatives in the coming months.
That could put the onus on Sterling's fellow NBA owners.
Sterling's possession of the Clippers would be terminated with a 75 percent approval vote from owners of the league's other 29 clubs, likely invoking a rule regarding adversely affecting the NBA by failing to conduct business in an ethical or reasonable manner.
Sacramento Kings owner Vivek Ranadive, the NBA's first Indian-born owner, said on Twitter: "If TMZ recording is true, we must have zero tolerance."
But making a move to yank the team from Sterling would likely lead to a bitter and protracted court battle, where the league might be called on to prove the team made racist business decisions beyond the allegedly racist opinions of its owner.
Photo via Wikimedia Commons