NBA Players Association Seeks Maximum Sanctions Against Sterling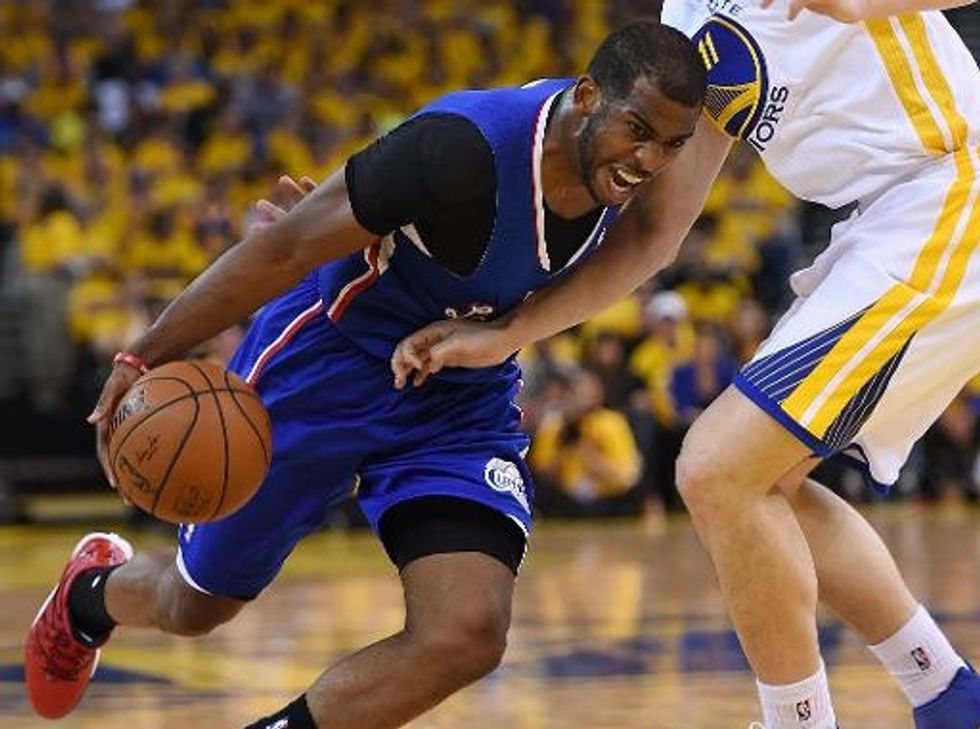 By Diamond Leung, The Oakland Tribune
OAKLAND, Calif. — The National Basketball Players Association is looking into what the "maximum sanctions" commissioner Adam Silver can have available against Los Angeles Clippers owner Donald Sterling, according to Sacramento mayor Kevin Johnson.
Johnson, who has been asked to lead the players association in addressing the issue, said the players are looking for the maximum fine and suspension leading up to removal if Sterling did indeed make racially charged comments that the NBA has said are "disturbing and offensive."
The NBA is currently investigating Sterling and whether or not the audio recording released by TMZ.com of him apparently telling a girlfriend not to bring black people to games and associate with them publicly is authentic.
"We believe that this is a defining moment for the league, a defining moment for the commissioner, a defining moment for all the players in this league," Johnson, a former NBA all-star, said. "This situation is a massive distraction for the players and the league right now. It must be addressed immediately, and we have to put this great game back on track so we can talk about the playoffs going forward."
Johnson said the players have asked Sterling not attend games for the rest of the playoffs and also for accounting of the prior accusations of racist behavior against Sterling and why the NBA never sanctioned him for them.
Johnson said the players are "outraged" by the comments they heard on tape and that after Sterling receives due process in an investigation Silver said would be swift, they want "two-way accountability."
"We don't want to create an environment where we as players are held accountable and owners aren't held accountable," Johnson said.
Warriors co-owner Joe Lacob watched Johnson speak at halftime and before the game he offered his reaction to the Sterling situation and alleged comments to San Jose Mercury News columnist Tim Kawakami.
"It's just something that I think no matter who you are, racism doesn't belong period, in any way, doesn't matter, black, white, whatever color," Lacob said. "Inappropriate. I wish we didn't have to do this today. I wish our game didn't have to be the centerpiece of all this today. I feel bad for our fans and players and everybody who will have to deal with this."
Clippers coach Doc Rivers heads back to Los Angeles uncertain of what that will bring. Asked if he would need to see or hear something from the organization in order to continue on the job, he said, "Don't know yet. I'm just going to leave it at that."
Game 5 at Staples Center could even offer fans an opportunity to boycott.
"I would understand," Rivers said. "I hope not. "We're going to need them bad on Tuesday. We're going to need them there. We're going to need them in our corner."
The Clippers will neither practice Monday nor make their players available to the media.
"We're going home now. And usually that would mean we're going to our safe haven. And I don't even know if that's true, to be honest," Rivers said.
Warriors coach Mark Jackson said that while he could not work for Sterling, he forgives him. "I forgive anybody who believes or feels that way, and the reason why is we can all be saved, we can all be helped," Jackson said. "The first step, though, is admitting that, 'I've got an issue.'"
Harrison Barnes received the first Alvin Attles Community Impact Award in recognition of his efforts in supporting underprivileged youth in the Bay Area.
AFP Photo/Thearon W. Henderson