Need A Workout? There's An App For That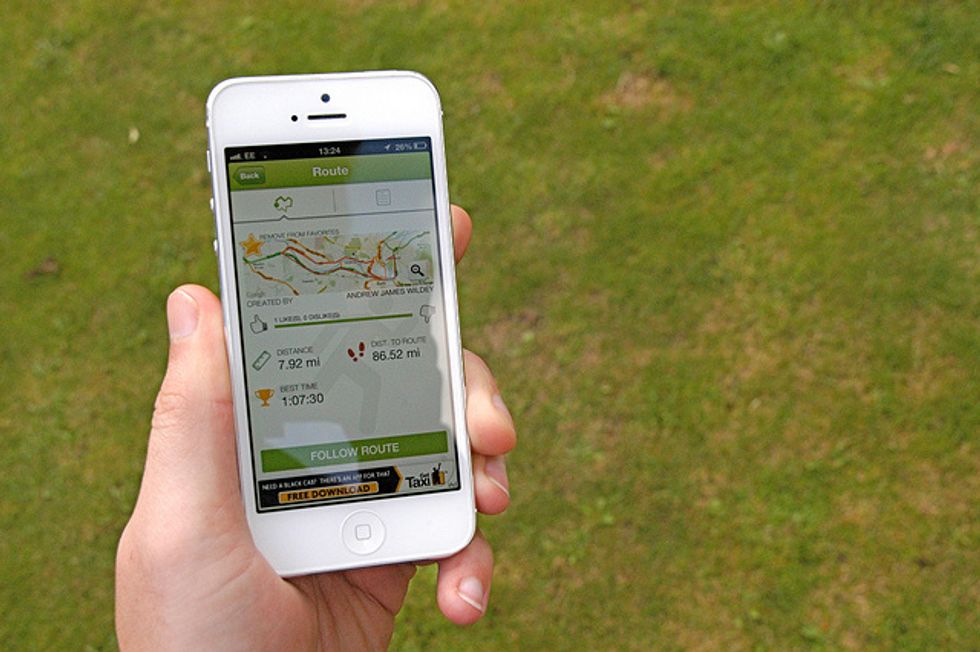 By Colleen Schrappen, St. Louis Post-Dispatch (TNS)
With summer camps, fests and vacations shaking up our usual schedules, fitness can get put on the backburner. Energy-sapping heat and humidity don't help, either.
But whatever your summer workout routine is lacking–novelty or convenience, camaraderie or competition–can be just an app away. From yoga instruction to sports training to mapping running and cycling routes, apps can help tailor a plan for you.
The scads of programs, though–ones as disparate as Daily Butt Workout and Zombies Run!–can be overwhelming to wade through.
"You have to find out what works best for you," said Brian Lyons, the director of race management with Go! St. Louis.
"There are so many apps out there that help track your fitness," he said. "You have to pick and choose."
Some criteria to consider: Does the app focus on the type of fitness activity you want? Is it adjustable to your ability level? Is it intuitive, secure and easy to use?
COVERING GROUND
Lyons, who has been with the nonprofit racing agency since 2007, noticed a few years ago that more people were carrying their smartphones during races to get a better feel for how far and fast they were running. Apps such as MapMyRun, Runtastic and Nike+ use a phone's GPS to provide real-time data on pace and distance.
"They can help guide people who want to follow a plan," Lyons said. Details as specific as elevation, duration and speed variances are provided.
You can interact with that data as much or as little as you want: Use it just once to find a trail near your vacation spot, map out and save loops of different distances to train for a half-marathon or download stats from your daily power walks to compare later.
Many apps also integrate a social media component, with the option to share routes with fellow app users, post results on Facebook or Twitter and measure results against other athletes.
Casey Saunders, a bicyclist who works at Big Shark in University City, first downloaded the Strava app a couple of years ago to enhance his training.
"It's the only app I use," said Saunders, who has been biking for about 15 years. "It's pretty widely used by recreational and more serious cyclists."
Strava provides rankings for what it terms "segments," sections of popular routes that cyclists cover and then compare to see how they stack up in climbing, sprinting or endurance. The path through Forest Park could be a segment, or a short climb along Lindemann Road in Kirkwood, or a longer trek along the Katy Trail.
And Strava also tracks running, swimming and gym workouts. You can share your accomplishments with other users or participate in virtual challenges.
"It gives you a whole other aspect to your ride besides just getting out there by yourself," Saunders said. "You can compete with people around the world."
Apps have changed how bicyclists train, especially recreational riders. Several years ago, "there wasn't much like that," Saunders said. "There were a couple GPS companies, but nothing that made it so easy and accessible."
FAMILY FITNESS
Apps can also provide a taste of a new activity before you sink money into it, an especially attractive option for parents. "There are so many apps you can do with your kids," said Justine Fields, a physical education teacher in Webster Groves. "It can be expensive to go out and put your kids into training programs" for their sports teams, but many fitness apps are free or cost just a couple dollars to download.
To help her 13-year-old prepare for field hockey drills, Fields downloaded the Tabata Trainer app, which outlines and clocks high-intensity interval workouts. In four minutes, mother and daughter cycle through squats, planks, pushups and lunges.
"Fitness becomes a family activity," Fields said. "It's the best of both worlds. The kids want to play on the mobile devices, and this way they are being active."
Fields has used games from P.E. Shake and Workout in a Bag (which has a separate children's version) during her elementary classes. Incorporating technology into fitness is a natural pairing for their generation, she says.
When she introduces apps to her pupils, they often tell her they want to try the activities at home, too.
"It's very motivating," said Fields, who has been teaching P.E. for more than 20 years. There are plenty of quick activities to help children "get their energy out."
For example, Bit Breaker resembles an old-time arcade game and tracks players as they jump and juke to bust up falling bricks. Fields tweaks Twister Talking Spinner from its dotted-mat origins to include kickballs and colored targets; a hand means throw, a foot means kick.
FLEXIBILITY
With apps, your phone or tablet can become a portable gym. Kiley Enno, an instructor at Southtown Yoga in Lafayette Square, appreciates the convenience of maintaining her yoga routine when she is out of town. Her preferred app, YogaHour, provides 60-minute workouts in Hatha yoga, the same branch that is taught at her studio. "It's like carrying a class in my pocket," Enno said. "I have what I want at my fingertips."
For novices, apps such as Pocket Yoga or Yoga Studio can introduce users to yoga terminology and poses, Enno said, so they feel more prepared for their first studio session.
"But technology should go hand in hand with personal instruction," Enno said. A class offers hands-on help with body positions and a sense of community.
"I feel like I work harder in class," Enno said, "because I am motivated by the other people there."
And without an instructor or trainer keeping an eye on you, you could inadvertently be slumping your shoulders or hyperextending your knees.
"Apps are awesome," said Cassy Guidinger, a trainer with Body Fit St. Louis, "but beginners might be doing things wrong or less effectively. You miss out on some variety, accountability and personalization."
But Guidinger says apps can be a tool in achieving fitness goals. She has downloaded Instant Fitness, which lets users customize workouts based on what muscle group they want to work.
"Either way," said Guidinger, whether it's an app, a class, a run or a ride, "you have to be motivated to do the work."
SOME APPS TO TRY
Numerous apps are available through the Apple store and Google Play, which cover a full spectrum of fitness activities. Here are a few you may want to check out: To track runs and rides: Strava, MapMyRun and MapMy Ride, Runtastic, Nike+For conditioning work or interval training: Tabata Trainer, Workout in a Bag, Instant Fitness
Activities for children: P.E. Shake, Bit Breaker, TwisterTalking Spinner
To practice yoga: YogaHour, Pocket Yoga, Yoga Studio
Photo by Health Gauge via Flickr