Negotiations On Iran's Nuclear Program Seem Headed Toward Overtime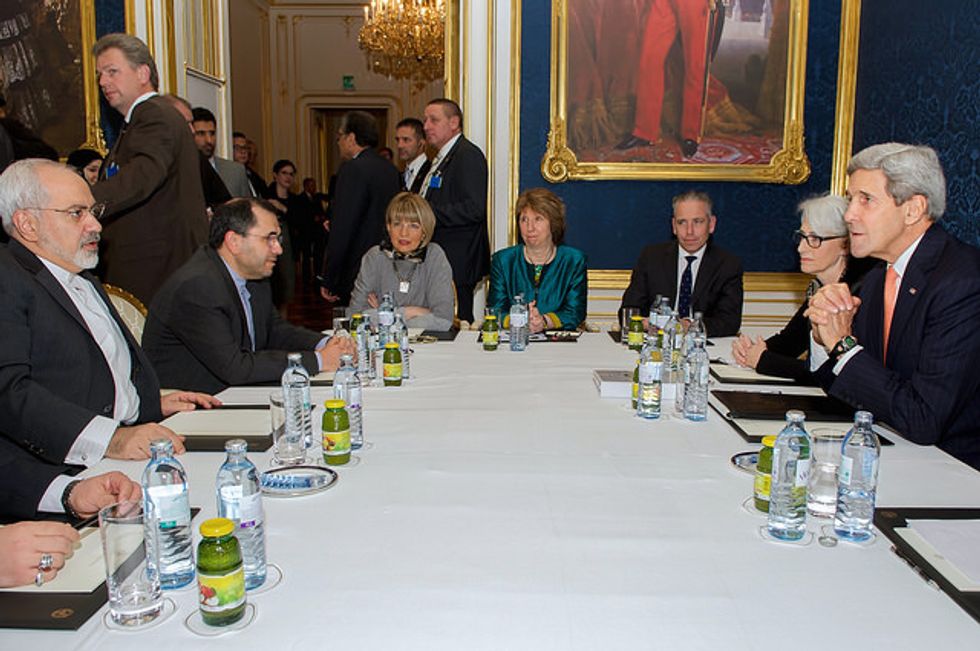 By Paul Richter, Los Angeles Times (TNS)
LAUSANNE, Switzerland — The U.S. and five other world powers prepared Tuesday to announce a preliminary agreement that would enable them to continue negotiations to curb Iran's nuclear program for the next three months, though with many key issues unresolved.
In six days of intense high-level talks, the group was able to avoid a breakdown that would have imperiled an 18-month effort to reach a deal curbing Iran's nuclear activities. But the group has not reached agreement on some key issues.
Top diplomats are expected to make an announcement later Tuesday outlining the progress so far and a plan to meet a June 30 deadline for completing a final, detailed agreement.
U.S. officials denied that an agreement had been reached. But other officials said an announcement would be likely Tuesday afternoon or evening at a university in Lausanne.
Whether the progress so far, and an agreement to keep talking, would be enough to convince Congress and skeptical U.S. allies in the Middle East that the talks are worthwhile will be a major question over the next several weeks.
As Tuesday night's deadline for the current round of talks neared, diplomats began making plans. Russian Foreign Minister Sergei Lavrov, speaking in Moscow before returning to Switzerland for the expected announcement, said chances of an agreement were "high."
The negotiations here seek a deal that would ease sanctions on Iran if it accepts, for ten to fifteen years, restrictions on its nuclear program.
The stakes are high. A deal could reduce the chances of war, ease Iran's international isolation, and, over time, possibly transform America's relationship with a longtime adversary. Critics say a bad deal would pave the way to an Iranian bomb and give Tehran a financial boost that could strengthen its efforts to expand its regional influence.
Foreign ministers from Iran, the United States, France, Germany, Britain, Russia, and China have struggled with a series of tough issues this week, notably what restrictions will remain on Iran's research and development, and how quickly United Nations sanctions will be lifted.
Iranian officials maintained a tough stance as the deadline approached, in what some outside analysts said appeared to be an effort to create a last-minute crisis that would enable them to extract concessions.
U.S. officials have said that if they reached a "framework" deal they would release detailed information to Congress and provide more general information to the public to explain how they have resolved the major political issues involved in the talks.
But to the extent the agreement so far lacks detail, the deal-making is likely to come under attack by the critics.
"It could be very tricky for [Secretary of State John] Kerry," said Gary Samore, a former top White House aide who is research director at the the Harvard Kennedy School's Belfer Center for Science and International Affairs.
The administration's supporters have been urging them to release as many details as possible to strengthen what appears to be an uphill effort to defend the deal.
On Monday officials said the negotiators had set aside for the future one major issue: how to deal with Iran's stockpile of low-enriched uranium. Many private nuclear experts believed the diplomatic group had sealed an agreement with Iran that would have sent much of Iran's enriched uranium to Russia to assure that it couldn't be further enriched to make bomb fuel.
But diplomats acknowledged that in fact Iran was not committed to such an approach and that the issue was unresolved.
Photo: U.S. Embassy Vienna via Flickr