Neither Gary Johnson Nor Jill Stein Will Be President… But They Might Get Closer This Year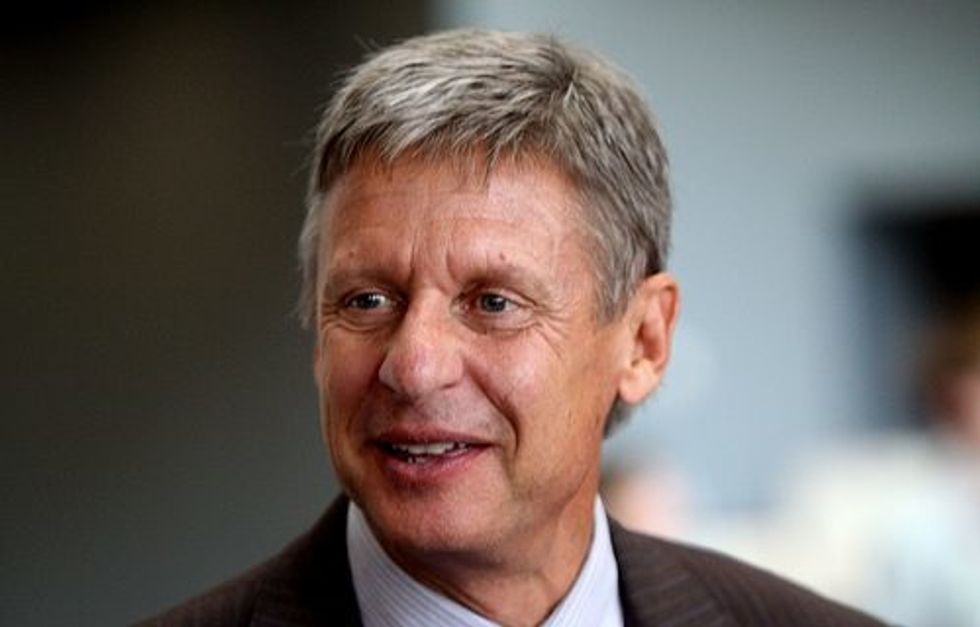 Jill Stein and Gary Johnson have something in common: they are both third-party outsiders in a presidential race led by two of the most disliked candidates in recent politics. And this year, they spot a huge opportunity to bring America's two most prominent "third" parties to the fore. 
Stein, running for president as a member of the Green Party, made waves in 2012 when she notched 469,501 votes in the general election — the most for any female presidential candidate in U.S. history. Johnson was in the mix in 2012 as well, tallying 1.27 million votes in that contest as a Libertarian. Johnson has landed ten percent of the votes in two national general election polls this month while Stein has eked out two percent.
Both candidates could fare a bit better this time around, if only because, they posit, the rest of the presidential field casts them in a better light: For all of Trump's (faux, in his case) economic conservatism and none of the unconstitutional Muslim-banning or impossible wall-building, Gary Johnson stands out. For progressive values without ties to big-money interests, fossil fuels, or a hawkish foreign policy, Stein stands out — once Sanders drops out, that is.
"Unlike the other woman in the race, I don't support bombing other people's kids," she said in a Facebook post Thursday, referring to Clinton.
Stein is campaigning against the choice of, as Bernie Sanders has similarly described Donald Trump and Hillary Clinton, "the lesser of two evils." She is a champion of social justice issues, as evidenced in her vociferous support of racial justice, LGBT rights, and women's reproductive freedom. She has railed against trade deals favoring the wealthy; called for America to scale back interventionist foreign policy positions; pushed for higher taxes among the rich; and has supported a pathway to citizenship for undocumented immigrants.
Johnson, as a Libertarian, has advocated for a national sales tax system called FairTax in place of other pesky things like the IRS. He also has supported abortion access, marriage equality, marijuana legalization, and the abolishing of the death penalty.
Johnson has distanced himself from Trump, noting in one interview that he believes the billionaire businessman "alienates more than half of Republicans." He cited Trump's desire to build a wall and his willingness to kill families of terrorists.
Nevertheless, neither third-party candidate has history on their side; every president since Millard Fillmore, a whig who was in office in the 1850s, has been either Republican or Democrat. Sure, Ralph Nader may have bungled the 2000 election between Al Gore and George W. Bush, but Nader still failed to notch even three percent of the popular vote. Notably, just as Trump's support increased after his GOP counterparts dropped out, Clinton's support is likely to improve once she secures the nomination — this happened in 2000 — further emphasizing the plight of third-party candidates.
Third party candidates face layers upon layers of obstacles in terms of access to the American people. Candidates are required to obtain hundreds of thousands of signatures in order to have their names printed on ballots, and must also meet specific criteria outlined by the Commission on Presidential Debates as well as other rules laid out by television networks in order to be included in critical presidential debates.
The CPD implemented a rule in 2000 requiring that presidential candidates receive 15 percent support in national polls in order to be allowed to participate in national debates. Stein and Johnson have both filed lawsuits against the CPD, accusing it of violating antitrust laws by imposing a Republican and Democrat-led monopoly within American politics — the CPD's board is made up exclusively of members of the major parties.
"I believe that debates are for the people, not the parties, and that open debates are essential if we are ever to have real democracy in our country," Stein said in a statement earlier this year. "If I'm on stage at those debates, I will tell the American people that they don't have to vote for political parties controlled by predatory banks, fossil fuel giants, and war profiteers."
And while third party candidates have been attempting to circumvent barriers to exposure by increasing their respective social media footprints, Stein's 92,000 Twitter followers, and Johnson's 158,000, are a small fraction of the two major party's frontrunners' online presence: of Trump's has 8.46 million followers and Clinton has 6.4 million.
The upcoming election poses the largest window of opportunity in some time, thanks to unfavorability among the top two choices and the rise of social media. And other political movements across the country, from Black Lives Matter to the Fight for $15 movement, are evidence of renewed civic participation outside the two major parties. But until we see presidential candidates polling within ten percentage points of Democrats or Republicans, the closest they can come to winning is by playing the role of a "spoiler."