Neo-Fascist Proud Boys Taking Control Of Miami GOP
@Brandi_Buchman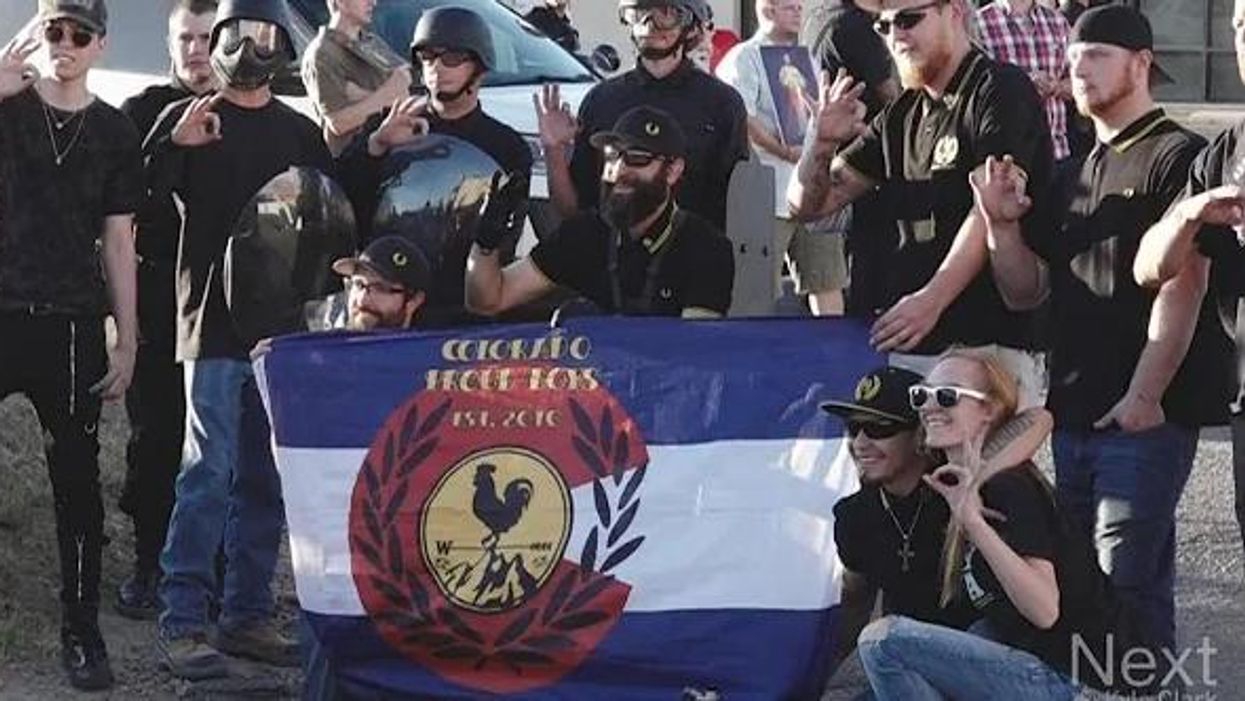 YouTube Screenshot
Something stinks in Miami and the stench, it would appear, is wafting in from members of the neofascist group known as the Proud Boys.
A report by The New York Times published Thursday dives into the rapidly expanding political landscape in Dade County where the Miami-Dade Republican Party has now accepted a number of people affiliated with the extremist group into the ranks of its executive committee.
Miami, since at least the early 1990s, has been a Democratic stronghold for presidential candidates. The 2020 election put that to the test and the hits have just kept coming. The Republican Party continues its lurch toward extreme right-wing ideology and divisions continue to be inflamed by the party's darlings like Florida Governor Ron DeSantis and the twice-impeached former president-turned-Florida-resident Donald Trump.
According to the chair of the GOP's executive committee in Miami, Rene Garcia, they are aware of the "fringe elements" present in the influential panel. But having a few Proud Boys on board—including those charged with obstructing Congress or impeding police on Jan. 6, 2021—is, apparently, just par for the course.
"Yes, we have different points of view in our party. That's how we are. And my job as Republican chairman is to protect everyone's First Amendment right, however wrong they may be," Garcia told the Times.
In February, the Miami Herald reported at length on the spread of extremist right-wing ideologues into Florida life and politics. In fact, in terms of January 6 defendants, the outlet noted, no other state claimed more than the Sunshine State. Granted, there are 21 million people who live in Florida, therefore increasing the probability of their presence in the defendant pool.
But it's not just a numbers game.
A plethora of the nation's most prominent right-wing figures call Florida home, including Roger Stone and Michael Flynn. The onetime president of the Proud Boys, Henry "Enrique" Tarrio, is also from Miami and the group has had significant success disseminating its message within and outside of the state's borders.
The Southern Poverty Law Center remarked on this phenomenon to the Miami Herald.
Rachel Carroll Rivas, a senior research analyst for SPLC said in February:
"Those national players can speak to audiences around the country — they choose to be based in Florida, but they're also influenced by the politics of Florida and influence Florida politics. And in that way, they actually export Florida culture across the country."
There are also a large number of hate groups that call Florida home. In the last two decades, extremist groups of all types have expanded in the state from right around 40 groups in 2000 to 68 identified today.

The number of hate groups across America overall has shrunk recently, according to the SPLC's most recent repor t, but the Proud Boys aren't losing any momentum. In fact, analysis has shown an increase in the number of Proud Boys chapter divisions cropping up in the U.S.
As noted by the Times on Thursday, self-starter groups like Miami Against Fascism have invested their energy into sorting out who in the Miami-Dade Republican Party may have ties to the hate group.
Today, the Miami-Dade Republican Party executive committee members include January 6 defendants Gilbert Fonticoba and Gabriel Garcia, for example.
Fonticoba was charged with obstructing Congress on Jan. 6. He faces a a number of other charges and has pleaded not guilty. According to an order from the U.S. District Judge Timothy Kelly in Washington, D.C., Fonticoba's next appearance is slated for August. In advance of his trial, Fonticoba has asked for additional time to review the "voluminous discovery" presented to him by prosecutors.
Gabriel Garcia, who faces charges including entering a restricted area on January 6, violent entry, disorderly conduct and more, also sits on the Miami Republican Party Executive Committee.
According to the Times , Garcia has said that he is no longer a member of the Proud Boys. An attorney for Garcia could not immediately be reached by Daily Kos.
Prosecutors said that Garcia screamed at U.S. Capitol Police on January 6, calling them "fucking traitors" as he allegedly urged those around him to storm the Capitol.
"USA!" Garcia was heard chanting in a Facebook video he uploaded. "Storm this shit!"
In another video, Garcia is heard allegedly taunting House Speaker Nancy Pelosi, asking her to "come out and play."
Garcia has railed against claims that the Proud Boys are a hate group. When he ran for a House seat in Florida last year, the former U.S. Army Captain said those descriptions were false. He has pleaded not guilty.
Note the "RWDS" patches = Right Wing Death Squads.

According to his own text msgs released by prosecutors Gabriel brought a knife to J6:

-"Taking a knife as well"
-"Be happy my guns aren't going this time"
-"is not for defense is for offense" 10/ 🗡 https://t.co/Z9kitCtLFc pic.twitter.com/aADTWbj63O

— Miami Against Fascism 🌴☕️ (@MIAagainstFash) June 1, 2022
In an interview with the Miami Herald , Garcia deflected the accusations and blamed antifa for violence in the U.S.
Another member of the committee is Chris Barcenas. Though Barcenas did not go into the Capitol on January 6 and has not been charged with any crimes, he was at the Capitol that day and has been identified by groups like Miami Against Fascism as a member of the Proud Boys.
He has also not appeared to contest his membership with the group; he reporetedly testified earlier this year in private before the January 6 Committee to discuss Proud Boys and their role in January 6.
When Miami Proud Boys joined local Cuba protests Barcenas was there helping hold their banner.

And he's in good company with Christopher Monzón, "the Cuban Confederate," in the red shirt. He served prison time for attacking ppl w a confederate flag. https://t.co/S3dcCUpKoK pic.twitter.com/Ct480Pv8Ro

— Miami Against Fascism 🌴☕️ (@MIAagainstFash) July 15, 2021
Another member of the GOP's executive committee, Barbara Balmaseda, recently stepped down when pictures started to circulate of her on Capitol grounds on January 6. She said her resignation was based on her wish to focus on other work and that she felt the executive committee had become a drama-filled "waste of time."
Balmaseda once interned for Florida Senator Marco Rubio and worked as a campaign organizer for Ron DeSantis. She was also a field organizer for the GOP in Florida and has managed campaigns for aspiring legislators like Omar Blanco and Illeana Garcia.
Though she recently left the executive committee, she has opted to remain on the board of the Miami Young Republicans.
Notably, online sleuths have claimed that they have identified Balmaseda at the rally on January 6 and in proximity to alleged January 6 conspirator and Proud Boy leader Ethan Nordean.
An attorney for Balmaseda did not immediately return a request for comment Thursday.
Balmaseda's boyfriend, Brandon Diaz, served until very recently as the executive director for the GOP in Miami. He allegedly left the position to focus on his day job.
He has denied having any role in bringing Proud Boys into the committee's fold in Miami and has denied any personal involvement with the group.
Reprinted with permission from DailyKos .