Neo-Nazis Called On Trump To Pardon Joe Arpaio. Now Trump Is "Seriously Considering" Doing It.
@AlKapDC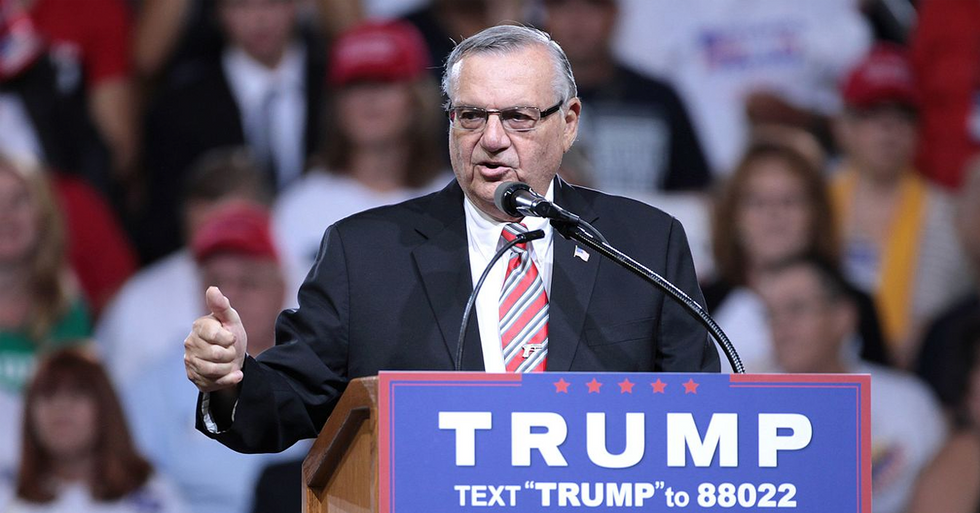 Reprinted with permission from MediaMatters.
President Donald Trump is reportedly considering a pardon for Joe Arpaio, the former sheriff of Maricopa County, Arizona, after neo-Nazi and other fringe media that have supported Trump called for him to do so.
Arpaio was found guilty of criminal contempt of court on July 31 after "defying a court order to stop detaining suspected undocumented immigrants." As The New York Times noted, the order originated from a lawsuit "charging that the sheriff's office regularly violated the rights of Latinos, stopping people based on racial profiling, detaining them based solely on the suspicion that they were in the country illegally, and turning them over to the immigration authorities." Arpaio, like Trump, was one of the biggest propagators of the false claimthat former President Barack Obama's birth certificate was fake. According to The Arizona Republic, Arpaio "says he would welcome a presidential pardon" from Trump, although he told the paper that he was "not going to ask."
When news of Arpaio's conviction was revealed, fringe media outlets decried the trial and verdict, and urged Trump to pardon the former sheriff. Jerome Corsi of conspiracy theory outlet Infowars wrote that Trump and Attorney General Jeff Sessions "must help Sheriff Arpaio," calling the trial a "travesty of justice" and asking whether Trump and Sessions would "continue to stand by watching." Additionally, Infowars host David Knight, in a video titled "Pres. Trump, Pardon Sheriff Joe: 'Guilty' Of Defying Sanctuary Judge," said that Arpaio "needs to be pardoned by the Trump administration or the Trump administration will be exposed to massive hypocrisy for allowing someone to go to jail for implementing the very policies that they're talking about now." Andrew Anglinof the neo-Nazi blog The Daily Stormer called Arpaio's conviction "a blatant crucifixion of a man who stood up to the Obama agenda of 'America for everyone from anywhere as long as they are not white'" and wrote that "Trump should pardon him." Another neo-Nazi blog, Infostormer, claimed Arpaio had "been convicted of a crime simply because he was enforcing immigration laws," adding "regardless of what happens, Donald Trump should pardon him."
Some fake news purveyors joined the call for a pardon. TruthFeed called Arpaio's conviction "absolutely ridiculous" and added, "We think Trump needs to pardon Arpaio." After Arpaio said he was open to a pardon, TruthFeed wrote, "Hopefully, President Trump will soon have time to help his long-time supporter." Patriots On The Right, calling Arpaio's conviction "stupid," urged people to "SHARE this story if you support the idea Joe Arpaio to be pardoned (sic)." World Politicus wrote that Arpaio being open to a pardon "could be good" because Arpaio had been a victim of a "witch hunt against" him and because "the judge had liberal ties."
Following the outcry from neo-Nazi, fringe, and pro-Trump media as well as fake news purveyors, Fox News' Gregg Jarrett reported on August 14 that Trump told Fox News that he was "seriously considering a pardon for Sheriff Arpaio" because he "has done a lot in the fight against illegal immigration. He's a great American patriot and I hate to see what has happened to him." Jarrett added that the pardon "could happen in the next few days, should [Trump] decide to do so."