Nervous Lee Joins Senate GOP Stampede Fleeing Graham's Abortion Bab
@next2godwin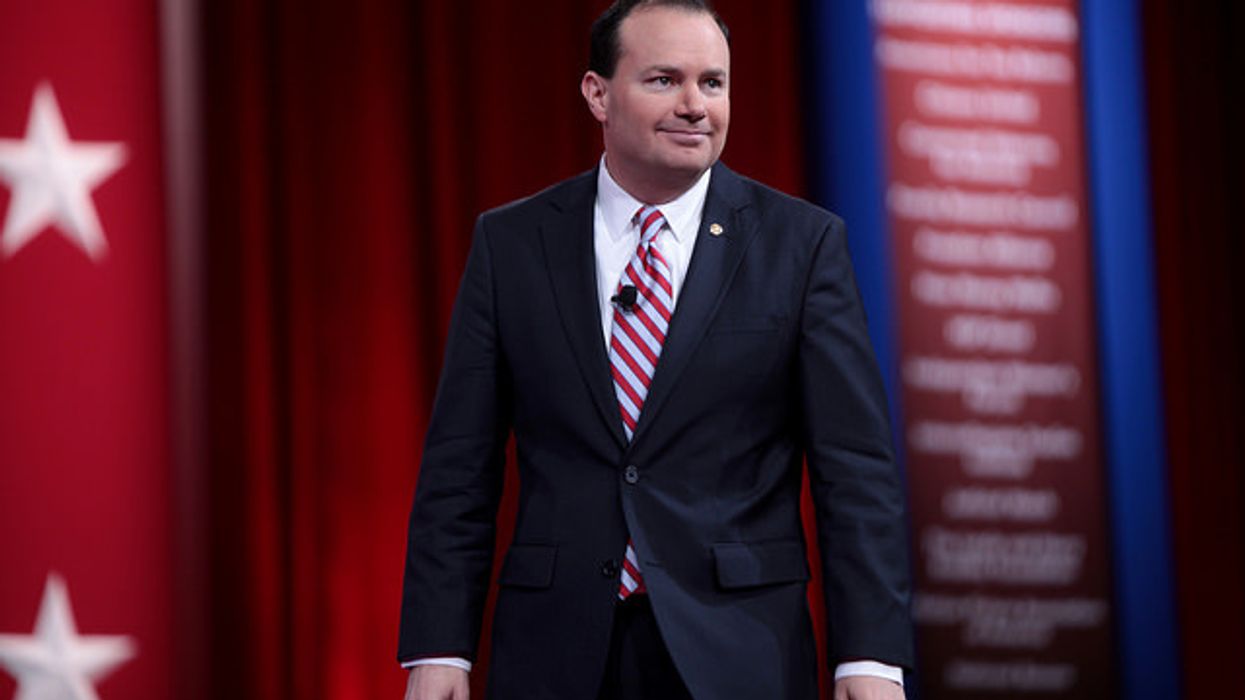 Sen. Mike Lee (R-UT) announced Sunday that he wouldn't support legislation for a 15-week nationwide abortion ban introduced by his colleague, Sen. Lindsey Graham (R-SC), making the lawmaker from Utah the latest in a long line of Senate Republicans to alter their abortion stance to keep their seats.
Lee told Fox News Sunday host Shannon Bream that he had "immense respect" for Graham, but Republicans have long fought for states to handle abortions. "I can't sign it," Lee told Bream, according to The Hill.
"We've been saying for nearly 50 years that this is not a federal issue," Lee said. "Now that Roe has been overturned correctly, we can't suddenly make it a federal issue."
"The best way to save the most babies is to allow states, each state to protect babies in the way they deem most appropriate for their state," he added.
However, Lee, who has long lent his voice and effort to the pro-life movement, made no mention of the legislation for a nationwide 20-week abortion ban he had introduced as one of his first acts in the Senate — a stance he still maintains today.
"There is abundant evidence, that by 20 weeks, the unborn child has the capacity to experience pain during typical abortion procedures. On this basis, it is vital to outlaw abortion after that point," Lee said on his website, touting one of the pieces of legislation he sponsored attacking abortion rights.
In another bill Lee introduced, deceptively titled "Protecting Life in Foreign Assistance Act," the Republican asked to restrict federal funding for domestic organizations that provide and promote abortion healthcare, including counseling.
Lee, a tea party leader, was one of many Republican lawmakers who cheered the leaked supreme court draft opinion overturning Roe v Wade, published by Politico.
"I don't know who [leaked the draft]," Lee said, "But I'd bet money, and I'm not a betting man, I'd bet money that this was done for the purpose of denigrating and delegitimizing and embarrassing and isolating those members of the Supreme Court of the United States planning on joining Justice Alito's opinion."
After the high court officially put abortion rights to the sword in June in Dobbs v Jackson Women's Health Organization, Lee introduced another bill, US SRes705, to congratulate right-wing pro-lifers nationwide.
"[That this Senate] congratulates the pro-life movement and the millions of individuals who have stood up for life over the last nearly 50 years on this historic victory," the legislation read.
However, with the midterms weeks away, Republicans like Lee have sought to keep political discourse from the GOP-led assault of a woman's right over her own body, thus disavowing abortion bills like Graham's.
Only a handful of Republicans have indicated they would support the bill, and others, like Lee, have edited their public communications — erasing the hard-right abortion stance text that they'd run on so far — saying now that abortion was a matter best left to the states.