Netanyahu Allies Urge Obama To Respect Israeli Election Outcome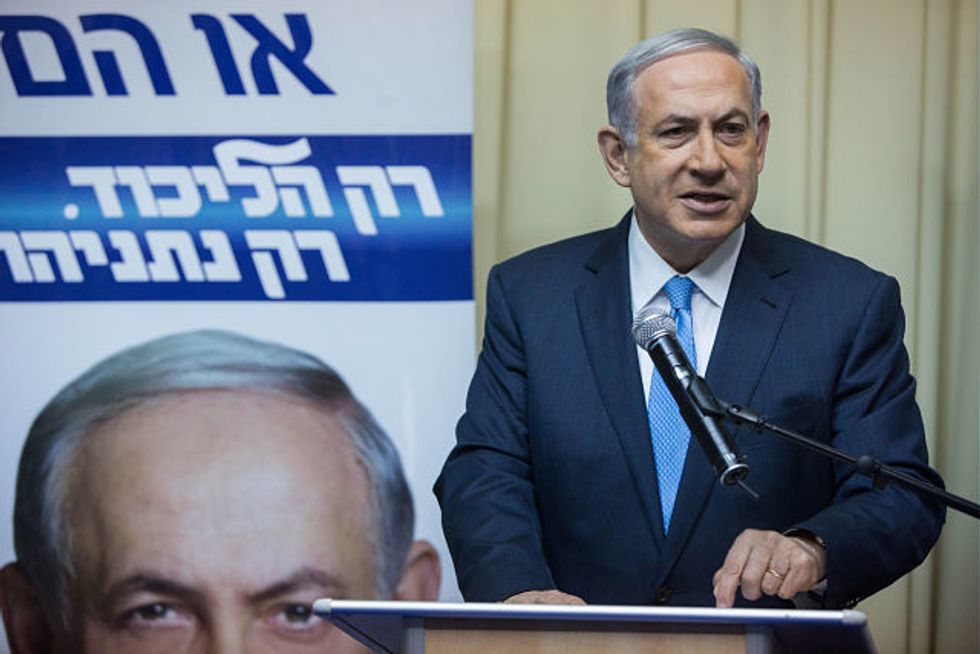 By Calev Ben-David, Bloomberg News (TNS)
JERUSALEM — Israeli officials called on the U.S. to accept the results of last week's election amid signs President Barack Obama may shift policy in response to Prime Minister Benjamin Netanyahu's victory.
Disputes should be resolved through "diplomatic discussions" and not U.S. support for unilateral steps against Israel, Ofir Akunis, a deputy minister in the prime minister's office, told Israel Radio on Monday.
U.S. officials criticized Netanyahu for saying there would be no Palestinian state if he returned to office after the March 17 vote. He later backtracked, saying while he remained open to a two-state solution, "circumstances have to change" with the Palestinians.
Obama and Netanyahu have clashed over several issues in the past six years, including West Bank settlements and talks with Iran over its nuclear program. Netanyahu's recent comments, and the prospect of his heading a new government even more resistant to peace with the Palestinians, could bring relations between the allies to an even lower point.
After Netanyahu backpedaled on Palestinian statehood, Obama said the U.S. takes Netanyahu "at his word when he said that it wouldn't happen during his prime ministership," and it was necessary "to evaluate what other options are available" to maintain stability in the Middle East.
"I expect the American people and its leader, President Obama, to respect the decision of the Israeli people to place at its head Prime Minister Benjamin Netanyahu and my party, the Likud," Akunis said.
U.S. Ambassador to Israel Dan Shapiro told Israel Radio on Sunday that if Netanyahu opposes a Palestinian state, "the question arises as to whether talks are possible and if not, what steps need to be taken."
One measure being weighed is a joint U.S.-European initiative that would outline the contours of a two-state solution, Israel's Channel 1 television said Saturday. The plan, which would not include any timetable, would base negotiations on lines Israel held before capturing the West Bank, east Jerusalem and Gaza Strip in 1967, a formulation Netanyahu opposes.
Israeli Deputy Foreign Minister Tzachi Hanegbi told Channel 1 he is concerned the U.S. has "adopted a policy of coercion" toward his country, "instead of a policy of negotiation and agreement."
Netanyahu's Likud emerged strengthened from last week's election with 30 parliamentary seats, and is negotiating with smaller factions to form a majority coalition in Israel's 120-seat Knesset. Israeli President Reuven Rivlin is now overseeing the official process of forming the next government, which could take weeks.
Netanyahu secured sufficient backing on Monday to form a ruling coalition after he was endorsed by Kulanu, the party headed by Moshe Kahlon, the leading candidate for finance minister, according to Rivlin spokesman Jason Pearlman. Economy Minister Naftali Bennett's Jewish Home party, which opposes any Palestinian state and supports more Jewish settlement in the West Bank, informed Rivlin on Sunday that it backs Netanyahu, as did the two ultra-Orthodox Jewish factions, Shas and United Torah Judaism.
Moody's Investor Service said Monday that Netanyahu's "surprising and decisive" election victory "will likely result in a more quickly formed and stable government coalition and cohesive economic policy than the preceding short-lived incongruent administration."
The ratings company said in an emailed statement it expects the new Israeli government's "fiscal rules to contain spending growth and keep credit metrics for Israel (A1 stable) on their well-established improving trend, a credit positive."
Photo: Israeli Prime Minister and Likud Party's leader Benjamin Netanyahu gives a statement to the media at the Prime Minister's residence in Jerusalem, on March 17, 2015. Results tallied Wednesday showed Netanyahu's party with a decisive win. (Xinhua/Zuma Press/TNS)