Netanyahu Says Time For U.S. Jews To Heal Rifts Over Iran Deal
@reuters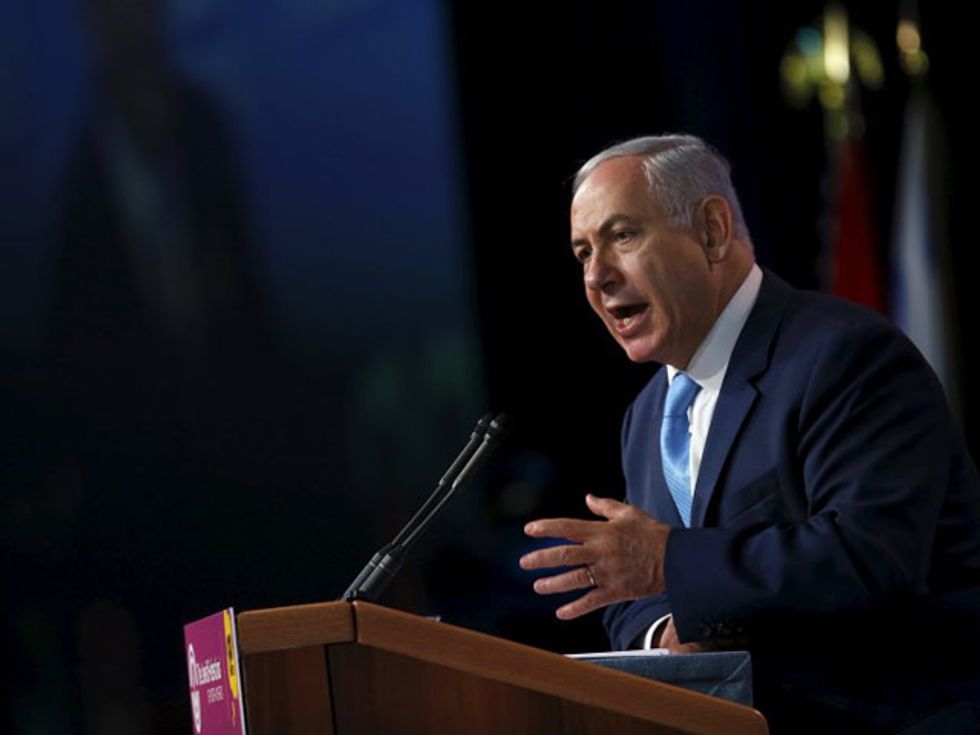 WASHINGTON (Reuters) — Israeli Prime Minister Benjamin Netanyahu called on North American Jews to unite behind Israel on Tuesday after a year of deep differences within the community over his vehement opposition to the U.S. backed nuclear deal with Iran.
A day after taking steps to mend ties with U.S. President Barack Obama, Netanyahu told an assembly of the Jewish Federations of North America that the past year was one of high diplomatic stakes and high passions but now a decision had been made that it was important to stick together.
"No matter what disagreements there have been within the Jewish community, maintaining the unity of our people is of paramount importance," the Israeli leader said. "Now more than ever we must work together to unite the Jewish people and secure the Jewish state."
Netanyahu told the group that his meeting with Obama at the White House on Monday was "very good," and he applauded the U.S. president for his commitment to the "unshakeable alliance" between the two countries.
The two leaders have had a history of testy White House encounters, especially during Obama's effort to negotiate the nuclear deal with Iran. Monday's visit was aimed at moving beyond that dispute.
Patching up relations could help smooth the way for a new 10-year U.S. military aid package, which Obama told Netanyahu he wanted to get a "head start" on negotiating.
Israel, Washington's chief Middle East ally, is seeking a record $5 billion a year, according to U.S. congressional sources. A senior Israeli official confirmed that figure and said a U.S. delegation would visit Israel next month to discuss details of an aid package.
"I deeply appreciate his commitment to bolster Israel's security at a time when the Middle East is becoming more dangerous than ever," Netanyahu told the Jewish Federations.
The Israeli leader also sought to address the concerns of American Jews, most of whom are not Orthodox, about the hold that Orthodox rabbis have in Israel over issues such as conversion and marriage.
He said Conservative and Reform Jews would always have a home in Israel and that he had set up a government panel to address their religious rights.
(Reporting by Jeffrey Heller and David Alexander; Editing by Toni Reinhold)
Photo: Israeli Prime Minister Benjamin Netanyahu delivers a speech at the Jewish Federations of North America 2015 General Assembly in Washington November 10, 2015. REUTERS/Carlos Barria