Neutron Jack And The Jobless Numbers Conspiracy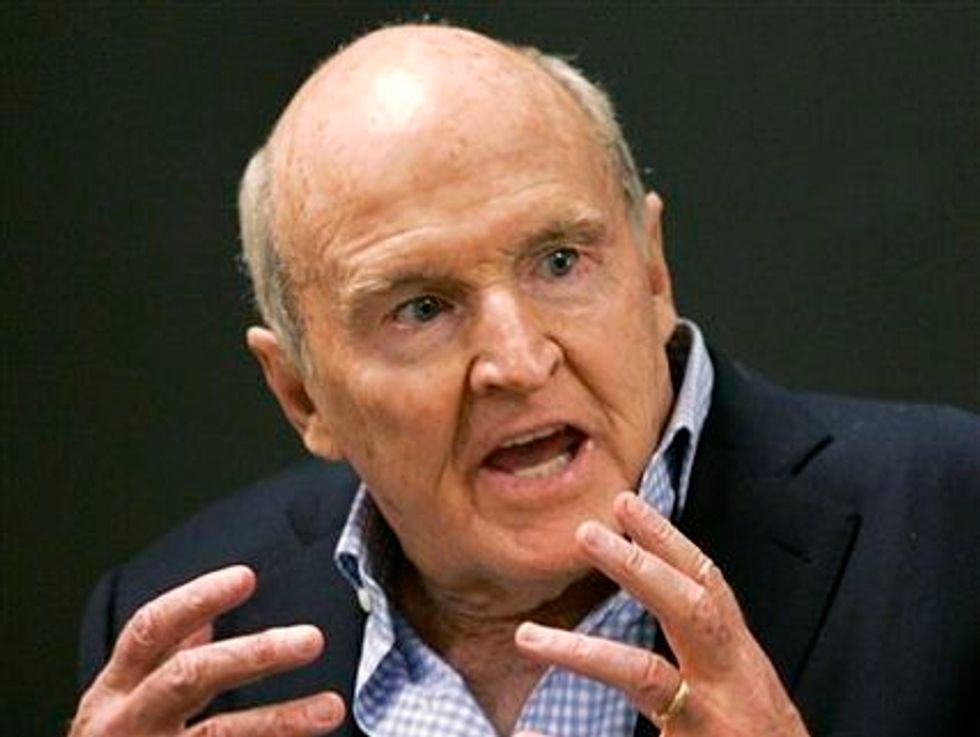 Opening yet another front in their endless war against reality, right-wing conspiracy-mongers have moved on from polling data to federal unemployment statistics, apparently because  — like the political polls they've disputed in recent weeks — the latest jobless number is not sufficiently damaging to President Obama.
Shortly after the Bureau of Labor Statistics released its September unemployment numbers on Friday morning, showing that the jobless rate fell last month from 8.1 percent to 7.8 percent, outraged expressions of doubt began to appear on the Internet.
Nobody cited any substantive evidence to support allegations that the BLS had suddenly "cooked" its data to promote the president's re-election, of course. Evidence isn't required or expected in Fox Nation.
What sustained at least momentary interest in this new "truther" flurry, however, was a Twitter effusion from Jack Welch, the former General Electric chairman, who described the BLS number as "unbelievable" and complained that "these Chicago guys will do anything" because Obama "can't debate." (He later admitted to Chris Matthews on MSNBC's Hardball, "I have no evidence to prove that [the White House influenced the BLS], " adding disingenuously that "I just raised the question.")
Although Welch is superficially a credible figure — indeed, still an idol in certain quarters of American business — he is also a particularly enthusiastic and volatile Romney surrogate. "Neutron Jack," as he used to be known,  admires Romney deeply, perhaps because both have become symbols of "corporate greed, arrogance, and contempt for workers." His tweet about the BLS was a political expression, not an expert assessment, and invites skepticism. But Welch certainly is familiar with dubious numbers and political manipulation.
Several years after he retired from General Electric in 2001 — where his legendary managerial successes brought him accolades as the "CEO of the century" in the business press — the Securities and Exchange Commission opened an investigation of the company's accounting practices. What the SEC eventually uncovered were long-running schemes to inflate earnings, reminiscent of Enron.
While nobody held Welch personally accountable, the violations that cost the conglomerate $50 million in fines occurred on the watch of the chief financial officer he had appointed in 1998. Other accounts of questionable business practices at GE date back much further.
More pertinent than GE's accounting misadventures is Welch's controversial role in the 2000 election, when he became known as an outspoken supporter of George W. Bush. (Considering the dismal history of the Bush presidency, voters might think twice before taking Welch's political advice this year.)  At the time, GE owned NBC and its cable networks CNBC and MSNBC, and Welch was known to make his presence felt in the studios and newsrooms. Nobody at 30 Rock had the slightest doubt about Welch's hatred toward President Clinton and the Clinton administration, or about his desire to see Clinton replaced by Bush.
On Election Night, as witnesses later told Rep. Henry Waxman, Welch came into the NBC newsroom while the network's political staff tried to determine who had won the historically-close contest between Bush and Vice President Al Gore. In what news executives later acknowledged was a serious mistake, they called the election for Bush, following a trend started by Fox News, where a Bush cousin was running election coverage under the watchful eye of former Bush consultant and Fox boss Roger Ailes.
According to Waxman's findings, Welch blatantly tried to influence the decision by NBC election producers to name Bush the winner, based on Florida numbers that were too preliminary and too close to support that call.
Witnesses said that Welch personally examined the raw election data and told the NBC director of election coverage, Sheldon Gawiser, that he believed Bush had won. When Fox called the election for Bush, Welch could be overheard asking Gawiser why NBC had not yet done the same. Not long after that alleged conversation, NBC announced that Bush had won.
NBC News strongly disputed Waxman's stated concerns over undue influence by Welch. But an internal evaluation later "recommended that the network [should] sequester the election decision desk and protect its election analysts from "unnecessary interruptions."
Welch himself dismissed the Waxman investigation as "pure crazy" — which is pretty much how economists and government experts are describing his BLS tweet.
But whatever Welch's present attitude and past behavior, is there any real reason why he should doubt the BLS jobs data — compiled by a corps of dedicated civil servants (not political appointees), many of whom are Republicans, month after month and decade after decade?
The short answer is no.
But before closing this pointless episode, there is another bit of sordid irony involving a different Romney associate. There was once a White House that sought to manipulate BLS statistics for its own partisan purposes. Before the Watergate scandal toppled him from power, Richard Nixon was constantly frustrated by his inability to exercise political control over the agency's professional civil servants. In his paranoia, Nixon blamed this "problem" on "the Jews" that he believed were running BLS and their animosity toward him  — so he and Charles Colson instructed Fred Malek, one of their political stooges, to ferret out the Jews and get rid of them.
Their anti-Semitic plot failed, Nixon resigned to escape criminal prosecution, Colson went to prison for Watergate offenses, and Malek languished in disgrace. Eventually he recovered his reputation, got rich working for Marriott, and buddied up to the Romneys. Last April, he and his wife hosted a "birthday party" fundraiser in Washington for Ann Romney, at $1,000 a head.
So the Republican accusations about gaming the BLS statistics may simply be another case of projection. Perhaps they think Obama is doing it because they always wanted to.
Photo credit: AP/Elise Amendola, File