New Data Shows Manufacturing Growth Slowest Since 2009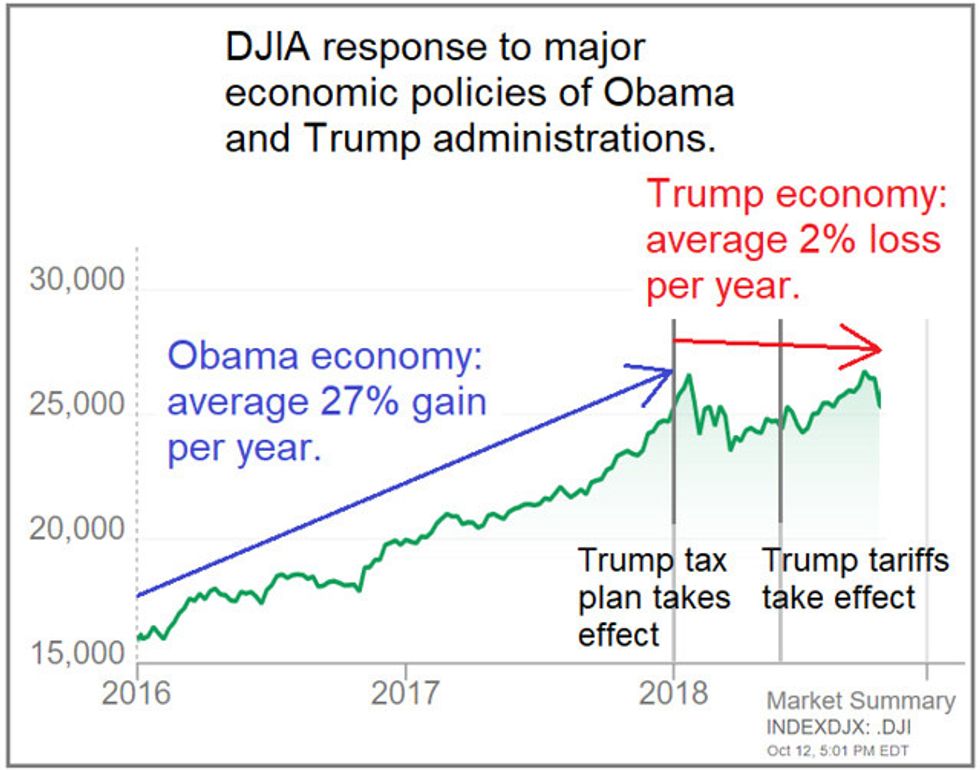 Trump continues to brag about an American manufacturing renaissance, but data released Thursday shows growth slowed to the lowest level in a decade, according to CNBC.
The U.S. manufacturing PMI (purchasing managers' index), a key indicator in the industry, dropped to a level indicating a contraction in the industry. It is the first time the PMI dropped to such a level since September 2009.
Further, new orders received by American manufacturers dropped to a 10-year low and export sales "tanked to the lowest level since August 2009," CNBC reported.
"The most concerning aspect of the latest data is a slowdown in new business growth to its weakest in a decade, driven by a sharp loss of momentum across the service sector," Tim Moore, economics associate director at IHS Markit, told CNBC.
The sobering news comes barely a week after Trump bragged about the strength of the manufacturing sector.
At a Pennsylvania speech on Aug. 13, Trump claimed, "we're restoring the glory of American manufacturing, and we are reclaiming our noble heritage as a nation of builders again."
Yet in places like Eaton County, Michigan, there has been a 9 percent drop in manufacturing jobs between January 2017 and December 2018, according to the New York Times. Seventeen other counties in Michigan saw a similar drop in manufacturing in a state known for manufacturing, especially the auto industry.
In Pennsylvania and Wisconsin, many counties Trump carried in 2016 have also experienced significant losses in the manufacturing industry.
"This is a classic example of Trump's broken promises," David Bergstein, the DNC's battleground state communications director, told Shareblue Media. "On issue after issue, he's broken his promises to the American people. Under his leadership, Americans are seeing increased health care costs, job losses, and [Trump] is only looking out for his wealthy and well-connected friends."
"I think we are definitely seeing a slowdown," Carla Bailo, president and chief executive of the Center for Automotive Research, told the Times. "Sales have slowed. Production rates have slowed."
During the 2016 campaign, Trump made campaign promises to states like Michigan, vowing, "If I'm elected, you won't lose one plant … The long nightmare of jobs leaving Michigan will be coming to a very rapid end."
Three years later, factories are closing and manufacturing growth is slowing, despite Trump's promises of restoring glory to the manufacturing sector.
Published with permission of The American Independent.