New 'Democracy Corps' Poll: GOP Civil War Is An Opportunity For Democrats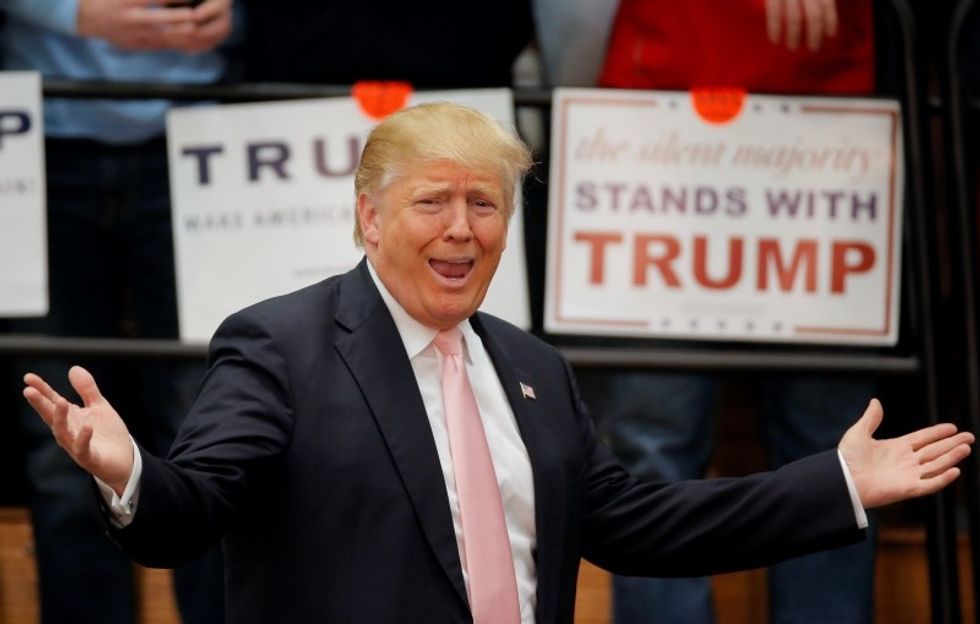 A new poll from Democracy Corps, a Democratic non-profit political polling and consulting firm run by James Carville and Stanley Greenberg, reveals that Donald Trump's supposedly universal support among the Republican base might have quite a few holes in it, especially among more centrist voters.
The poll looked at likely Republican voters as they belonged to one of four groups: the Tea Party, observant Catholics, moderates, and Evangelicals.
Asked to describe their feelings towards various political figures by assigning them a number, likely Tea Party and Evangelical voters favored Donald Trump +40 and +16, respectively, while observant Catholics and moderates responded, on average, -26 and -25.
Only 45 percent of moderates and 65 percent of observant Catholics said they would vote for Donald Trump in a hypothetical general election match up against Hillary Clinton, compared to 81 percent of Evangelicals and 81 percent of Tea Partiers. 9 percent of moderates and 5 percent of observant Catholic respondents said they would vote for Hillary Clinton in such a scenario.
Moderate respondents were especially resistant, when asked, to the tone and character of the Trump campaign thus far. If the New York billionaire continues at his current pace, he will almost certainly be the Republican nominee.
"Moderates form 31 percent of the Republican Party base, and they are solidly pro-choice on abortion and hostile to pro-life groups. About one in five are poised to defect from the party," stated a press release that accompanied the poll.
"The strongest attacks that we tested centered on [Trump's] character and leadership qualities: that he is an ego-maniac at the expense of the country, that he is disrespectful towards women, and that he cannot be trusted to keep the country safe and handle our nuclear weapons."
Photo: Donald Trump reacts to supporters as he arrives to a campaign event in Radford, Virginia February 29, 2016. REUTERS/Chris Keane