New Documents Indicate Trump Knew About Hush Payments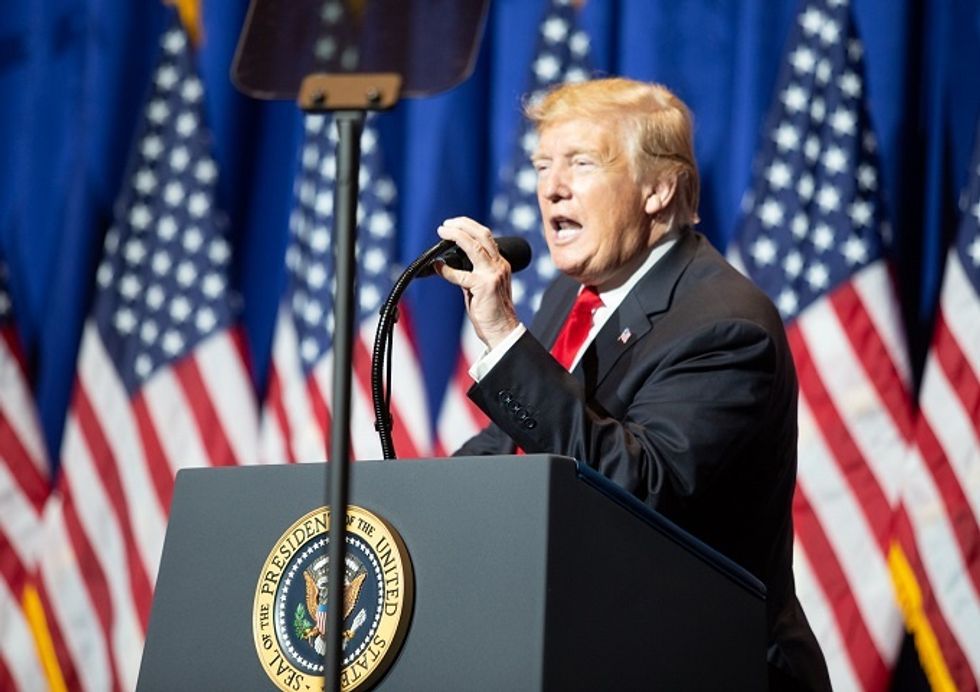 Unsealed FBI documents show concrete links between Trump, Michael Cohen, Hope Hicks, and criminal hush money payments to Stormy Daniels.
New documents unsealed on Thursday show Trump and his longtime attorney Michael Cohen exchanging a flurry of phone calls in October 2016, around the time Cohen made criminal hush money payments to Stormy Daniels, one of Trump's mistresses, NBC News reports.
The phone calls, not all of which involved Trump, also included Trump advisers Hope Hicks and Kellyanne Conway, as well as high-level staff for American Media, the parent company of the National Enquirer.
"Based on the timing of these calls, and the content of the text messages and emails, I believe that at least some of these communications concerned the need to prevent Clifford [Daniels's legal name] from going public, particularly in the wake of the Access Hollywood story," one FBI agent wrote.
The "Access Hollywood" tape showed Trump making vulgar comments, including admitting to being a serial sexual predator who would grab women "by the pussy" when he felt like it. In the wake of the scandal, the Trump campaign scrambled to keep at least two of Trump's mistresses from talking about their affairs with Trump.
Trump has long denied any knowledge of the $130,000 hush money payment Cohen made to purchase Daniels' silence in the closing weeks of the 2016 campaign. But the new document cast doubt on Trump's veracity.
In December 2018, Cohen pleaded guilty in federal court to making the illegal hush money payment. In documents from the Southern District of New York, prosecutors disclosed that Trump was an active participant in the crime, identifying him as "Individual 1."
"Just to make it crystal clear, New York federal prosecutors concluded that the President of the United States committed a felony," CNN legal analyst Renato Mariotti said at the time.
The unsealed documents provide significant evidence that Trump knew what Cohen was doing.
"It's impossible to believe, though, that Trump himself was unaware of the Daniels discussion Oct. 8," the Washington Post's Philip Bump wrote Thursday. "The idea that the Daniels issue didn't come up … defies believability."
Cohen maintains that he committed criminal acts at the direction of Trump, as he reiterated in a statement he made Thursday from prison.
"As I stated in my open testimony, I and members of the Trump Organization were directed by Mr. Trump to handle the Stormy Daniels' matter, including making the hush-money payment," he said.
The unsealed FBI documents seem to give Cohen's account more credibility than Trump's denials have.
Published with permission of The American Independent.