New Federal Budget Bill Lets Political Parties Cash In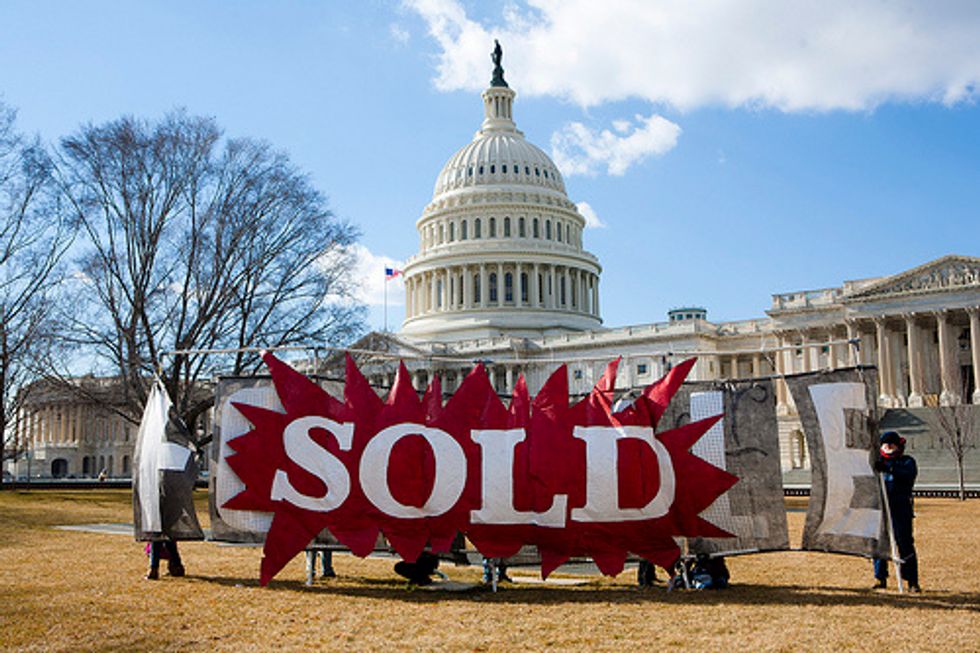 By Lindsay Wise, McClatchy Washington Bureau (TNS)
WASHINGTON — A provision in the $1.1 trillion omnibus budget bill that President Barack Obama is expected to sign into law this week will open up new sources of cash for the nation's two political parties.
Eleven paragraphs added to the bill as a last-minute rider increase the amount individuals can donate to national parties by almost tenfold, to $1.5 million per two-year election cycle. The previous limit was $194,400.
The money can be deposited only in accounts designated for specific purposes, such to finance a presidential nominating convention, renovate a party's headquarters or defray expenses related to election recounts and "other legal proceedings."
Parties will have to disclose the names of anyone who contributes to the accounts.
Advocates of the rider say it will get taxpayers off the hook for paying for political conventions and increase accountability in political fundraising. But those who oppose the change complain that it will open the floodgates of big money in elections.
"Elections are supposed to be battles of ideas, not playgrounds for wealthy special interests to buy the loyalty of politicians," said Sen. Claire McCaskill (D-MO), who voted against the spending bill last week in protest.
"Since the Supreme Court gutted our campaign finance laws, we're left with a situation where those special interests have a growing ability to try to buy a government to their liking," McCaskill said in a statement. "That's why now is not the time to be giving millionaires and billionaires even more influence over campaigns."
The rider blows up one of the few remaining campaign contribution limits, said Robert Weissman, the president of Public Citizen, a liberal advocacy group and research center in Washington.
"The sums of money involved have nothing to do with empowering regular Americans in any way," Weissman said. "This is only about the parties' ability to solicit donations from the super-rich."
Public Citizen, League of Women Voters and several other advocacy groups sent a letter to the president, urging him to veto the spending bill to halt what they describe as "the most corrupting campaign finance provisions ever enacted." But the White House has said he won't.
Obama isn't very happy about some aspects of the spending bill, but he thinks the overall legislation is a better deal than he could get in the next Congress, both houses of which will be controlled by Republicans, White House spokesman Josh Earnest said Monday aboard Air Force One.
"So the president made a tactical decision to go ahead and support this piece of legislation," Earnest said.
Obama campaigned for president on a platform that included tightening campaign finance laws, but he hasn't followed through on that pledge, Weissman said.
"This administration really hasn't done anything at all to improve the campaign spending corruption of our democracy. And they said they objected to this, but they permitted it to go through," he said. "They even pushed for votes for the bill to go through."
Both Democrats and Republicans stand to benefit from easing the limits on contributions to their national committees. The change will affect the Democratic National Committee and the Republican National Committee, as well as each party's campaign committees in the House of Representatives and the Senate.
An infusion of cash might be especially handy for the Democratic Senatorial Campaign Committee, which ended the November midterm elections $20 million in debt. Officials at the committee have denied that they were involved in inserting the campaign finance rider into the omnibus, as did the DNC and the Democratic Congressional Campaign Committee.
Politico and other news organizations have reported that the language was drafted by a Democratic attorney from Seattle, Marc Elias, at the behest of Senate Majority Leader Harry Reid (D-NV), who they said negotiated the addition of the rider with House Speaker John Boehner (R-OH) and Senate Minority Leader Mitch McConnell (R-KY). Elias' firm has represented the Democratic Senatorial Campaign Committee.
Although no one accepts public responsibility for the rider, its unlikely origins can be traced to the Gabriella Miller Kids First Research Act, named for a 10-year-old girl who died of cancer.
Obama signed that measure into law last year. It allots $12.6 million annually for pediatric cancer research at the National Institutes of Health. The cost was covered by ending public funding for political conventions.
Members of Congress complained at the time the research bill passed that it was "purely symbolic" and in reality did nothing to increase the amount of money available to support biomedical research.
Last week, however, Boehner pointed to the Gabriella Miller bill as the reason it was necessary to add the controversial campaign finance rider to the omnibus bill.
"This provision was worked out in a bipartisan way to allow those who are organizing political conventions to raise the money from private sources as opposed to using taxpayer funds," Boehner said.
Democratic lawmakers such as McCaskill and House Minority Leader Nancy Pelosi of California, who balked at the rider, found themselves in rare agreement with Tea Party activists, who usually support looser campaign finance restrictions. In this case, however, those activists are worried that easing just the contribution limits for national campaign committees will give an unfair advantage to the establishment wings of both parties.
The omnibus rider won't "create a level playing field for candidates who are outside the Beltway," David N. Bossie, the president of the political action committee Citizens United, said in a statement.
"What congressional leaders are doing is what they do best: protecting incumbents and the two-party system," Bossie said.
RNC Chairman Reince Priebus argues that the rider will have the opposite effect, increasing fairness in political fundraising.
"Lately, we've seen an influx of money into organizations that have no contribution limits; some don't have to disclose their donors to the public," Priebus wrote in a recent USA Today opinion piece. "Because of Congress' vote, some of the money that might have gone to those organizations could instead go to the national parties, in a completely transparent process."
Priebus apparently is referring to the so-called dark money that "super" PACs and other groups can accept from unnamed contributors, unlike the national parties, which must release donors' names publicly.
More than 1,200 super PACs spent a total of $346 million on midterm elections in 2014.
___
(Lesley Clark contributed to this report.)
Photo: Public Citizen via Flickr