New Jersey Governor Christie Says He Urged Trump Not To Leave Republican Party
@reuters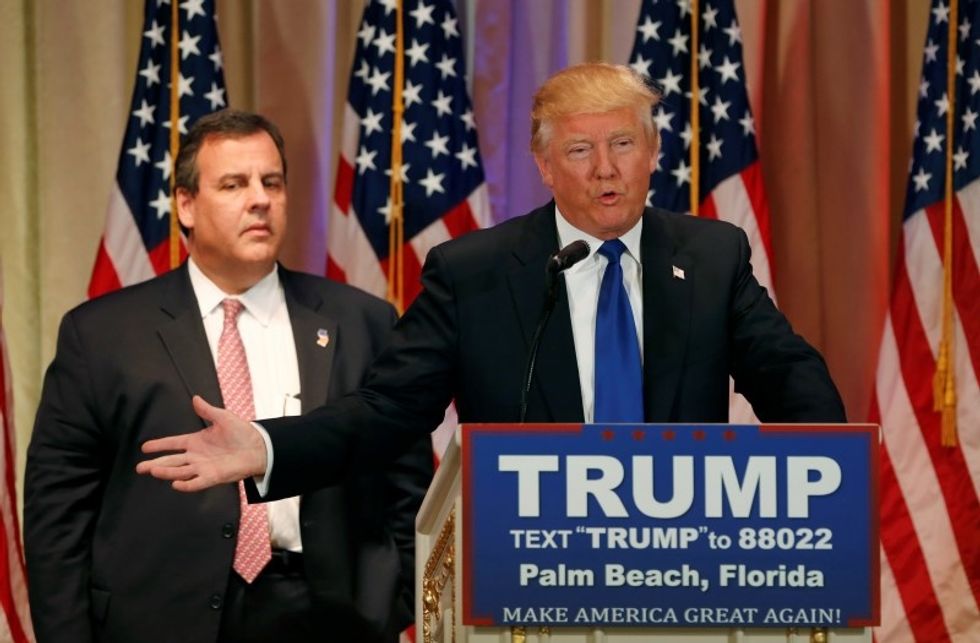 (Reuters) – New Jersey Governor Chris Christie said on Thursday he has urged Donald Trump not to leave the Republican Party, saying it remains unified despite scathing criticism of Trump's presidential candidacy by a senior party leader earlier on Thursday.
"I have urged him not to leave the party," said Christie, a former candidate himself, who gave Trump a major boost last week when he endorsed him for the party's nomination for the Nov. 8 election.
"I don't think that's a constructive way to go about it, and he knows that," Christie told reporters.
Trump, who has repeatedly threatened to leave the Republican Party if it does not respect him, told ABC News on Thursday that Republicans should be glad he has brought millions more people into the party: "They're leaving the Democrats. They're leaving the independents. And they're with me 100 percent."
The New York real estate magnate is the clear front-runner to be the Republican nominee in November but is facing heavy criticism from many in the party establishment – including a blistering speech on Thursday by the party's 2012 presidential candidate, Mitt Romney.
U.S. Senators Marco Rubio and Ted Cruz, and Ohio Governor John Kasich are trailing Trump in their bids for the nomination, but are trying to coalesce the support of establishment Republicans to topple Trump before or at the party's nominating convention in July.
Trump told MSNBC that the increasing number of ads from the establishment targeting him are "really unfair," and that he could depart the party to run as an independent.
"If I leave, if I go … which I may do, I mean, may or may not, but if I go, I will tell you these millions of people that joined, they've told them, they're all coming with me," he said.
Concern about Trump among Republicans increased at the weekend over his failure to quickly disavow support from a leading white supremacist.
"I've know Donald Trump for 14 years, and Donald Trump is not a bigot," Christie told a news conference in New Jersey. "In fact, Donald Trump is someone I think who has given a lot of opportunity to a lot of people of a lot of different backgrounds, and I disagree with Governor Romney on that one."
(Reporting by Washington newsroom; Editing by Mohammad Zargham and Frances Kerry)
Photo: Republican U.S. presidential candidate Donald Trump, with former rival candidate Governor Chris Christie (L) at his side, speaks about the results of Super Tuesday primary and caucus voting during a news conference in Palm Beach, Florida March 1, 2016. REUTERS/Scott Audette