New Jersey Looks Like Clinton Country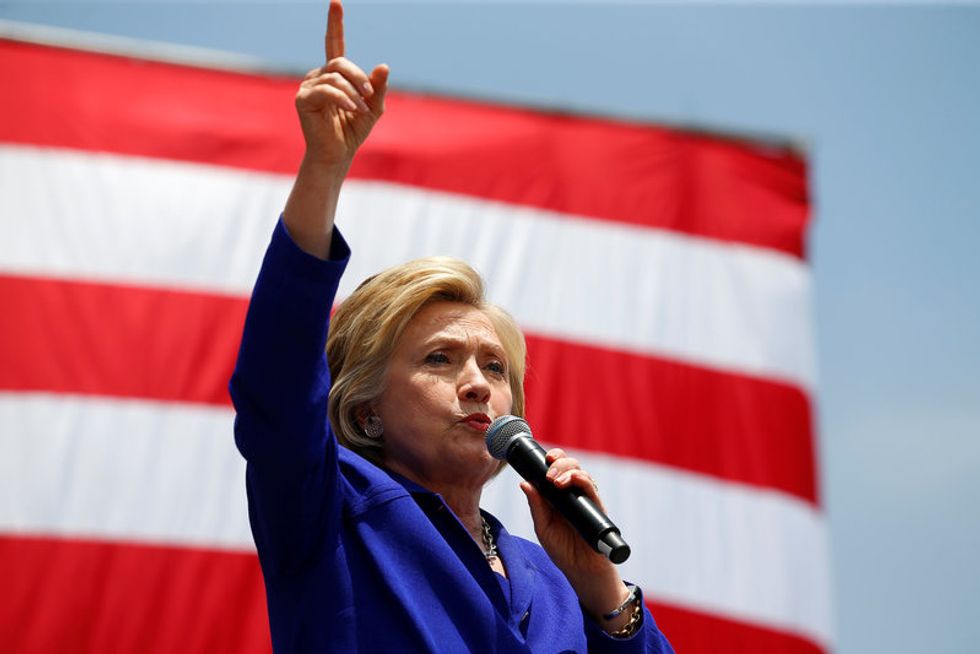 The final Super Tuesday of the 2016 primary election season offers a cross-country glimpse of the Democratic electorate, but polls are indicating the comparison is anything but symmetrical.
Bernie Sanders has quickly closed the gap in California, and the Vermont Senator is now in a virtual tie with Democratic frontrunner Hillary Clinton in the Golden State. But in New Jersey, where voters are slightly less liberal, polls show Clinton has the edge by an even larger margin than in New York, where she won by 16 percentage points.
Clinton campaigned in Newark, New Jersey on Tuesday but cancelled further events in the state as her lead evaporated in California. Polls are showing that the former Secretary of State is comfortably leading in the New Jersey, 61 to 34 percent.
However, voting rules in New Jersey may be on Sanders' side. Although it is officially a "closed" primary, Independents are not recognized as affiliated voters in the state and unaffiliated voters are allowed to declare themselves as Democrats or Republicans on primary day. Open primaries have often worked in Sanders' favor, such as in Michigan, where he scored a historic upset victory after preliminary polls consistently showed Clinton ahead by double digits.
Unaffiliated voters in New Jersey outnumber Democratic voters by nearly a million — 2.6 to 1.8 million — but this number could change heading into the general election, depending on how many people register as Democrats on Tuesday. Democrats currently outnumber Republicans by 700,000 voters in the state.
Both New Jersey and California are widely expected to go blue during the general election. Some polls have shown only a slight lead for Clinton over Trump in New Jersey, but this could be because the Democratic primary is unsettled and third-party choices have picked up some steam in recent weeks.
Nonetheless, history has shown that nominees enjoy stronger results in the polls once primary and third-party competitors are narrowed down. According to a CBS poll, Sanders holds a 52 percent to 34 percent edge over Trump in a general election matchup among voters in New Jersey. Clinton holds a 49 percent to 34 percent lead over Trump in the same poll.
The Associated Press crowned Clinton as the presumptive nominee on Monday night, sparking outrage among critics who noted that superdelegates do not vote until the Democratic National Convention and who pointed out that the premature announcement could compromise voter turnout in California — though others say the appearance of a premature announcement from AP could spur protest votes for Sanders.
Clinton currently leads Sanders by 291 delegates after securing victories in the Virgin Islands and Puerto Rico primaries over the weekend. There are 126 delegates to be allocated in New Jersey and 475 in California.
Montana, New Mexico, and South Dakota will also hold Democratic primaries on Tuesday; North Dakota will participate in a Democratic caucus. Washington D.C. will vote next week, in the last primary of the year.
Photo: U.S. Democratic presidential candidate Hillary Clinton makes a speech during a campaign stop in Lynwood, California, United States June 6, 2016.   REUTERS/Mike Blake