New Jersey Mayor Accuses Christie Of Strong-Arming
@AFP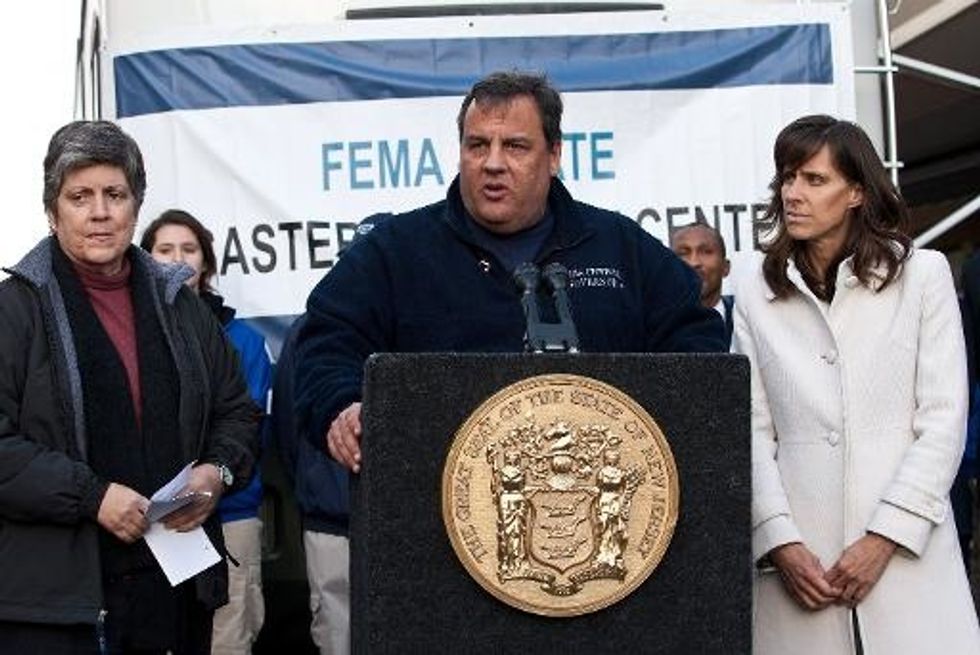 New York (AFP) – Republican Chris Christie, embroiled in a scandal over manufactured traffic jams in New Jersey, faced additional accusations Sunday of political strong arming that have sullied his image as a presidential contender.
The Democratic mayor of the Hoboken, New Jersey, Dawn Zimmer, accused the Republican governor of threatening to withhold money for Hurricane Sandy relief from her Democratic stronghold city unless she approved a redevelopment plan which he supported.
"The lieutenant governor came and very directly said to me that these two things are connected," Zimmer told CNN, speaking about a conversation she said took place last year.
"The lieutenant governor pulled me aside and said essentially, 'you got to move forward with the Rockefeller project," she said referring to a planned 40-story office tower and commercial development in Hoboken.
"'This project is really important to the governor," Zimmer said she was told by Christie's lieutenant governor Kim Guadagno.
"She said that this was a direct message from the governor."
Zimmer continued: "The bottom line is she came and she made a direct threat to me."
She said Guadagno added, "'If you tell anyone about it, I'll deny it'."
Zimmer's accusation, which she made first on another television broadcast on Saturday, was the latest example of alleged brass knuckles tactics employed by Christie and his top aides against Democrats in his state.
A Christie spokesman, Colin Reed, issued a statement to various U.S. media outlets late Saturday denying Zimmer's charges.
"Governor Christie and his entire administration have been helping Hoboken get the help they need after Sandy, with the city already having been approved for nearly $70 million dollars in federal aid, and is targeted to get even more when the Obama Administration approves the next rounds of funding."
Reed's statement added that in the past "the governor and Mayor Zimmer have had a productive relationship.
"It's very clear partisan politics are at play here as Democratic mayors with a political axe to grind come out of the woodwork and try to get their faces on television," Reed is quoted as saying.
Christie was credited with decisive leadership when Hurricane Sandy slammed into the East Coast in October 2012, hitting New York and New Jersey particularly hard.
He also had a reputation for being the kind of pragmatic Republican who could work across party lines, and could garner national support from Democrats, as he has in his majority blue state of New Jersey.
Christie was forced last week to admit his staff lied to him about their role in blocking commuter traffic onto a major bridge in an act of political retribution against the Democratic mayor of Fort Lee New Jersey.
The scandal is being investigated by federal prosecutors.
After the "bridgegate" scandal came to light, Christie fired a top aide, Bridget Kelly, and was seeking to put the matter behind him when the new allegations surfaced.
The larger-than-life Republican seen as a frontrunner for his party's 2016 presidential nomination, said he had been "embarrassed and humiliated" by the alleged dirty tricks, which he said at a marathon press conference last week that he had no knowledge of.
In a separate allegation, Democratic Congressman Frank Pallone said he wants Christie investigated over claims he improperly used tax payers' relief funds for personal political gain in the run-up to his 2013 re-election.
Polls show Christie with widespread support both in his state and across the nation, but some polls show him taking a hit in the wake of the bridgegate scandal.
AFP Photo/Andrew Burton