New Jersey's Top Democrat Claims Christie 'Prayed' For Hurricane Sandy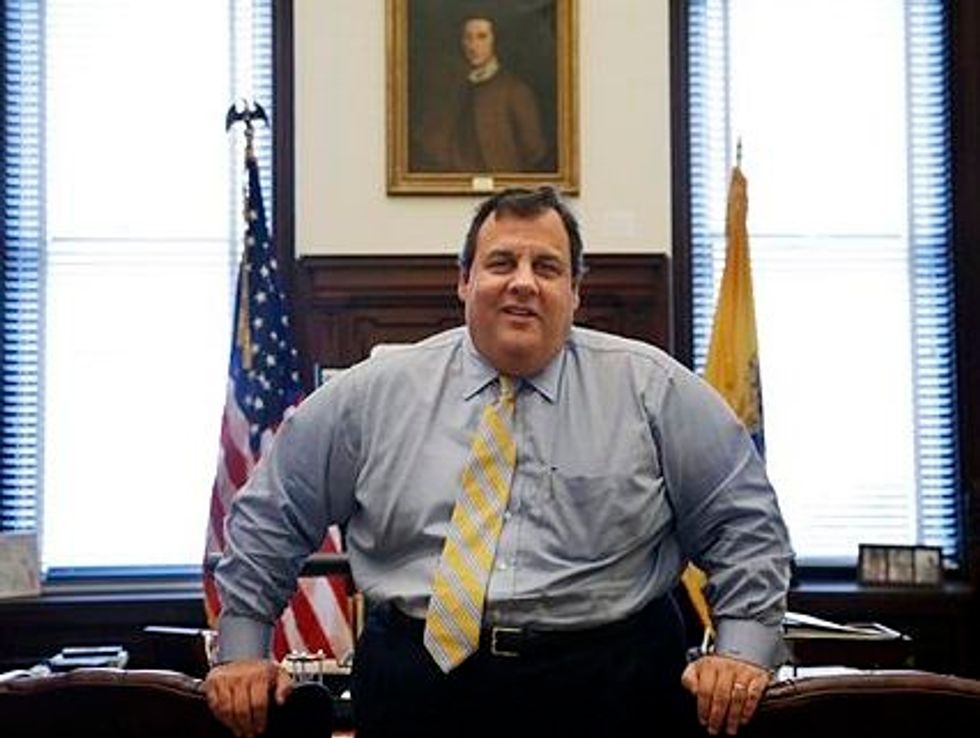 The highest-ranking Democrat in New Jersey government may have ruined his electoral hopes by claiming that Governor Chris Christie "prayed a lot and got lucky" when Hurricane Sandy devastated the state.
State senate president Stephen Sweeney, widely considered a top contender for the Democratic nomination in New Jersey's upcoming gubernatorial election, made the tone-deaf comments at a Monday press conference attacking Christie's economic record.
"We gave the governor a jobs package. We gave him one. He vetoed it. And his job package is a hurricane. I guess he prayed a lot and got lucky a storm came," Sweeney said. The senator then immediately backpedaled, acknowledging "I shouldn't say that…I apologize for saying it."
The damage was already done, however. Christie's spokesman Michael Druwniak quickly blasted Sweeney in a statement to the Philadelphia Inquirer:
It was shocking to hear Senator Sweeney reduce Hurricane Sandy and its devastation to a heartless partisan attack. Ask the thousands of New Jerseyans whose homes or businesses were destroyed or damaged if they view Hurricane Sandy as a partisan political issue, or if this is what they want to hear from their leaders at this time of recovery as we fight for disaster aid in Washington. No one 'prayed' for what New Jersey has endured. This is politics at its worst and Senator Sweeney's next press release should be to all residents of New Jersey saying he is ashamed of what he said today.
The Inquirer reports that Christie's office also "sent an email blast listing Sweeney's 'definition[s]' of 'lucky,' including: 346,000 homes and housing units damaged or destroyed; over 2.7 million households and businesses without power, as well as over 1,000 schools; over 116,000 people under mandatory evacuation order and displaced at the height of the storm; etc."
Apparently emboldened by Christie's response, Sweeney released a statement of his own, which lamented, "It's unfortunate that the governor has found time to exploit my misstatement, which I apologized for immediately," before quickly reiterating that "misstatement."
"The truth of the matter is the chief politicizer of Sandy has been none other than Chris Christie," Sweeney said. "There is no better example of this than his appearance on Saturday Night Live."
Sweeney also confirmed at the Monday press conference that he is considering challenging Christie in the governor's 2013 re-election bid. That would have been a difficult task to begin with — the most recent New Jersey poll, from Fairleigh Dickinson University/PublicMind, shows Christie with an approval rating of 72 percent and a 65 to 29 percent lead over Sweeney — but outbursts only strengthen Christie's case.
In order to win re-election in the blue state of New Jersey, Christie must win a significant percentage of Democratic and independent voters. Unsurprisingly, Christie's popularity spiked when he put partisan politics aside in the wake of the storm, working with President Obama to manage the disaster and then slamming his fellow Republicans for failing to provide sufficient aid. By responding to those gestures with a vicious partisan attack, Sweeney only reinforces Christie's image as a man above "politics as usual" — and makes it more likely that he will cruise to re-election in November.
Photo credit: AP/Mel Evans