New Poll: Democracy Corps Says Clinton Boasts 'Commanding' 12-Point Lead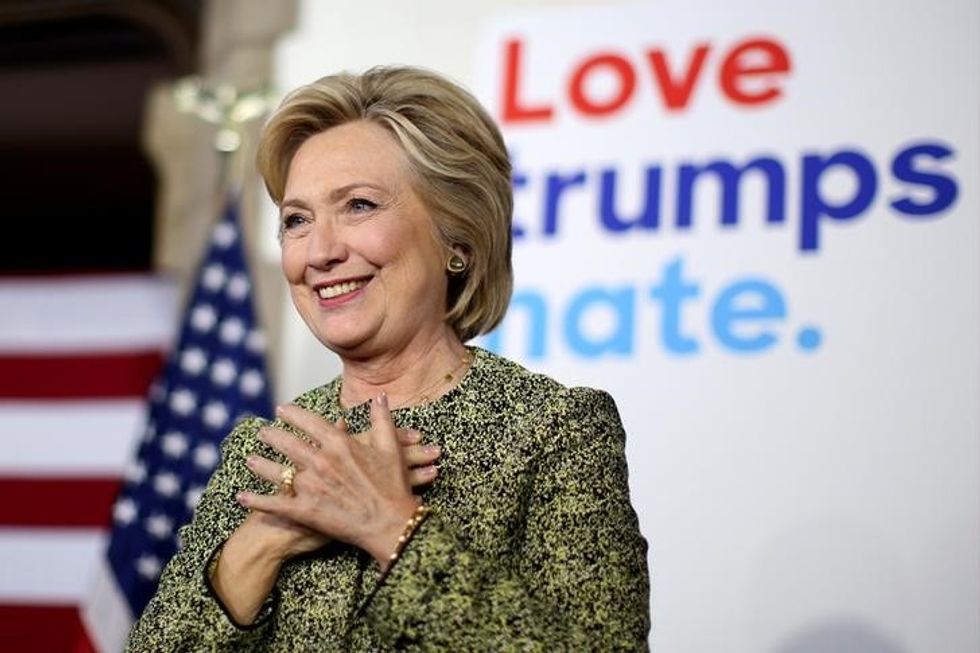 In a final survey before Election Day, Democracy Corps finds Hillary Clinton with a "commanding 12-point lead" over Donald Trump. The national poll of 900 likely voters by the Greenberg, Quinlan & Rosner firm shows Clinton moving up to 50 percent of the vote, well ahead of Trump's 38 percent, while Libertarian Gary Johnson gets only five percent and Green Party candidate Jill Stein remains stuck at two percent.
According to Democracy Corps, a nonprofit led by James Carville and Stan Greenberg, Clinton's dominant position is the product of both historic voting patterns and a "breathtakingly unpopular Republican Party" led by Trump, as well as rising approval numbers for President Obama.
But Greenberg also told The National Memo that Clinton's "impressive performance" in the debates and afterward had "brought down her negatives," reassuring voters that her presidency would be "good for middle-class families and the economy."
Although Trump still leads among white working class males, his advantage in that group is slightly lower than the lead held by Mitt Romney in 2012. Among independents, white college-educated males, and seniors, Trump is roughly even with Clinton — while she leads by wide margins among all women, white college-educated women, millennial voters, and suburban voters, In each of those groups her margin over Trump exceeds 20 points.
Greenberg emphasized that Clinton's "emerging landslide" could turn 2016 into a wave election that does grave damage to Republicans in down-ballot Congressional and legislative races. The Democracy Corps poll included "a simulated contest where the Republican congressional candidates argue they are needed as an independent check on Clinton" and Democrats respond with a sharp counter-attack. The simulation showed Democrats moving into a nine-point lead on Congressional ballots, the cusp of a party turnover in the House of Representatives; and in that circumstance, Democratic control of the Senate would be assured.
While it is just one poll, the Democracy Corps projection deserves particular consideration for one simple reason: Greenberg and his team at GQR got the popular vote result in 2012 exactly right, missing by only a tenth of a percentage point. Their final survey predicted that President Obama would win by 3.8 percent; the final count had him up by 3.9 percent. As former GQR staffer Erica Seifert observed in a post for National Memo in December 2012:
Our final Democracy Corps poll (completed two days before Election Day) showed the race 49 to 45 percent –an unrounded margin of 3.8 points.  With other public polls still showing the race tied or Romney ahead, our poll was an outlier.

We were so confident in our results, we put our reputations on the line in the waning days of the campaign.  We were confident we had it right because we believed that the national poll tracking averages were likely underrepresenting Obama's vote.  The main issue was cell phones and the changing demographics that most other pollsters miscalculated.   Those pollsters did not reach the new America.
In this cycle, however, the Democracy Corps poll is not such a lonely outlier. Most national polls now show Clinton with a substantial lead of five points or more — and the ABC News tracking poll, which was the second most accurate in 2012, also places Clinton at 50 percent and Trump at 38 percent. In fact, the ABC News results, based on a survey of 874 likely voters, are strikingly similar to those reported by Democracy Corps.
Discussing the reasons behind the results, Greenberg said that "Trump has driven away college-educated voters so he is only even with white college-educated men" — a group that is usually very reliable for the GOP candidate. And because the Republican nominee is also "only [running] even among seniors, he has none of the conservative base that a normal Republican would have."
Despite her "stunning numbers" among college-educated and unmarried women, Greenberg added, there is still room for Clinton to "consolidate her support among Democrats," where is still below the level of partisan support reached by Obama in 2012. "She is around 90 percent with Democrats and getting about two-thirds of minority voters,"he said. "Each could be higher."He believes the key to consolidating her share of Democratic voters and improving Democratic chances down-ballot is for Clinton to emphasize "an economic change message, [which was] tested in this poll."
What had been regarded throughout this cycle as an uninspiring succession of one Democratic president by another might then be recast as a change election that at last removes the obstructionist Republican majorities on Capitol Hill.