New Polls Show Obama, Romney In Virtual Tie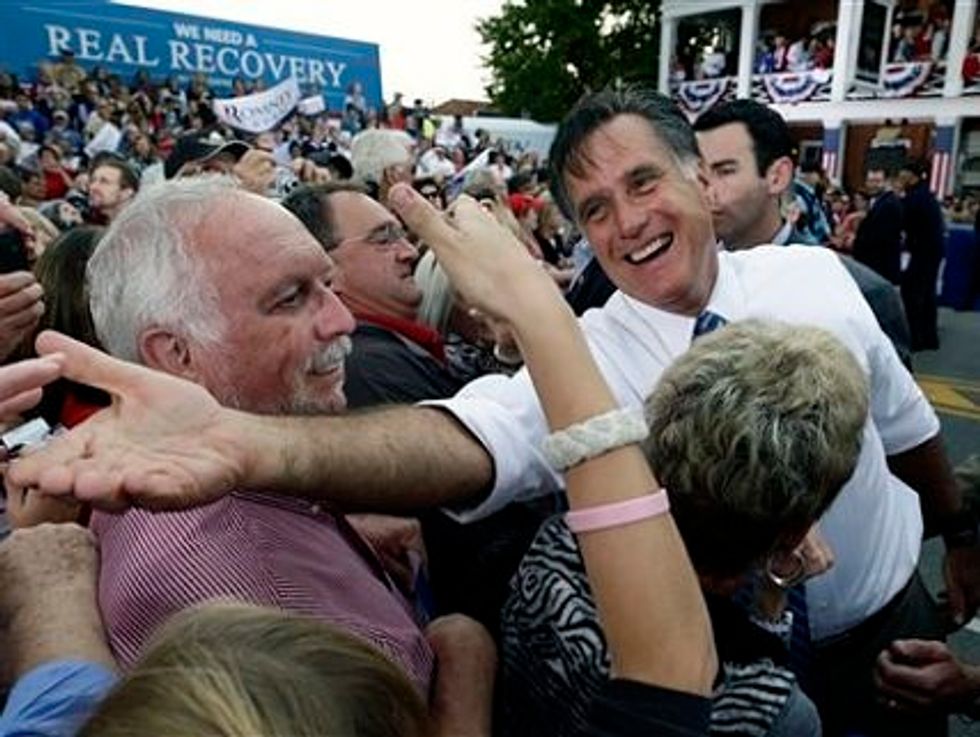 According to the latest round of polling, the 2012 presidential race is almost dead even with just 22 days to go until the election.
In two national polls released on Monday, President Barack Obama holds narrow leads over Mitt Romney that fall within the polls' margins of error. The latest poll from Politico/George Washington University shows Obama leading Romney 49 percent to 48 percent among likely voters. The poll, which was in the field from October 7-11, has a margin of error of +/- 3.1 percent.
In the new Washington Post/ABC News poll, Obama leads Romney by a 49 to 46 percent margin. That 3-point lead is within the poll's +/- 3.5 percent margin of error.
Both polls suggest that Romney's performance in the first presidential debate helped to improve his image. The Politico/George Washington University poll shows that 51 percent of likely voters now have a favorable view of Romney, up from 47 percent in the previous poll last week. Similarly, in the Washington Post/ABC News poll, 37 percent said that they have a more favorable view of Romney following his performance in the Denver debate (compared to just 8 percent who now have a more positive view of President Obama).
Two daily tracking polls released Monday show Romney with narrow leads over Obama. The Gallup Tracking poll has Romney leading Obama among likely voters by a 49 to 47 percent margin. Among registered voters, Obama leads 48 percent to 46 percent. Both results are within the margin of error.
Republican-leaning Rasmussen Reports' daily tracking poll shows a similar result, with Romney leading Obama 49 percent to 48 percent, with 2 percent preferring another candidate and 2 percent undecided. According to Scott Rasmussen, after the first debate "a very close race shifted ever so slightly from narrowly favoring President Obama to narrowly favoring Mitt Romney. Either way, it remains too close to call."
Despite the virtual tie in the national polls, President Obama is still polling well in swing states. Real Clear Politics' poll averages show Obama holding advantages in Ohio, Pennsylvania, and Virginia; without picking up at least one of these electoral-vote-rich states, Romney would essentially have to run the table in the other battlegrounds to reach 270 electoral votes.
Photo credit: AP/Charles Dharapak