NEW REPORT Reveals Trump's Bigoted Treatment Of Puerto Rico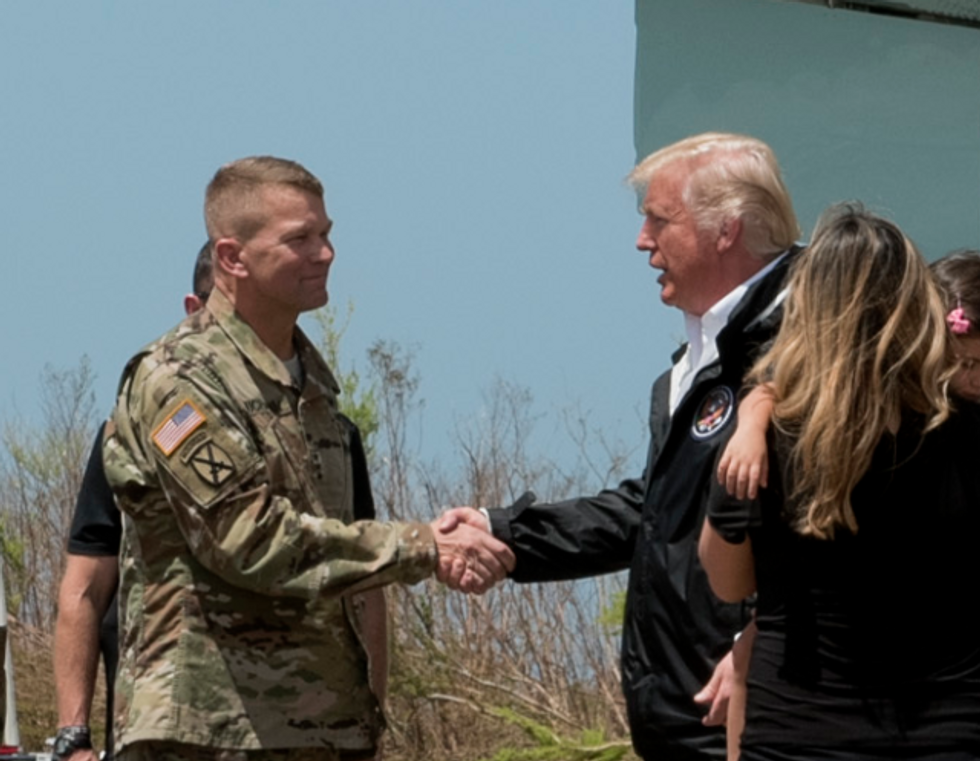 Reprinted with permission from AlterNet.
That President Donald Trump is a fundamentally racist person cannot be reasonably doubted — as a majority of Americans believe. And buried in a new report from the Washington Post on Wednesday about a top Housing and Urban Development official leaving her role was a stunning detail revealing, once against, the president's bigoted instincts.
The section of the report, relying on anonymous sources, describes Trump's reaction to emergency funds sent to Puerto Rico after the devastating Hurricane Maria. The Trump administration's handling of that crisis has been widely criticized, a failure that, on its own, implies racist animus given the disproportionate response to hurricanes in wealthier and whiter parts of the country. And once it was revealed that thousands of people were killed in during Maria and in its aftermath, Trump dismissed the number as a personal smear against him, showing a frightening callousness to the loss of life incurred.
The new report shows that Trump even seemed to resent giving the support the administration did facilitate:
President Trump in late September grew incensed after hearing, erroneously, that Puerto Rico was using the emergency money to pay off its debt, according to two people with direct knowledge of Trump's thinking.

Trump told then-White House Chief of Staff John F. Kelly and then-Office of Management and Budget Director Mick Mulvaney that he did not want a single dollar going to Puerto Rico, because he thought the island was misusing the money and taking advantage of the government, according to a person with direct knowledge of the discussions who spoke on the condition of anonymity to describe sensitive internal deliberations. Instead, he wanted more of the money to go to Texas and Florida, the person said.

"POTUS was not consolable about this," the person said.
This attitude is emblematic of the racist and white supremacist beliefs in American history. To the racist's mind, people of color are always less deserving, even when they are clearly in greater need. His inclination to believe that the Puerto Ricans are wasting federal funds, despite no basis for this claim, shows a willingness to accept another racist trope.
The incident as it is described echoes another of the most notable moments in Trump's presidency highlighting his racism. While meeting with top lawmakers to discuss immigration, Trump reportedly referred to African nations and Haiti as "shithole countries." Instead of accepting immigrants from these nations, he reportedly said we should be encouraging immigrants to come from countries like Norway.
In both these situations, Trump showed an obvious disdain for people of color and a revealed preference for white people. In a week when the Republican Party is patting itself on the back for finally rebuking Rep. Steve King (R-IA) for being a racist, these reports should stand as reminders that the Iowa congressman is far from the only bigot in their party's ranks.