The "New Right," Brought To You By Former Allies Of The "Alt-Right"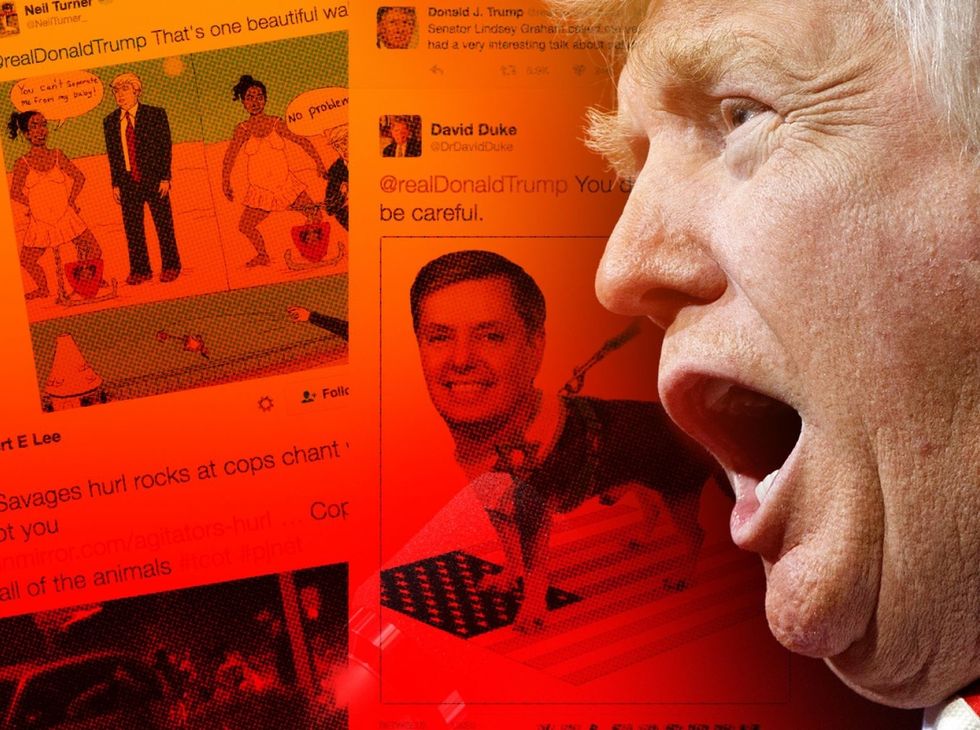 Reprinted with permission from MediaMatters.
By JARED HOLT
Online personality Mike Cernovich fabricated the existence of a "new right" movement to downplay his active relationships with "alt-right" media personalities and white nationalist thought leaders. But like the nonsense diet supplements and self-help books that Cernovich hawks to his audience, the "new right" should be treated for what it is: a load of marketing bullshit.
The truth is that although Cernovich and his media pals will claim they don't advocate white nationalism in the same way that "alt-right" leaders like Richard Spencer do, the so-called "new right" has actively parroted the "alt-right" to build its brands. It is a mistake to give the "new right" a chance to disown the relationships that helped it blossom.
Cernovich coined the term "new right" last year after he banned "alt-right" media personality Tim Treadstone, known online as Baked Alaska, from attending an inauguration party Treadstone had assisted Cernovich in planning called "The Deploraball." Treadstone had published several tweets about the "Jewish Question" — an anti-Semitic conspiracy theory that suggests Jewish people scheme to dominate global media and governments. Cernovich replaced Treadstone with equally terrible "alt-right" personality Milo Yiannopoulos, who had been banned from Twitter for inciting a racially motivated harassment campaign and was later disinvited from the Conservative Political Action Conference (CPAC) after a video surfaced in which he appears to condone pedophilia. The drama fractured the "alt-right" media landscape into factions, with some hoping to rebrand and distance themselves from the openly white nationalist fan base they had used to inspire their brands.
After uninviting Treadstone, Cernovich introduced the concept of the "new right" in an interview with Paul Joseph Watson, editor-at-large of the conspiracy theory website Infowars, denouncing white supremacist messages spread by some members of the "alt-right." After the interview, Watson also peddled the concept of a "new right" to his fan base on social media, claiming that "there are two 'Alt-Rights'" and that one faction is "more accurately described as the New Right." Watson claimed the "new right" includes people who wear Trump hats, "create memes [and] have fun." This group, he wrote, is entirely separate from "a tiny fringe minority" of people under the "alt-right" banner who "obsess about Jews, racial superiority and Adolf Hitler."
The public relations move worked, and soon many other notable pro-Trump new-media personalities were clustered under the "new right" brand coined by Cernovich. They included Vox Day, who wrote a manifesto on what it means to be "alt-right" that claimed "diversity + proximity = war"; "alt-right" poster boy Milo Yiannopoulos, who praised the group's membership; The Gateway Pundit's Lucian Wintrich, who made an "alt-right" hand signal in the White House briefing room; and blogger Stefan Molyneux, who receives wide praiseamong white nationalist groups.
Cernovich toldThe Atlantic that he "for sure" pictured himself as the leader of the "new right" and that he and his media partners "want to do nationalism without white identity politics." Cernovich explained to New Yorkmagazine that his initial support for the "alt-right" was based on a misunderstanding: He "didn't realize it was, like, a white, ethno-nationalist thing." Right Side Broadcast Network (RSBN), which hired Cernovich to host a program on the pro-Trump news stream, defended Cernovich and allowed him to whitewash his track record of vile statements.
But Cernovich and his new-media allies openly pandered to a growing pro-Trump "alt-right" media audience during the 2016 election by publishing media meant to promote fear of Muslims and pieces that attacked "social justice warriors" and others who speak out against the sexist, misogynistic, and racist rhetoric Cernovich and other "alt-right" personalities spew. Cernovich also once announced that his next project would be "part alt-right, part fitness, part anti-cuck," and he has praised the "alt-right" movement as "sophisticated, suspicious, and combative" and declared it "woke." The ignorance defense the "new right" is using is soiled by these figures' year-long track record of employing such rhetoric to bolster one another's public profiles.
Cernovich and his new-media allies are snake oil salesmen who adopt whatever controversial punditry will earn them publicity and let them promote their bogus products. For example, Cernovich uses his platform to sell copies of his self-help book for men and promote his in-development "experimental nootropic" pills that heclaimed will regrow neurons inside the brain and build a "supercharged mind" that most people can't handle.
The "new right" is nothing more than a shallow attempt to legitimize commentary that draws upon the "alt-right" philosophy, which has been used to promote conspiracy theories like the "Pizzagate" claim that top Democratic officials were complicit in a Washington, D.C., child sex-trafficking ring run out of a pizza restaurant. Media should not grant Cernovich and his colleagues a free pass to abandon the "alt-right" talking points that they used to force themselves into media relevancy in the first place.