In New Role, Sen. Patty Murray Is Eager To Push Obama's Spending Plans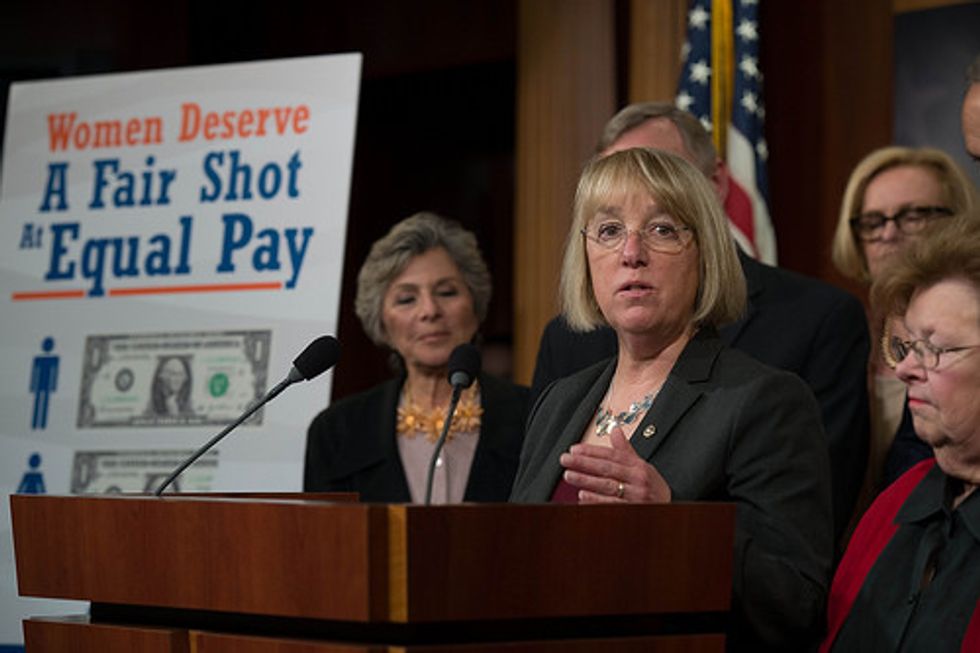 By Rob Hotakainen, McClatchy Washington Bureau (TNS)
WASHINGTON — As a former preschool teacher, Democratic Senator Patty Murray is none too pleased with her state's performance when it comes to educating 4-year-olds.
With only 8 percent of them enrolled, Washington state ranked 32nd in preschool access, according to a national report last year. And the state failed to make the cut in December when the U.S. Department of Education gave grant money to 18 other states to start or expand their preschool programs.
That number would expand to 40 as part of President Barack Obama's $4 trillion budget for next year. And his 2016 spending plan envisions spending $75 billion over 10 years to pay for "Preschool For All," an effort to eventually get all states on board.
Murray, a fourth-term senator who is up for re-election in 2016, likes the sound of that. She's also happy that Obama wants to scrap automatic spending cuts and spend more on subsidized day care, paid leave and middle-class tax credits.
"I'll be taking them all on," Murray said in an interview Tuesday.
While she has promoted similar issues for years, Murray will be in prime position to try to shepherd the president's plans through Congress as the new top-ranked Democrat on the Senate Health, Education, Labor and Pensions Committee.
She's eager to get started, calling the proposals "absolutely vital." And she said that Washington state's poor ranking in preschool access "sends a dramatic message to all of us that this is an area that we have to focus on."
Obama's budget, released Monday, is considered dead on arrival, and many Republicans said it called for far too much spending.
Illinois Republican Rep. Peter Roskam called it "the worst play call we've seen" from Obama, likening the budget to quarterback Russell Wilson's last-minute intercepted pass that led to a loss for the Seattle Seahawks in Sunday's Super Bowl.
Murray called the spending document "a strong starting point" for Congress. She said she's expecting the preschool plan to win backing from Republicans, too.
In what would come as major change for U.S. education policy, Murray wants the new preschool money included in an overhaul of the No Child Left Behind law. That's the federal blueprint for public schools passed by Congress in 2001 at the request of President George W. Bush.
Currently, the law only applies to kindergarten through 12th grade, but Murray said one of her top priorities is to get Congress to expand it as a way to force the federal government to focus more on preschool students.
"Look at other countries — China, India — that are very focused on making sure every one of their young kids gets access to early learning," Murray said. "That's who our competitors are in a global marketplace. … The evidence is 50 years in the making that this is the best investment we can make."
White House officials make the same arguments, noting that the U.S. currently ranks 25th in the world in early education access, with millions of children cut off and kids in Mexico, France and Singapore much more likely to be enrolled in preschool.
A study released in May by the National Institute For Early Education Research ranked Washington state "far below average" in access to preschool, 32nd among states for enrolling 8 percent of 4-year-olds and 20th among states for enrolling 1 percent of 3-year-olds.
"I'm not surprised at all — we're clearly behind where we should be," said Joel Ryan, executive director of the Washington State Association of Head Start and Early Childhood Education Assistance Program. "We're still spending less than 1 percent of general fund dollars on early education in the state."
But Ryan called the president's plan "terrific" and said more children will be enrolled if Washington state legislators approve Democratic Gov. Jay Inslee's proposal to spend $80 million on more than 6,000 new preschool slots. More children will be served in Seattle after voters in the state's largest city passed a $58 million property-tax levy in November to pay for more preschool education.
Convincing the Republican-led Congress to spend more on early childhood education won't necessarily be an easy task.
When the House Committee on Education and the Workforce took up the issue last year, Russ Whitehurst, an education expert from the left-leaning Brookings Institution, told the panel that taxpayers have not gotten their money's worth from early childhood programs and that there's no proof that they've produced lasting educational gains.
But Steve Barnett, director of the National Institute For Early Education Research, said preschool education has become a bipartisan issue in many states, with Republicans often leading the call for more spending.
He said that how much the new Congress will spend on preschool could depend on the level of lobbying that Republicans on Capitol Hill receive from state and local leaders in their own party.
"I do think they want more at the state level," Barnett said.
Murray's counting on it.
"They know they need a federal partner in this," she said.
Photo: Senate Democrats via Flickr