New Roundups Of Trump's Lies Prove Why Fact-Checking Is Vital During Presidential Debates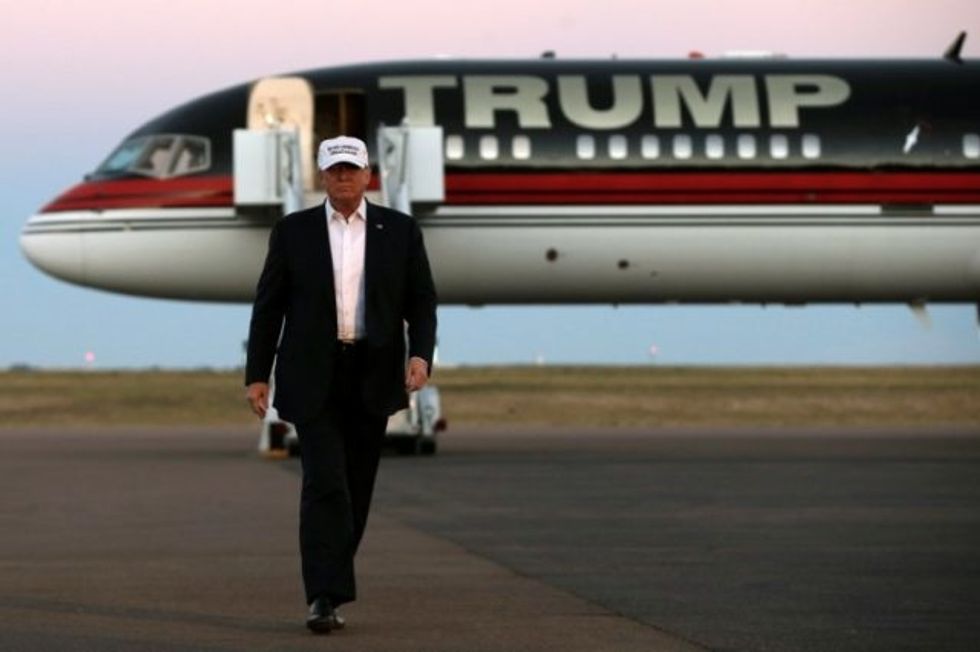 Published with permission from Media Matters For America
The New York Times, The Washington Post, and Politico all independently published on September 24 and 25 reviews of Republican presidential nominee Donald Trump's "blizzard of falsehoods, exaggerations and outright lies" in just the last week. Given that Trump's "mishandling of facts and propensity for exaggeration" is so "frequent," these reports of Trump's "untruths" bolster the case for debate moderators to fact-check the candidates during the presidential debates.
Trump and Democratic presidential nominee Hillary Clinton are set to debate on September 26 in the first of three meetings. Given that Trump has a startlingpenchant for lying and that Trump's debate prep team is filled with conspiracy theorists and disreputable political operatives, journalists and veteran debate moderators have called on the moderators to hold the candidates to a high level of truth-telling and fact-check their inaccurate statements.
Media Matters has also called on the debate moderators to fact-check the candidates in real-time, so a debate over settled fact does not become a "'he said, she said'" situation. Failing to fact-check Trump's lies during the debate will also feed into the growing media tendency to lower the bar for Trump and hold the two candidates to different standards.
Those calls for asking "tough follow-up questions" have been given even more importance with these new studies. Trump, according to a five-day Politico analysis of his most recent remarks, "averaged about one falsehood every three minutes and 15 seconds." The Politico analysis found 87 different lies of Trump's, including on issues such as the economy, health care, national security, immigration, and Clinton, among others. The study also noted Trump's September 16 lie that "he was not the person responsible for the birtherism campaign to delegitimize Barack Obama's presidency."
How often does Trump misrepresent facts?

About once every 3 mins & 15 secs, per @POLITICOMag's weeklong fact-check. https://t.co/wMsprM8YkW

— Kenneth P. Vogel (@kenvogel) September 25, 2016
The New York Timesalso "closely tracked Mr. Trump's public statements from Sept. 15-21, and assembled a list of his 31 biggest whoppers, many of them uttered repeatedly." The Times spotlighted Trump's "most consistent falsehood he tells about himself" — "that he opposed the war in Iraq from the start" — which the "evidence shows otherwise." The Times also highlighted Trump's "unfounded claims about critics and the news media," "inaccurate claims about Clinton," and "stump speech falsehoods."
The Washington Postsimilarly examined "one week of Trump's speeches, tweets and interviews" and found that Trump "continues to rely heavily on thinly sourced or entirely unsubstantiated claims." The Post's roundup of Trump's recent "false or questionable claims" and "controversial and debunked statements" included his erroneous assertion that the black community is "in the worst shape that they've ever been in before, ever, ever, ever" and his false claim that law enforcement cannot question a person suspected of carrying an explosive.
Though print media outlets are becoming increasingly comfortable spotlighting Trump's compulsive lying, his habit is not new: PolitiFact found that 70 percent of Trump's assertions throughout his campaign have been "mostly false," "false," or "pants on fire." The Times, Post, and Politico's roundups of Trump's lying just in the past week show how crucial it is for debate moderators to be vigilant fact-checkers during the debate.
Photo: Republican presidential nominee Donald Trump walks off his plane at a campaign rally in Colorado Springs, Colorado, U.S., September 17, 2016.  REUTERS/Mike Segar