New Scotland Independence Referendum 'Highly Likely': Sturgeon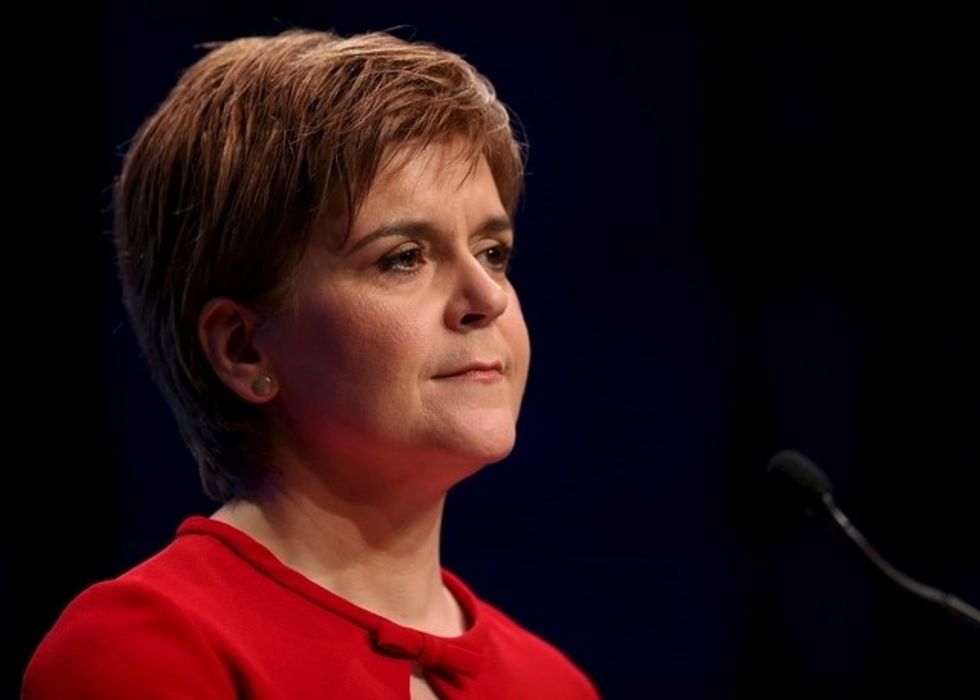 A second Scottish independence referendum is "highly likely", First Minister Nicola Sturgeon said on Friday, raising the prospect that the United Kingdom could tear itself apart after voting to leave the European Union.
Scotland, a nation of five million people, voted decisively to stay in the EU by 62 to 38 percent in a referendum on Thursday, putting it at odds with the United Kingdom as a whole, which voted 52-48 in favor of an exit from the EU, or Brexit.
"As things stand, Scotland faces the prospect of being taken out of the EU against her will. I regard that as democratically unacceptable," Sturgeon told a news conference in Edinburgh.
"I think an independence referendum is now highly likely."
A vote for independence would end the 300-year-old union between Scotland and England, its far bigger southern neighbor, dealing a body blow to the United Kingdom at a time when it is likely to still be dealing with the complex fallout from Brexit.
It would also transform the political landscape in the rump of the United Kingdom by making it much harder for Labour, the main opposition to the ruling Conservatives, to win power in London, as the party has relied on Scottish votes in the past.
Scots rejected independence by 55 to 45 percent in a 2014 referendum, but since then Sturgeon's pro-independence Scottish National Party (SNP) has become much more powerful.
EU membership was one of the key issues in 2014, with those campaigning for Scotland to stick with the United Kingdom arguing that an independent Scotland would not be able to remain a member of the bloc.
Sturgeon said many Scots who had voted against independence for that reason were now re-assessing their decision.
"I intend to take all possible steps and explore all options to give effect to how people in Scotland voted (on Thursday), in other words to secure our continuing place in the EU and in the single market," she said.
Ruth Davidson, leader of the Scottish Conservatives, who are the main opposition force in Edinburgh politics, said she did not believe a second independence referendum would help Scotland achieve stability or be in the best interests of its people.
"The 1.6 million votes cast in this (EU) referendum in favor of 'remain' do not wipe away the 2 million votes that we cast less than two years ago (to stay in the UK)," she said.
INDEPENDENCE BEFORE BREXIT?
The SNP holds massive sway, however. It won all but three of Scotland's 59 seats in the national parliament in London in a general election last year, and holds 63 seats in the devolved parliament in Edinburgh to 31 for Davidson's Conservatives.
Nevertheless, calling a new independence vote would not be straightforward and the SNP, tempered by caution since Sturgeon took over as leader from firebrand Alex Salmond, would want to first be sure that it would win.
Where the last independence campaign fell down is widely considered to be the economic argument. An independent Scotland would, it was projected at the time, stick with its old currency, Britain's pound, with national finances underpinned by an oil price then over $100 but now roughly half that level.
Sturgeon would have to build a robust economic independence strategy to convince those who in 2014 were emotionally inclined to leave the UK but voted to stay in because of the economics.
Britain's Prime Minister David Cameron, who called the EU referendum and campaigned for a "Remain" vote, announced after the result on Friday that he would resign by the autumn.
He said he would leave it to his successor to decide when to trigger article 50, the mechanism by which an EU member can leave the bloc. There would then be a two-year window for Britain to negotiate the terms of its exit and execute it.
Sturgeon said Scotland "must have the option" to hold an independence referendum within that timescale — much sooner than anyone had thought possible before the vote for Brexit.
As well as bringing further turmoil to the rest of the United Kingdom, Scottish independence would also be likely to cause political headaches for the 27 remaining EU members.
Some European politicians were quick to suggest that an independent Scotland should be welcomed into the fold.
"Europe is open to new member states. That is totally clear," said Manfred Weber, leader of the largest bloc of lawmakers in the European parliament.
Geert Bourgeois, separatist president of the Belgian region of Flanders, said Scotland should be admitted as a full member without delay.
"It would be quite Kafkaesque, if there were a part of the country that wanted to stay in the EU, if the EU turned around and made them join the back of the queue," he said.
But the government in Madrid, for one, is unlikely to take such a benign view given that it faces a strong separatist movement in Catalonia, which like Scotland is pro-EU.
(Additional reporting by Ana Nicolaci da Costa and Sarah Young in London; Writing by Estelle Shirbon; editing by Stephen Addison)
Photo: Scotland's First Minister and leader of the Scottish National Party (SNP) Nicola Sturgeon speaks at the SNP's annual conference in Aberdeen, Scotland, October 17, 2015.  REUTERS/Russell Cheyne