New Smyrna Beach: More Than Sandy Shores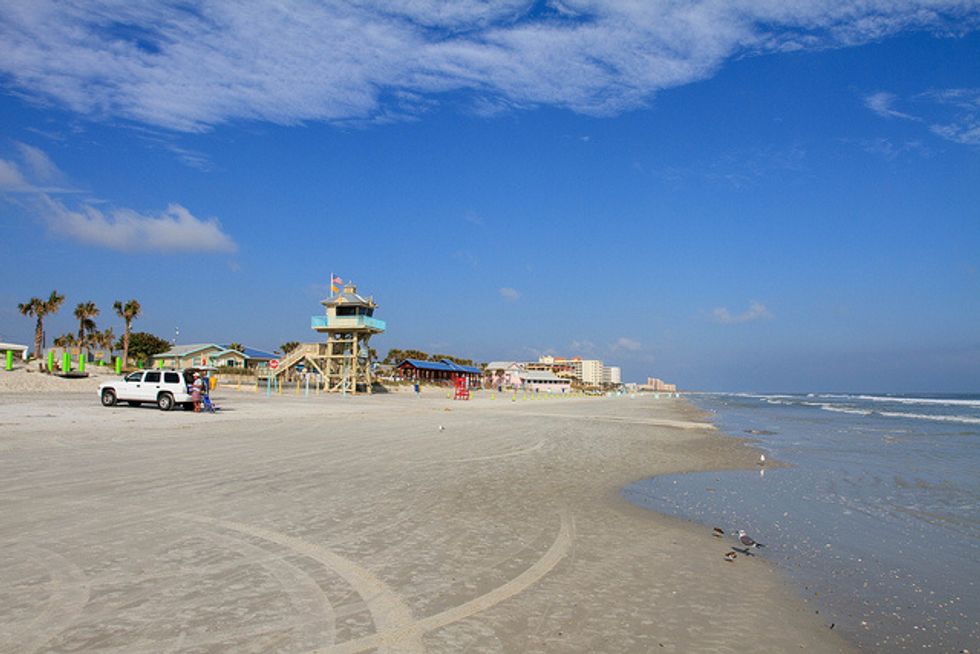 By Tod Caviness, Orlando Sentinel (TNS)
Situated just 15 miles south of Daytona Beach, New Smyrna Beach lies just beyond earshot of the rumble of stock cars and Bike Week engines. It's a good thing, too: Packed with history and a subtly hip edge, this seemingly quiet beach town has plenty to say.
Much of that history is hiding in plain sight in this Volusia County locale about an hour's drive northeast of Orlando. Even the casual weekend beach–goer can get a quick primer on the origins of New Smyrna Beach at spots such as Old Fort Park overlooking the Indian River.
Aptly named, Old Fort Park's primary feature is the Turnbull Ruins. This thick stone foundation is named for Dr. Andrew Turnbull, the Scottish speculator whose efforts to colonize the untamed area in 1768 were short-lived but impactful. It was Turnbull who gave the city its name in honor of his wife, who he married in the Greek city of Smyrna.
Less than 10 years after Turnbull's indentured servants set foot on the beach, most of the more than 1,400 had fled north, seeking refuge from disease and some less-than-welcoming Native Americans.
Although many think the Turnbull Ruins are the remnants of the good doctor's unfinished mansion, the coquina stone material hints at older origins, possibly as a Spanish fort.
Those inspired to do some sleuthing can visit the New Smyrna Museum of History (nsbhistory.org) just a block away.
Outside the city hub but just as impressive are the Sugar Mill Ruins. Blink and you'll miss the entrance just off Old Mission Road, but these well-preserved walls and artifacts offer another vivid reminder of life on the early Florida frontier. They are all that remain of a sugar mill built in 1830 and destroyed just five years later in a Seminole Indian raid. (Find info and directions to Old Fort Park and the Sugar Mill Ruins at newsmyrnabeach.com.)
With that harsh history in mind, New Smyrna Beach's current state as a weekend destination is all the more impressive. The easygoing vibe can best be summed up with a stroll down Flagler Avenue, where aspiring beach bums can painlessly kill an entire vacation day.
Start your trek on the west end of the avenue with a cup of joe at Third Wave Cafe (thirdwavensb.com), where a sumptuous brunch on the Edenic back patio is a must. From there, head east to Beachside Candy & Ice Cream Co. (beachsidecandy.com) for a heat-beating scoop or two, then barhop through a variety of watering holes and eateries such as the Mexican-flavored Clancy's Cantina (clancyscantina.com) or the funky Om Bar & Chill Lounge (theombar.com).
The joy is in the journey, but don't forget about your destination: Flagler Avenue Boardwalk, where the roaring Atlantic Ocean surf and laughing locals await.
Visitors can't ask for much more than a picturesque day like that, but sweep away a little sand and you'll find a vibrant arts community in New Smyrna Beach. Much of that is thanks to the Atlantic Center for the Arts (atlanticcenterforthearts.org), an arts enclave and education center tucked inland among the trees. Take a visit to the facility on Arts Center Avenue for some impressive sights, both in the architecture and offerings at Pabst Visitor Center & Gallery.
Closer to the action in the Canal Street Historic District, there is The Hub on Canal (thehuboncanal.org), where the visual subjects from more than 70 resident artists stretch far beyond the usual beach gallery fare of flip-flops and sunsets.
Canal Street offers equal sustenance for body and soul. The sandwiches and service are unbeatable at Yellow Dog Eats (yellowdogeats.com) and they are easily washed down with a Beachway White IPA just around the corner at New Smyrna Beach Brewing (newsmyrnabrewing.com).
Still hungry?
New Smyrna's diverse culinary scene is well represented on State Road A1A. The best eateries here have a curious and visually striking affinity for flora: Upscale Italian mainstay The Garlic (thegarlic.net) has trees winding up through the bar and patio, and the new treehouse bar is the perfect setting for seafood and wine at Norwood's (norwoods.com).
Farther inland off A1A, Bakka's Bookshop & Live Oak Cafe (386-847-8697) is a great new addition to the area, complementing a trove of hidden literary treasures with lunchtime fare in a cozy courtyard.
Once you've eaten your fill, the beach isn't the only spot to enjoy a New Smyrna Beach sunset. At Riverside Park, fishermen cast off from the pier while children scamper over a large wooden play area. And on the northern edge of the barrier island, visitors can spot gopher tortoises from wooden walkways winding through the 73 acres of Smyrna Dunes Park (cityofnsb.com/parks).
___
If You Go
What: The city of New Smyrna Beach on Florida's East Coast is bordered by Ponce Inlet directly to the north, Edgewater to the south and the agricultural area of Samsula-Spruce Creek to the west.
Where: New Smyrna Beach is roughly 55 miles northeast of Orlando and 15 miles south of Daytona Beach, with most of the city hub situated between Interstate 95 and the Atlantic Ocean.
Getting there: From Orlando take Interstate 4 to State Road 44 east. The Canal Street Historic District and City Hall are just north of the intersection of U.S. Highway 1 and State Road 44.
Population: According to 2013 U.S. Census Bureau estimates, the population of New Smyrna Beach is 23,230.
Accommodations and activities: New Smyrna Beach features a variety of hotels, from locally owned bed-and-breakfasts and beachside apartments to national chain hotels. The area is known for its fishing, watersports, wildlife and visual-arts scene.
Call: 386-428-1600 (New Smyrna Beach Visitor Center)
Online: nsbfla.com
Other parks and activities
Marine Discovery Center, 520 Barracuda Blvd., New Smyrna Beach: This environmental education center offers kayak eco-tours of the Indian River Lagoon, Dolphin Discovery boat tours and nature exhibits at their main facility. Hours: 9 a.m.-5 p.m. daily. Cost: Facility visits free, tour rates vary. Visit marinediscoverycenter.org.
Ponce de Leon Inlet Lighthouse & Museum, 4931 S. Peninsula Drive, Ponce Inlet: Just north of New Smyrna Beach sits the tallest working lighthouse in Florida, restored to operation in 1982. The lighthouse was immortalized in "The Open Boat," Stephen Crane's short story based on the author's harrowing shipwreck in 1897. Hours: 10 a.m.-9 p.m. daily, with last admission at 8 p.m. (Closing time changes to 6 p.m. on Sept. 8.) Cost: $5 adults, $1.50 ages 11 and younger. Visit ponceinlet.org.
The Little Theatre of New Smyrna Beach, 726 Third Ave., New Smyrna Beach: Formed in 1947, the players of the nonprofit Little Theatre have been presenting crowd-pleasing musicals and plays in their beachside building since 1953. Showtimes and ticket prices vary. Visit nsbplayers.org.
___
(c)2015 The Orlando Sentinel (Orlando, Florida.) Distributed by Tribune Content Agency, LLC.
Image by Gary J. Wood via Flickr