New York Explosion: Two Bodies Found, Believed To Be Those Of Missing Men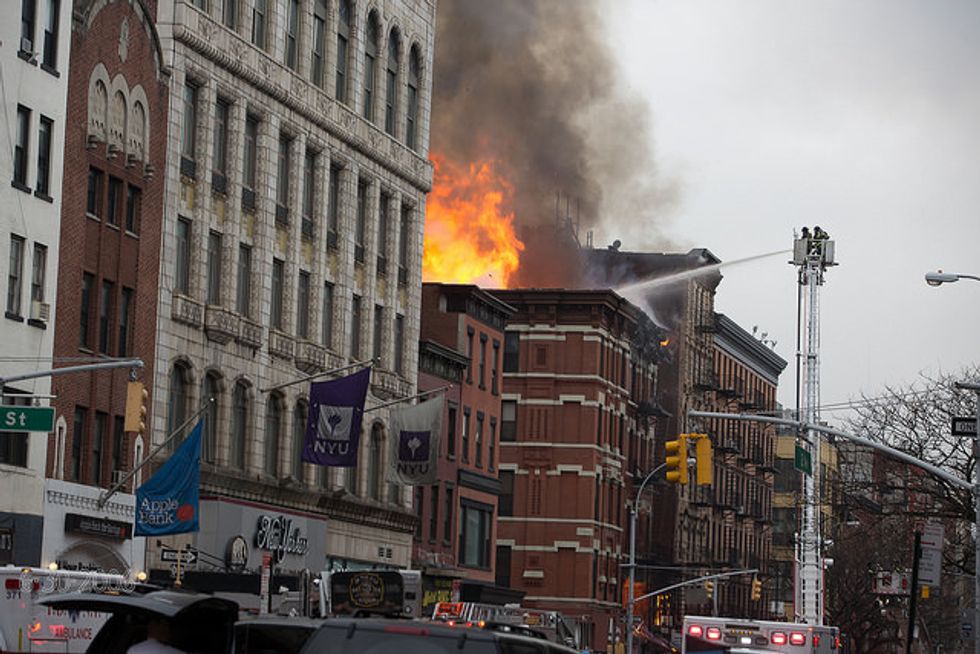 By Kurtis Lee and Lauren Raab, Los Angeles Times (TNS)
Two bodies that were recovered Sunday from the site of an explosion in New York City's East Village are believed to be those of two missing men, and no others are expected to be found, officials said as searchers continued to dig through rubble three days after the blast.
The first body was found about 1 p.m. local time and taken to the city's medical examiner's office, according to the New York City Police Department. The second was found about 3:45 p.m., police said. No identification was released, and police did not provide the victims' genders or any other such information.
As of Friday, two men remained unaccounted for after the explosion, which may have been caused by someone inappropriately accessing a gas line in the building where it occurred, Mayor Bill de Blasio said.
According to The Associated Press, the missing men were Moises Lucon, 26, who worked at a sushi restaurant in the building, and Nicholas Figueroa, 23, a bowling alley worker who was at the restaurant on a date.
A spokesman for Figueroa's family told reporters Sunday afternoon that Figueroa's body was one of the two found, the AP said.
Later on Sunday, New York City Fire Commissioner Daniel A. Nigro seemed to corroborate that, although he did not name or describe the victims.
"The feeling is everyone who had been reported missing has now been found," Nigro told reporters. "The likelihood of anyone else being here is very small."
De Blasio said Friday that 22 people had been injured, four of them critically. Six members of the New York Fire Department were among those hurt. Bellevue Hospital received four patients injured by the blast. One patient, a man, remains hospitalized in good condition, a hospital spokesman said Sunday. The others, one woman and two men, were treated and discharged Friday, according to the hospital.
The explosion came one year after a gas-related blast leveled two buildings in East Harlem and killed eight people. The March 2014 explosion occurred shortly after someone called the utility company to report a gas odor outside one of the buildings.
(Times staff writers Christine Mai-Duc and James Queally contributed to this report.)
(c)2015 Los Angeles Times, Distributed by Tribune Content Agency, LLC
Photo: Event Photos NYC, Flickr