News Outlets Fail To Report On What The GOP Health Care Rollback Means For LGBTQ Americans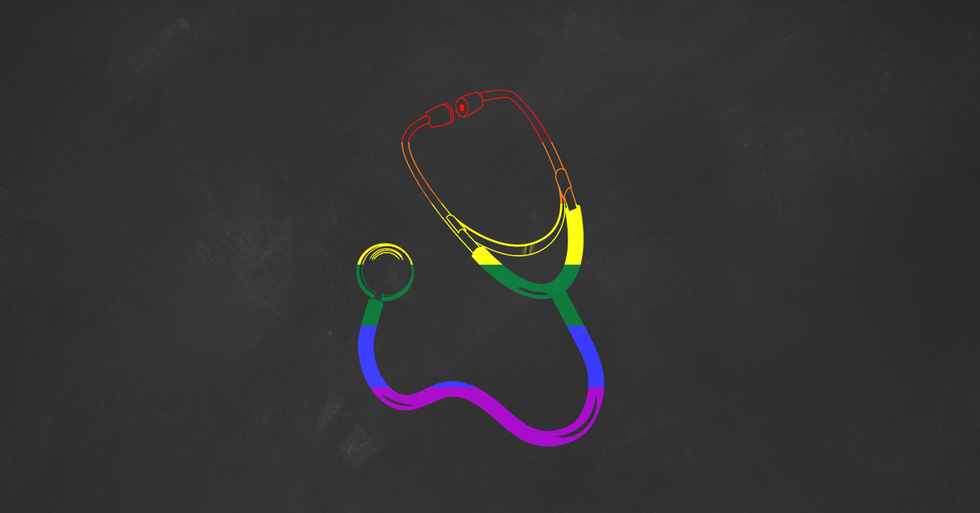 Reprinted with permission from MediaMatters.
Lesbian, gay, bisexual, transgender, and queer (LGBTQ) Americans will face greater hardship if Republicans in Congress succeed in reversing the Affordable Care Act's (ACA) patient protections and expansion of Medicaid — and this is especially true for people living with HIV — yet, print and television news have almost completely ignored their stories.
LGBTQ Americans deal with higher rates of poverty, greater need for Medicaid, and higher rates of HIV infection than the general population. Republican plans to decimate Medicaid and roll back patient protections will create disproportionate impacts for LGBTQ Americans. Yet, according to new research from Media Matters, major print and television news outlets have been virtually silent on how GOP health care proposals may harm members of the LGBTQ community.
Media Matters reviewed major broadcast and cable news providers (ABC, CBS, NBC, PBS, CNN, Fox News, and MSNBC) available via Nexis from May 4 through July 13 and found only two significant segments discussing how the Republican health care rollback would affect LGBTQ people and only two other unrelated segments discussing how the rollback would affect Americans living with HIV. A Media Matters review during the same period of time of print newspapers available via Nexis and Factiva (Los Angeles Times, The New York Times, USA Today, The Washington Post, and The Wall Street Journal) found only three print articles that discussed how the GOP health care plan may affect the LGBTQ community and/or people living with HIV.
A July 12 analysis from Media Matters found a similar lack of reporting by major television and print news outlets on how communities of color may be affected by Republican health care proposals. Additional Media Matters research has found that television news missed an opportunity to report on the unprecedented nature of the Senate's health care secrecy and that television coverage had drowned out reports on how the legislation would impact tens of millions of Americans in favor of airing stories focused on the bill's political machinations. Previous Media Matters research revealed that newspapers kept reports on health care off the front page during crucial periods of debate and that broadcast and cable news coverage neglected to consider diversity when booking guests to discuss health care-related topics.
LGBTQ news outlets including The Advocate, NBC Out, and The Washington Blade have all covered how Republicans plans to roll back Medicaid would affect LGBTQ Americans as well as the more than 1 million people living with HIV. According to the Center for American Progress (CAP), Medicaid is of significant importance for many LGBTQ Americans who face higher rates of poverty than the general population, and these higher rates of poverty correlate with fewer LGBTQ Americans having health insurance. On July 6, CAP reported that the ACA repeal legislation being considered by the Republican-led Senate — the so-called Better Care Reconciliation Act (BCRA) — may result in up to 560,000 LGBTQ Americans losing Medicaid coverage while restricting health care access for transgender Americans. From the report:
The BCRA slashes Medicaid by $772 billion over 10 years and would end Medicaid expansion over time:

Medicaid covers at least 1.8 million LGBTQ adults, including 31 percent of LGBTQ adults living with a disability and 40 percent of LGBTQ adults with incomes under 250 percent of the federal poverty level.
An estimated 560,000 LGBTQ adults will lose coverage if Medicaid expansion is ended.
The BCRA prohibits federal Medicaid reimbursements for Planned Parenthood for one year; Planned Parenthood is one of the country's largest providers of transgender-inclusive health care.
On February 14, the Kaiser Family Foundation reported that the ACA's Medicaid expansion has lowered the uninsurance rates for people living with HIV from 22 percent to 15 percent from 2012 to 2014. The California HIV/AIDS Policy Research Centers found that in California alone, the Medicaid expansion covered an additional 11,500 people living with HIV. Coverage and care for those living with HIV is of significant concern for many in the LGBTQ community, as the Kaiser Foundation points out, because gay and bisexual men make up 56 percent of Americans living with HIV and 55 percent of all HIV-related deaths in the U.S. despite comprising just 2 percent of the American population.
If congressional Republicans are successful enacting their health care agenda, it could cause real harm to the nearly 69 million Americans enrolled in Medicaid, making it crucially important that news outlets tell their stories.
Methodology
Media Matters conducted a Nexis and Factiva search of print editions of the Los Angeles Times, USA Today, The New York Times, The Washington Post, and The Wall Street Journal from May 4 through July 13, 2017. Media Matters also conducted a Nexis search of available transcripts of broadcast and cable news programs on ABC, CBS, NBC, PBS, CNN, Fox News, and MSNBC over the same time period.
We identified and reviewed all broadcast and cable news segments and noneditorial articles that included any of the following keywords: gay or lesbian or transgender or bisexual or LGBT or LGBTQ or queer or same-sex within 10 words of health care or healthcare or health reform or AHCA or Trumpcare or American Health Care Act or ACA or Obamacare or Affordable Care Act or CBO or BHCA or Medicaid.


Header image by Sarah Wasko / Media Matters