NFL Boss Faces Lawmaker Questions, Call To Resign
@AFP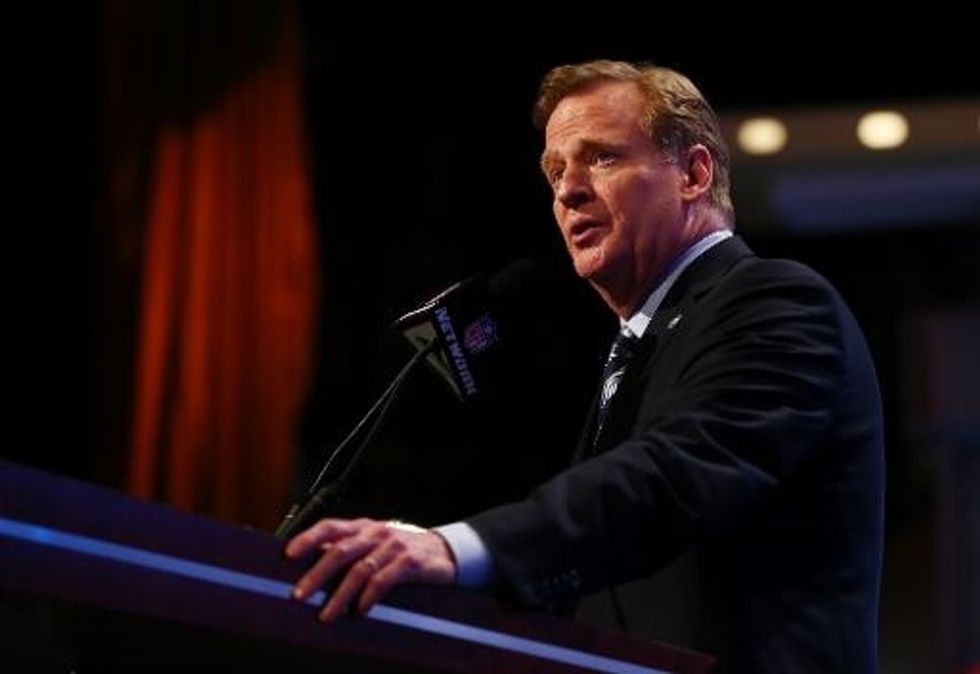 New York (AFP) — NFL commissioner Roger Goodell faced U.S. lawmaker questions and a call to resign by a women's advocacy leader Wednesday over his handling of the Ray Rice domestic violence incident.
Video of NFL star running back Rice knocking out his then-fiancee and now-wife Janay last February in a casino elevator went public Monday, prompting the Baltimore Ravens to fire him and Goodell to suspend Rice indefinitely for an incident that he had previously punished with only a two-game ban.
While Goodell admitted last month the penalty was too soft and toughened domestic violence bans, the brutal video has put the boss of the world's richest sports league on the hot seat.
U.S. Senator Dean Heller, a Nevada Republican on a Senate Commerce subcommittee with jurisdiction over the NFL, was critical of Goodell in an open letter.
Heller asked Goodell for details about his actions in deciding punishments for Rice, NFL personnel knowledge about the elevator video, and what plans Goodell has to "address the harm your league has inflicted on survivors of domestic violence going forward".
"Commissioner Goodell must understand the scope and severity of domestic abuse acts," Heller wrote. "Judging from his actions, it's time for the NFL to step its game up on this important matter.
"I fear the failure of the NFL to understand the scope and severity of this act of domestic violence has already led to significant damage for vulnerable members of society."
National Organization for Women president Terry O'Neill said Goodell should resign.
"The NFL has lost its way," O'Neill said. "It doesn't have a Ray Rice problem. It has a violence against women problem."
O'Neill also cited San Francisco defender Ray McDonald, who faces domestic violence charges for striking his pregnant girlfriend three days after Goodell announced his tougher domestic violence penalties; Carolina's Chris Hardy, playing while an appeal is pending on his conviction for assaulting his former girlfriend; and sexual asault charges against NFL Dallas Cowboys owner Jerry Jones.
"The only workable solution is for Roger Goodell to resign and for his successor to appoint an independent investigator with full authority to gather factual data about domestic violence, dating violence, sexual assault and stalking within the NFL community, and to recommend real and lasting reforms," O'Neill said.
"New leadership must come in with a specific charge to transform the culture of violence against women that pervades the NFL."
– Goodell not fearful of firing –
Goodell said Tuesday in an interview with CBS that no one in the NFL had seen the video before Monday and that he does not believe his job is in jeopardy over his handling of the Rice affair.
"I'm used to criticism. I'm used to that. Every day, I have to earn my stripes," Goodell said.
"Every day I have to do a better job. And that's my responsibility to the game, to the NFL and to what I see as society. People expect a lot from the NFL. We accept that. We embrace that."
Heller was disturbed at the NFL's claim it could not obtain the video of Rice's punch before TMZ.
"I am extremely concerned given the resources of the NFL that not one person within your organization knew anything about the existence of the elevator video before it surfaced," Heller wrote.
"I am highly disappointed the NFL's reaction was only heightened once the public witnessed the elevator video. By waiting to act until it was made public you effectively condoned the action of the perpetrator himself. I cannot and will not tolerate that position by anybody let alone the NFL."
Heller also cited 85 of 713 arrests of NFL players since 2000 being for domestic violence and questioned if Goodell's role as sole imposer of NFL punishments "provides the necessary transparency to properly hold those associated with the NFL accountable for acts of domestic violence."
O'Neill cited NFL players' position as role models.
"The NFL sets the example for college, high school, middle school and even elementary school football programs. And the example it is setting right now is simply unacceptable," she said.
AFP Photo/Elsa
Want more sports and national news? Sign up for our daily email newsletter!