NHL's 'Situation Room' Doesn't Miss Anything, Anywhere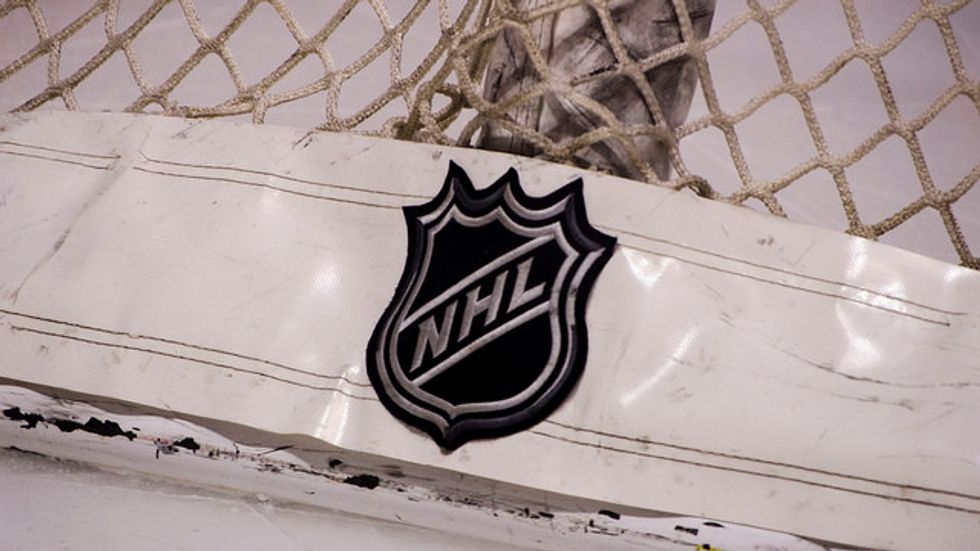 By Michael Russo, Star Tribune (Minneapolis) (TNS)
TORONTO — Man cave bliss.
That's the first impression in the NHL's Situation Room. The 20-by-40 haven of high-def TVs and projector screens would be the perfect place to throw a Stanley Cup-watching party, if only they'd add a few recliners, a wet bar, pool table, some poker chips, and a popcorn machine.
None of that is in the works, though. Real work is done in this high-tech room — dubbed the "video war room" — that essentially is surveillance of 30 NHL arenas.
This video room, where every goal from every game is reviewed and confirmed, is not to be confused with the Department of Player Safety video room. That room, where games are watched in part for incidents that may require supplemental discipline, is in New York, where Commissioner Gary Bettman and Deputy Commissioner Bill Daly work.
The situation video room is in a different country. The windows overlook Lake Ontario a few blocks away and look down on the roof of Air Canada Centre, which is attached to the NHL's Toronto headquarters. This is the building where Executive Vice President and Director of Hockey Operations Colin Campbell and Senior Vice President of Hockey Operations Mike Murphy work.
Almost 1,000 miles from St. Paul, it was in this room February 12 where the league confirmed that Jason Pominville scored a goal even though a pass ricocheted in off his braking skate. It was in this room February 28 when the NHL initiated a video review in Denver to inform officials that Maxime Talbot actually scored against the Wild, a situation that actually pained this group and was a swaying influence toward getting a coach's challenge next season. It was in this room March 14 where the league disallowed a Zach Parise goal because they determined he scored with a kicking motion.
The NHL had 243 official reviews (meaning they've gotten referees on headsets) this season and have overturned approximately 20 percent, league officials said, noting they have taken a second or third look at roughly 600 goals to confirm they're good.
One wall of the NHL Situation Room is all glass and leads to the offices. The wall across has a big-screen TV in the middle and is flanked by two framed pictures. One is an ode to Roger Neilson, dubbed "Captain Video" for being one of the first coaches to embrace video. Neilson, who died in 2003, is one of the inspirations for the war room. On the right is E.J. McGuire, the former director of NHL Central Scouting who died in 2011.
The front wall has 30 feet of stacked big-screen, HDTVs that allow them to watch multiple games, multiple feeds, and multiple angles, like overhead views.
In front of the TVs are three room-wide rows. The front and back have work stations for coordinators to staff games and two media relations staffers who send out emails and tweets update the Situation Room's nhl.com blog with explanations of allowed and disallowed goals.
In the middle is "the Bridge," a raised platform where the supervisor sits. Usually it's Murphy. When it's not, it's Vice President of Hockey Operations Kris King or Senior Director of Hockey Operations Rod Pasma. If there are six or more games at once, two supervisors work.
___
FAST TURNAROUND
In front of the supervisor is an intercom system that allows the league to reach the video goal judge and referees at each arena instantly. Because arenas are so loud, there's a red strobe that flashes any time the NHL needs to reach a video goal judge. If a goal judge needs to reach the league, a red strobe and overhead lights flash in the Situation Room.
One coordinator is assigned one game. He has three 24-inch screens in his station where he can watch the home and away raw feed (no delay) and different angles, like an in-net view or overhead.
The coordinator has a laptop where he catalogs everything from a game, not just the goals and penalties. If he feels a referee or linesman missed a call or made an incorrect call, he logs it. He logs injuries and embellishments and other in-game events.
After each game, a report is spit out with video clips. That document is sent to Campbell, Murphy, and the rest of hockey operations and Director of Officiating Stephen Walkom within five minutes.
"Ninety-five percent of the video Walkom sends his officials, if not all, comes from the guys in here watching games and clipping plays," Pasma said.
A summary of every game is also written and sent to Bettman and Daly.
"Everyone that needs a report gets a report within 20 minutes of a game ending," Pasma said.
___
A FINE LINE
On March 22, the day the Star Tribune was granted access to the NHL Situation Room, there were only four NHL games, though all heck broke loose at the end of the first game — St. Louis at Detroit.
Just 24 seconds into overtime, Detroit's Justin Abdelkader scored the winning goal. Referee Eric Furlatt ruled good goal, but immediately something didn't smell right to the men in Toronto.
It turned out Abdelkader had snapped his stick across goalie Jake Allen's pads and scored with a broken stick. Not only should the goal not have counted, it should have been a penalty.
There was nothing the Situation Room could do. It's not a reviewable play. The incident has generated a lot of discussion since. Should the NHL expand the Situation Room's jurisdiction for reviews or add this type of seldom-seen situation to the coach's challenge that is expected to be introduced next season?
"If you review this, do you review every single potential questionable play? Where does it end?" Pasma said. "I swipe your feet out and shoot it in? Common sense says it's a penalty, but it wasn't called. Offsides and there's a goal, how far back do you review? Three seconds, five seconds, 30? There's lot of residual stuff if you open this door.
"Now we're officiating from the video room, and no one wants that."
___
COACH'S BREAK
On this day, coordinator Tim Campbell was working the Bruins-Lightning game. Eight goals were scored. After each one, Campbell yelled to Pasma, "Got a goal." Campbell was watching in real time. By the time Pasma looked up, he saw the goal on a delayed satellite signal.
Campbell and Pasma will consult, and if it's a good goal, the puck is dropped. If there's a question, Pasma will initiate a video review. Sometimes referees initiate it.
The only incident during the Bruins-Lightning game was referee Justin St. Pierre waving off a Boston goal because Loui Eriksson made incidental contact with Lightning goalie Ben Bishop. Video goal judge Gerry Dollmont contacted Toronto immediately, but it was not a reviewable play, and the men in the Situation Room agreed St. Pierre made the right call anyway.
Next year, this could be a reviewable play if the opposing coach initiates his coach's challenge. Coaches will be able to contest goals or non-goals for goalie interference and if a delay-of-game penalty is called for a player shooting the puck into the stands.
___
WAIT UNTIL NEXT YEAR
When deciding to recommend a coach's challenge, one of the examples the general managers watched was an incident February 28 in a Wild-Avalanche game.
On a fluky dump-in by Talbot, Wild goalie Devan Dubnyk was pushed into the net by Avs forward Cody McLeod with the puck lodged under his pad. Referee Chris Rooney ruled no goal.
"That was a weird one," Pasma said. "We had to call Rooney to tell him the puck was over the line. But because the goalie interference is not reviewable, we couldn't tell him why it was over the line. How it got there was up to him to determine."
Next year, Rooney would be able to look at that play again in consultation with Toronto if coach Mike Yeo issued a challenge.
High sticks are the toughest calls. Usually the referee's call stands because it's so hard to find conclusive video evidence. Pucks off skates can be difficult, although this year there's more leniency. If a puck directs in off a skate or a player stops on a puck, it's a good goal (Pominville's February 12 one vs. Florida would have been disallowed last year, Pasma said). Distinct kicking motions where the skate blade comes off the ice or there's a huge pendulum are disallowed.
Most reviews are routine, but there are a handful they'll debate before the supervisor makes the final decision. The Parise disallowed goal in St. Louis in March required a fair amount of discussion and a frame by frame look, but Pasma said the no-goal call in Toronto was unanimous.
___
A QUICK SAVE
That same March 14 game, there was a close call. Patrik Berglund deflected a Jay Bouwmeester shot for what looked like a one-zero Blues lead. It went to video review, and the Situation Room confirmed Berglund didn't score with a high stick.
But as the puck was about to drop, coordinator Ryan Bottum yelled, "Wait a minute, this isn't even in the net."
Pasma jumped for the strobe just in the nick of time and informed referee Tim Peel the puck hit the outside of the net. If that puck had been dropped, Pasma said, grinning, "That wouldn't have been good." A decade ago, that goal would have counted simply because the off-ice official who's tasked with turning the archaic red light on for goals got fooled.
"At the end, whoever's up front makes the final decision," Pasma said. "More times than not, we're all on the same page."
As technology improves, so has the Situation Room's ability to judge. By the playoffs, there will be cameras two-thirds up the inside of the posts to get pictures of the goal line. They hope one day to have cameras on the crossbar to better determine high sticks.
"There's a misconception all we do in here is goals and no-goals. That's our primary responsibility, for sure," Pasma said. "But we make sure our broadcast partners aren't going over 30-second commercials, that the microphones in the boards work, that the logos and ads along the ice are appropriate, that there's not too many people on the ice during TV timeouts, that the pucks aren't bouncing too much because of bad ice or freezers not working properly.
"We keep an eye on everything. Think of us like quality control. We're always watching."
Photo: Jerry Meaden via Flickr