Nigeria Kidnap Families Want 'Unconditional' Release
@AFP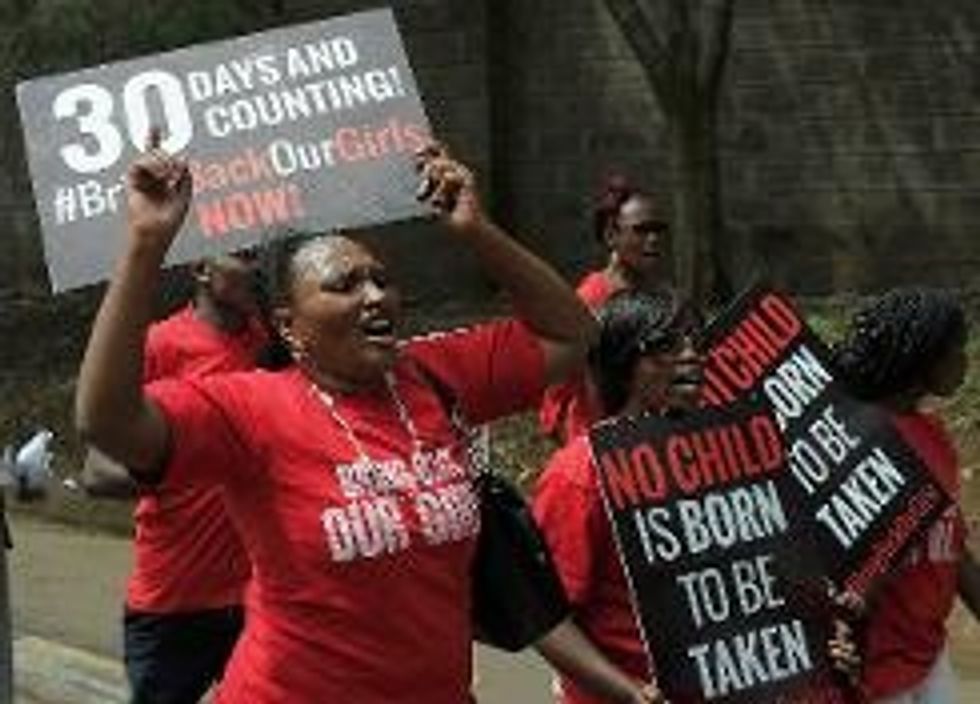 Abuja (AFP) – Relatives of more than 200 schoolgirls held hostage by Boko Haram on Thursday called for their unconditional release, after Nigeria's government ruled out a prisoner swap with the extremists.
An on-the-run Boko Haram suspect wanted in connection with a bomb attack that killed 75 in Abuja was meanwhile arrested in Sudan, while the UN pledged to do all it could to help end the crisis.
Boko Haram leader Abubakar Shekau indicated in a video this week that he could release the 223 girls now held for more than a month in exchange for militant fighters in custody in Nigerian jails.
But Britain's Africa minister Mark Simmonds said after meeting President Goodluck Jonathan on Wednesday that the head of state was adamant there "will be no negotiation that involves a swap."
Ayuba Chibok, whose niece is among the hostages, said the girls' detention was taking its toll on parents and families in their remote town from where the teenagers were abducted on April 14.
"For me, I want these girls released without any negotiations. Even if Boko Haram wants to request something from the government, let them request something else," he told AFP by telephone from Chibok.
"Let (Shekau) release these girls unconditionally," he added.
The mass abduction — and Boko Haram claims that the girls would be sold as slaves — has led to global outrage and galvanized the international community to help Nigeria end the crisis.
U.S. drones and manned surveillance aircraft have been deployed, the Pentagon said, while Britain was sending a spy plane and a military team to Abuja to work alongside French and Israeli experts.
The United Nations special envoy for West Africa, Said Djinnit, met Jonathan and said a package of measures were in place to help the girls after their release, including psychological counselling.
"The U.N. is committed to do its utmost within its capacity to assist the authorities of Nigeria in their efforts towards the release of the schoolgirls," he said in Abuja.
Nigeria's capital was hit by its worst ever bombing on April 14, when a car bomb ripped through a crowded bus station in the Nyanya suburb. Boko Haram were blamed.
The country's secret police the Department of State Services (DSS) said this week that five men had been arrested on suspicion of carrying out the attack but the two alleged masterminds were at large.
One of them, British-born Nigerian Aminu Sadiq Ogwuche, was held on Tuesday as he tried to get a visa from the Turkish embassy in central Khartoum, where he had been studying Arabic, a source close to the case told AFP.
The DSS said Ogwuche, an army deserter who served in an intelligence unit, had previously been arrested on suspicion of terror offences in November 2011 at Abuja international airport but bailed the following October.
In parliament, senators were quizzing security and military commanders before voting on a request by Jonathan for a six-month extension to a state of emergency in three northeast states.
Jonathan has called the security situation in the region "daunting" and said he was concerned by the mounting loss of life among civilians.
More than 2,000 have been killed this year alone, most of them ordinary people, in the five-year insurgency across Muslim-majority northern Nigeria that has seen churches, schools and entire villages attacked.
Members of the lower House of Representatives were also expected to vote, with a two-thirds majority from members of both chambers required for an extension to be approved.
The state of emergency was first imposed on Borno, Yobe and Adamawa states on May 14 last year and extended in November, as attacks continued, particularly in hard-to-reach rural areas.
Yobe's governor has already rejected extending the special powers. Borno and Adamawa, which are also run by the main political opposition, are expected to follow suit.
Initial gains in forcing Boko Haram out of urban centers appeared to have been lost because of the continued strife, with questions raised about the military's tactics and ability to curb the threat.
Analysts have said conventional means are ineffective against an enemy fighting a guerrilla war while more was needed to boost intelligence and even equip demoralized soldiers on the front line.
Disgruntled troops on Tuesday fired shots into the air when the local commander paid a visit to the state capital of Borno, Maiduguri to sympathize with them after a Boko Haram ambush killed some of their comrades.
Six soldiers, including one officer, were killed as they returned from patrol duties in Chibok, the defense ministry said, adding that the commander was not injured by the firing.
©afp.com / Tony Karumba